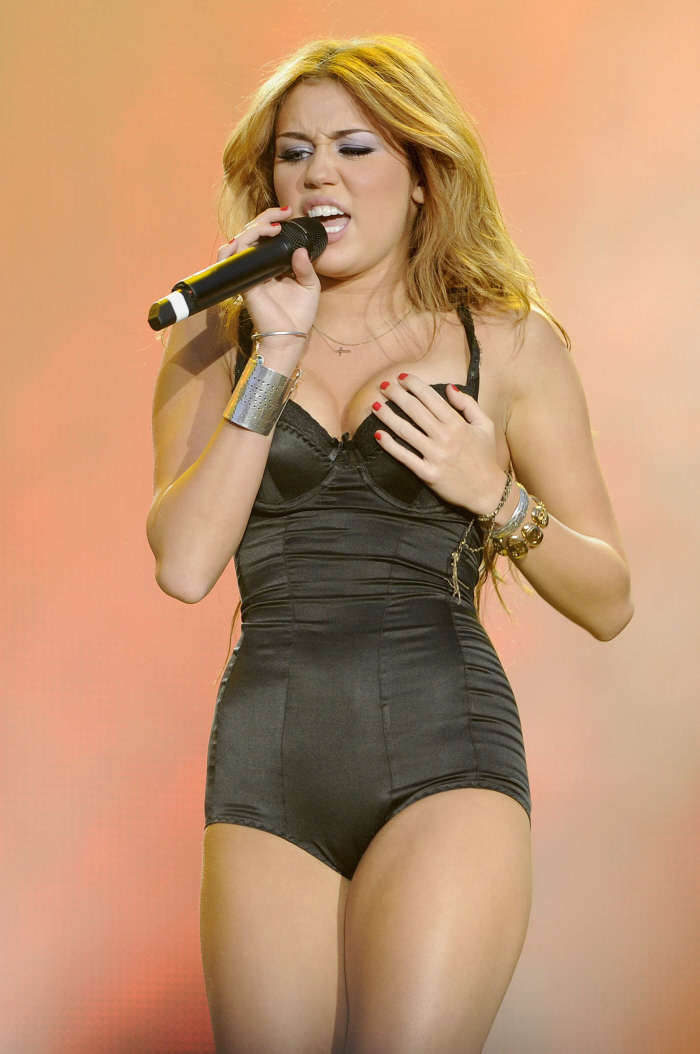 These are an assortment of photos of Miley performing in London and Spain over the weekend. The ones of Miley in a black leotard, touching herself like it's a public masturbation show, are from Spain. The ones of Miley in some kind of sketchy cut-out dress from the 1980s are from London, where Miley performed at G-A-Y, a club for homosexuals (if you couldn't tell). Miley continued to "push the envelope" if "pushing the envelope" means "copying Britney Spears, Adam Lambert and Lady Gaga." What? What am I saying? Miley doesn't listen to pop music, and we need to GET OVER IT. The Daily Mail had some info about Miley's performance at G-A-Y, plus some quotes from an interview she did where she's talking about being "home-schooled".
Miley Cyrus has gone to great lengths to shed her 'good girl' image and it won't be long before we've forgotten about the wholesome teen who played Hannah Montana. The singer has been in London promoting her forthcoming album Can't Be Tamed and she made sure that she lived up to the title of the new LP with an outrageous performance at G-A-Y this weekend.

Miley, 17, would have been made aware that performers at the club often put on their most raunchy routines at the infamous club which no doubt gave her the impetus to go that little bit further for the largely homosexual crowd at the venue.

Starting out in a Union Jack top, Miley soon found herself stripping down to her black dress, which had sections cut out both on the torso and at the top of her thighs. In fact witnesses at the club said her underwear was clearly visible during much of the energetic performance.

And, following her appearance on the Britain's Got Talent when she pretended to kiss one of her female dancers, Miley once again grabbed one of her on stage entourage and proceeded to push her backwards leaning in for what appeared to be a kiss.

This week, the singer also revealed that she never experienced an ordinary life because of her famous rock star father Billy Ray Cyrus. She said: 'I didn't really know anything else. Because of my dad, I was always home-schooled, I would go on tour with my dad. I didn't really know what a normal life was. So when people ask me if I miss it, you can't really miss anything you don't know.'

Miley said she felt proud of the way she has managed her work at such a young age. She explained: 'I'm really proud of what I've done. I was a little nervous at first that it was going to be too much, but I've had a really good time and I think it's been easier than I thought.'
[From The Daily Mail]
Does anyone else feel sorry for her? I mean, she's trying, kind of. She's trying to be an interesting artist, she's trying to be a pop star (although she won't admit it). She's trying to break through from the teeny boppers and get a legit audience, gays first. She's trying to shocking, although she won't admit that's what she's attempting. Miley has this idea of who she is and what kind of star she's going to become, it's just that… her perceptions don't match up to anyone else's. Maybe I'm jaded, maybe I'm too old to get it, but doesn't Miley's act just seem tired, unoriginal and desperate?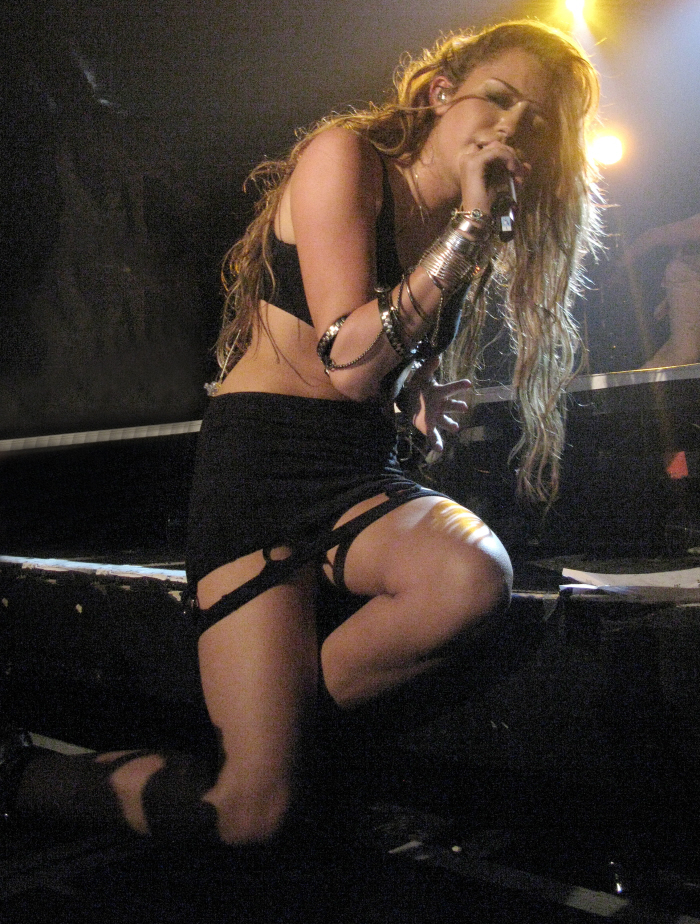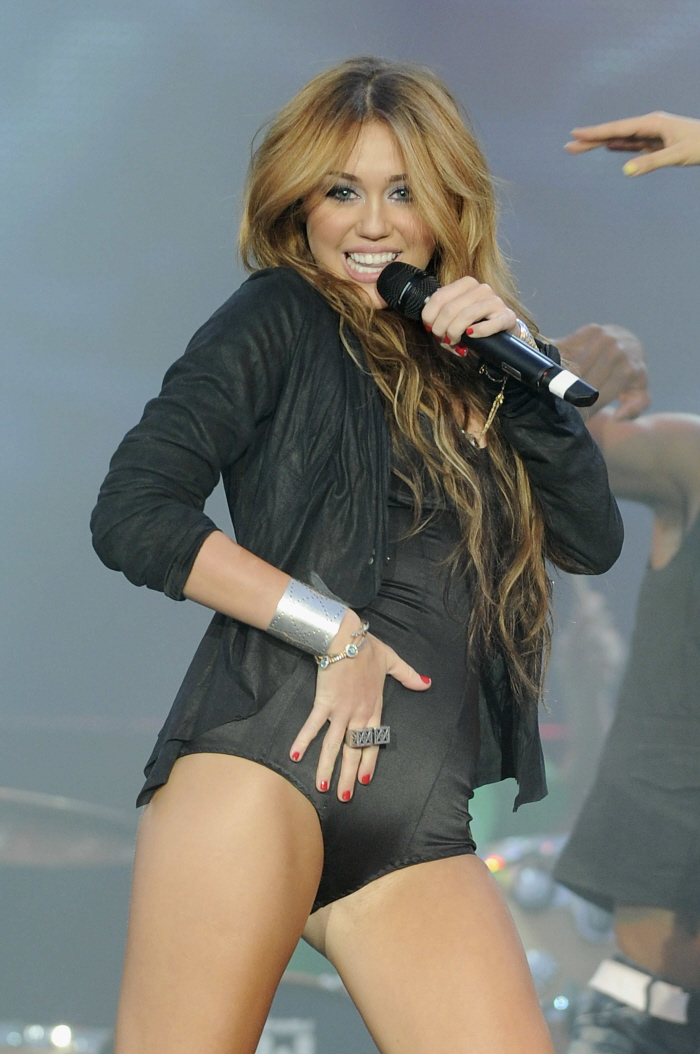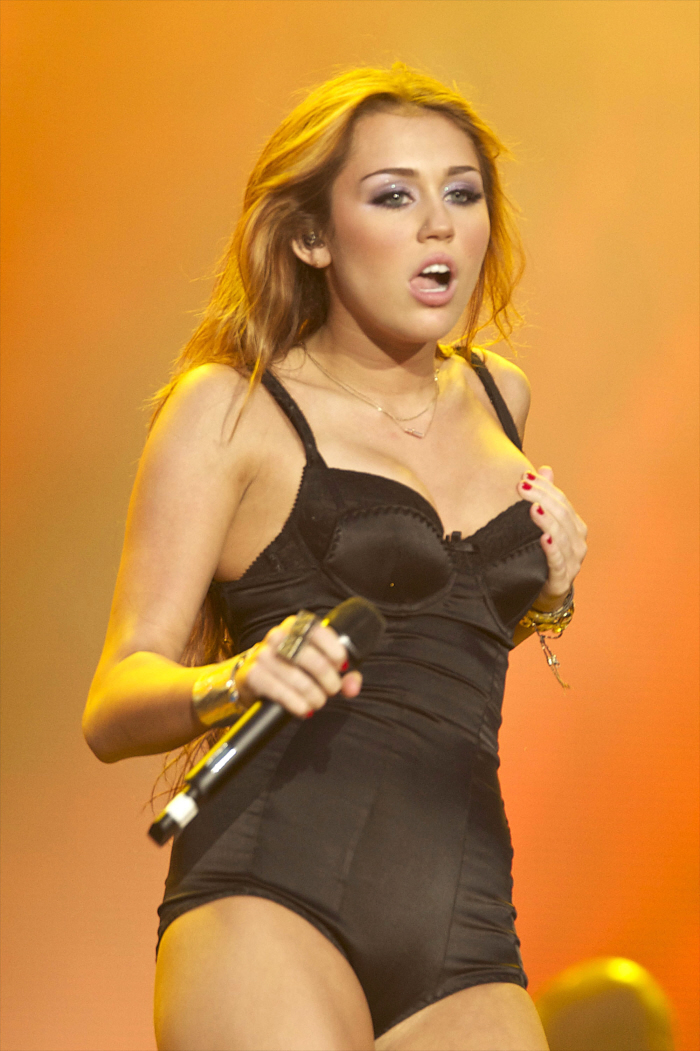 Miley Cyrus performing in Spain on June 6, 2010, and in London on June 5, 2010. Credit: WENN.