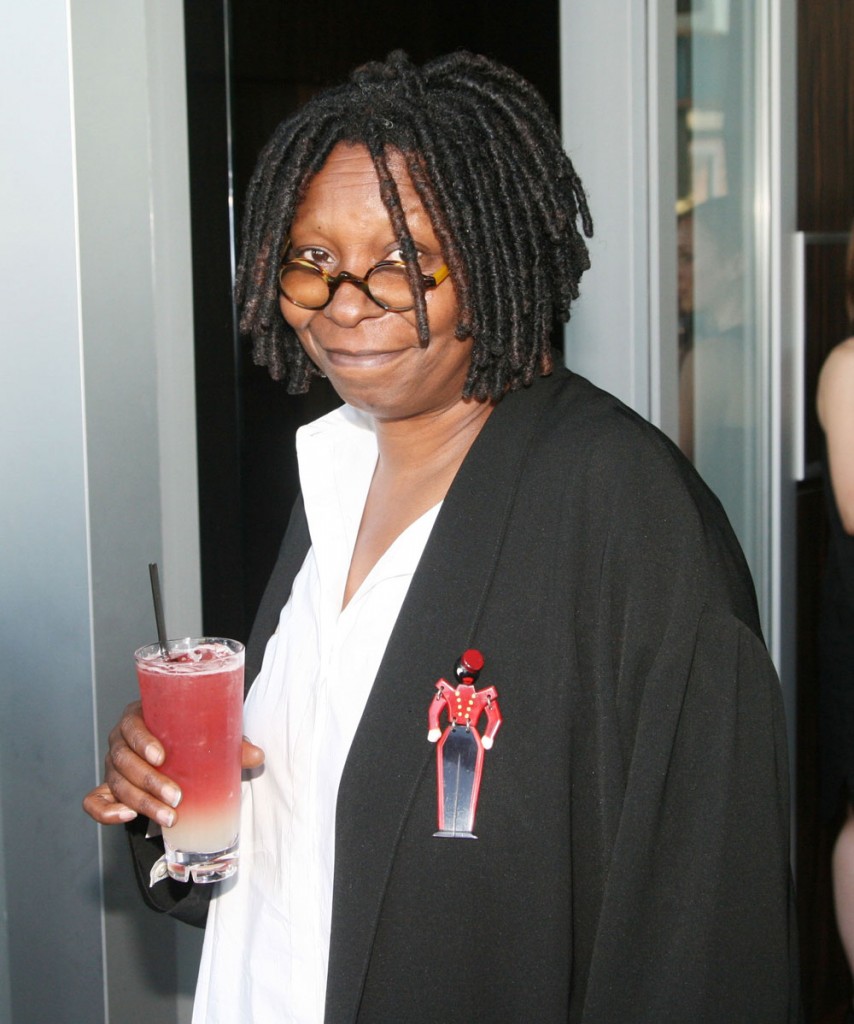 Whoopi Goldberg really went off this morning on The View. It turns out that Whoopi is a smoker, and she got super peeved when she was talking about how smokers have to go outside and be pushed aside in order to light up. Whoopi was upset that there's almost no where she can go to smoke, and said that at work she's forced to go out by a dumpster in order to get her nicotine fix.
[to Joy] Nobody is coming near you [with cigarettes]… Don't bitch about the problem if you don't have an idea to solve it.

All these people said no you can't smoke outside, can't smoke inside, can't smoke upstairs, can't smoke anywhere. I think it's bullsh*t.

I have been asking for a [designated place]… At the View, there is a designated place outside where we're supposed to go and smoke. Now, because they don't think that smokers are people, or have any feelings, or have any rights at all. It's next to [a] dumpster. So you're degrading people. So why not just say 'you guys are scum and the scum of the earth'?

That's how you make folks feel as opposed to saying 'You know what, we know this is a tough thing to kick. So until you're able to kick it, we want you to go over here and smoke.' In a place where you don't have to stand outside shivering or getting rained on because people think that you're a bonehead because you smoke.
[Transcribed from The View, aired 6/9/10]
I get that smokers don't want to be treated like outsiders, and that seems fair on the surface. Some of the anti-smoking laws in the US can be extreme. However, smoke rises and it collects when people smoke inside. It's very difficult and expensive to make well ventilated smoking rooms that don't end up leeching smoke and chemicals into adjacent areas. When you let people smoke right near doorways and under awnings everyone that has to enter a building gets smoke in their hair and clothing.
When smoking is more acceptable then more people do it. I have allergies and am chemically sensitive. Smoker's "rights" take away my right to breathe and not get headaches. I've lived in Europe where smoking is still prevalent and socially acceptable. That means smoking in all sorts of places that end up making me sick, including motel lobbies. I was once forced out of a motel in the middle of the night due to headaches and dizziness from all the smoke. It was a decent night out, and the people could have easily stepped outside.
Smokers endanger their own health and their friends and families' health when they smoke around them. It may be temporarily stigmatizing to be a smoker in the US, but the effect that it has on your body can be permanent and deadly. Making smoking socially unacceptable helps smokers quit, protects their loved ones, and helps discourage kids from picking up the habit. In my (albeit biased) viewpoint, that's worth it, and it's worth getting smokers like Whoopi mad. I'm sorry she has to smoke near a dumpster, but I'm also sorry she's still smoking. Tough love for smokers.
Whoopi is shown on 5/20/10 and 5/3/10. All photos of Whoopi credit: WENN.com. Photo of Whoopi alone also credit L.Gallo/WENN.com