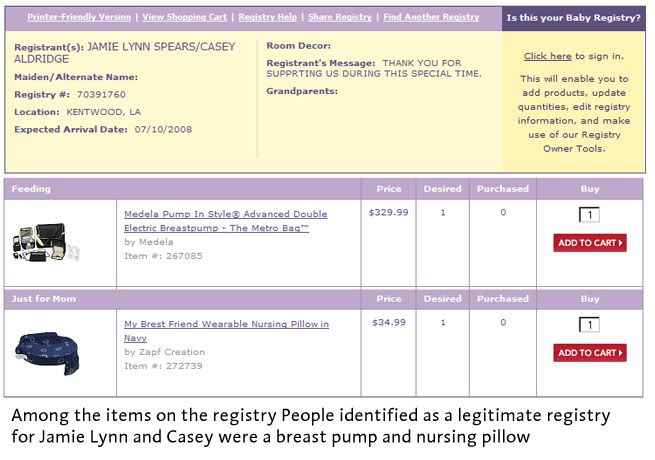 E! Online blog The Hum had this video of 16 year-old Jamie Lynn Spears outside a Babies R Us store on Thursday with her cousin and what must be her cousin's baby. Jamie Lynn stopped hiding her pregnancy behind big sweatshirts and was seen wearing a short sleeve t-shirt that said "The Rumors Are True." Her t-shirt might refer to the stories about her engagement. She also sported a marquis cut diamond engagement ring, and her cousin confirmed to US Weekly earlier in the week that Jamie Lynn and Casey, 18, are engaged.
People Magazine notes that Jamie Lenn registered for her baby shower during that outing, and that her registry lists her boyfriend and maybe-fiance, Casey Aldridge, as the co-registrant with the "event date" as July 10.
I was able to find two registries on Babies R Us under those two names with the date given on People's website. Here's a link to the one that People cited. The other one seems to be a fake. It's possible that this one is also a hoax registry, it's just the one People.com mentioned on Friday.
I've taken screenshots of what People claims is the legitimate registry in case that link doesn't work. Many items have already been purchased for Jamie Lynn and Casey including Pooh receiving blankets, an ultrasound frame, and a Leap Frog learning table. Jamie Lynn and her cousin smartly registered for some batteries to power all those baby toys. Jamie Lynn even registered for a breast pump and a nursing pillow, showing that she may plan to nurse her baby.
These photos are screenshots from BabiesRUs.com.