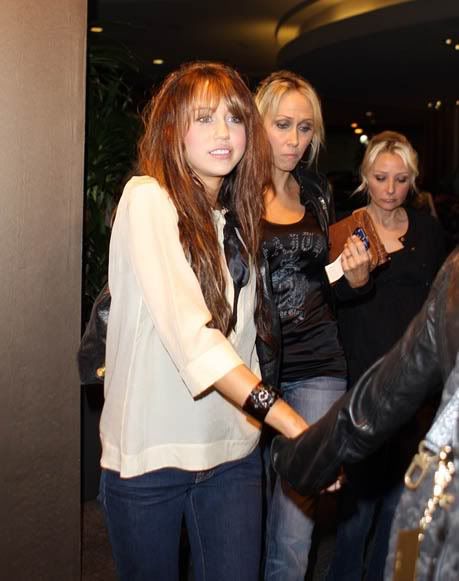 15 year-old sensation Miley Cyrus and her dad, country singer Billy Ray, were interviewed on Access Hollywood by former "Brady Bunch" star Maureen McCormick. Billy Ray talked about how he tries to keep the paparazzi in line around his teen daughter by asking to see their faces and having chats with them. Miley also told a cute story about how she took her dad to get a little tattoo on his hand she designed and took him to a salon afterwards to get highlights in his hair. Billy Ray, 46, said it was Miley's day when that happened and that he willingly submitted to the makeover.
On the paparazzi
Billy Ray: "When I see people taking pictures of my little girl, I usually try to get them to roll down the window and get a picture of them, because I just want to know who's stalking my family."
"I'll go knock on the window and say 'I just wanted to see your face because you're taking pictures of my little girl'… just in case."
Miley: "'If I have to hunt you down and kill you,' then he knows what they look like.'"
Miley told a story about how her dad intimidated a photographer. She said "He was like 'Dude. Not cool' [making mean face] The other guy was like 'Sorry Mr. Cyrus'" [holding hands up]
On the heart tattoo and highlights Miley got her dad
Billy Ray: "We were sitting in church, uh…"
Miley: "You never start a tattoo story off with 'I was sitting in church,' that sounds so terrible."
Billy Ray: "This is the truth… we were sitting beside each other and I noticed that she picked up my hand and drew this little heart on there, and I had already declared that day was Miley's day. I said 'Anything that you want to do, today is your day'"
"She said, 'Daddy, I know what I want to do… take you to the tattoo parlor.' The next thing I know we're driving out there, heading for Pasadena on a Sunday afternoon."
Miley: "And then I took him and got him highlights."
Billy Ray: "We come across a place called 'Wackos,' open on a Sunday afternoon."
Miley: "It was $20 for a whole head."
Billy Ray: "It was Miley's day, she took me to the tattoo parlor and to Wackos for a hairdo."
Miley: "So I get my dad a makeover"
15 year-old Miley is the new paparazzi target after Britney's return to sanity. It's nice to know that she has a protective family and that they do fun activities together. Still, it's can be a nasty business and I hope she can get through her teen years with her childhood relatively intact. It's got to be crazy to be swarmed by photographers like that wherever you go and it's nice that her dad is looking out for her. Maybe a move to the country might be in order soon.
Here's the video of the interview, thanks to rockers94 on redlasso. Photos are of Miley out shopping yesterday at the Beverly Center, thanks to Splash News.