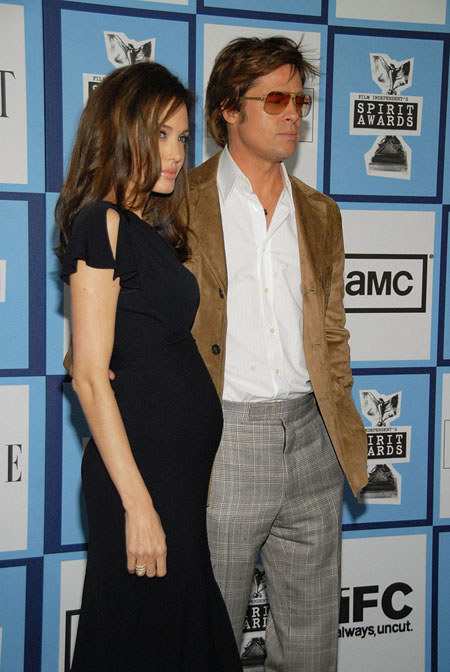 Rumors are swirling once again that Brad Pitt and Angelina Jolie have gotten secretly married. As time goes on and their family increases exponentially, it's hard to tell if that increases or decreases the likelihood that they'll tie the knot. On the one hand, you'd think that having so many kids might make them yearn to cement things in a more traditional way. On the other hand, with each passing kid and each passing year that they DON'T do it, you could argue that they become firmer in their resolve to abstain from marriage. A slew of print and internet media sources are reporting that the two secretly wed in New Orleans on Saturday, despite Brad's very public proclamation some years ago that he and Angie wouldn't get married legally until everyone could get married legally.
Hollywood's most powerful couple has made it official – Brad Pitt and Angelina Jolie are married.

According to Star magazine's website, the pair wed on Saturday in New Orleans. The couple have been together since 2005, when they co-starred in the actioner, "Mr. and Mrs. Smith." Angelina is pregnant with twins, and the two have four other children.

This would be Brad's second time down the aisle, with his first to "Friends" star Jennifer Aniston ending in divorce. Angelina has been married twice previously, most recently to actor Billy Bob Thornton, and "Eli Stone" star Jonny Lee Miller in the late 1990s.
[From NY Daily News]
The Daily News felt confident enough in their story to boldly headline it "Angelina Jolie, Brad Pitt are married." The story was also picked up by OK!, X17, and PR Insider. If the pair have indeed married, it makes sense that they'd keep it under wraps. Angelina is said to be having a tough pregnancy this time around. She's widely speculated to be carrying twins, which can't be easy on her rather emaciated frame. Several media outlets are also reporting that she's suffering from gestational diabetes, which affects about 2% of women during their pregnancies. Considering the pair's earlier statements about marriage, coupled with Angelina's health, it's no surprise that they'd keep any wedding a secret as long as possible. If they did marry, congrats to them. And if not, at least we can keep on speculating.
Update by Celebitchy: People Magazine is reporting that it's not true and that "a source close to the couple tells PEOPLE there was 'no wedding'" and seems to say that they weren't even in New Orleans this weekend when this was said to have taken place.