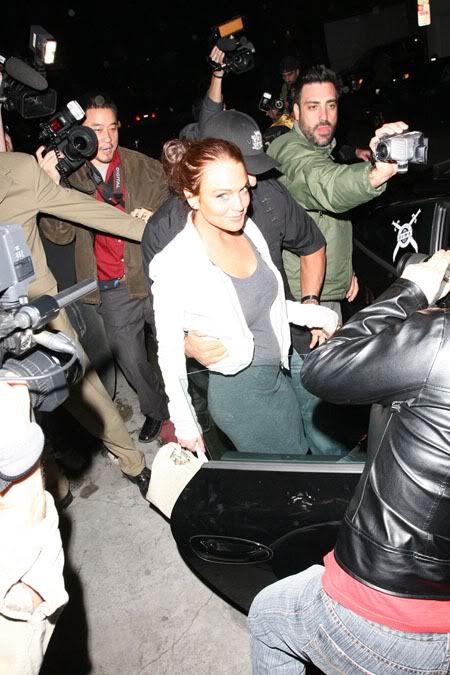 Michael Lohan feels that Lindsay made a bad career choice by signing onto the new film "Manson Girls," chronicling the women who followed mass murderer Charles Manson. Lohan has agreed to play Nancy Pittman, aka "Brenda," one of the women in Manson's inner circle while he planned the murder of actress Sharon Tate. Daddy Lohan thinks his daughter should go back to playing more wholesome roles, like the ones that made her famous.
Michael Lohan isn't thrilled his daughter has signed on to star in Manson Girls. (She will play one of the murderer's cult followers.)

"I really hope that Lindsay gets back to the kinds of films that led to her success," he told Usmagazine.com Thursday at the Celebrity Apprentice finale in NYC. "I'd like to see her do more mainstream films."

Lohan's past string of films — including I Know Who Killed Me and Bobby — have bombed at the box office. Chapter 27 — her latest movie opening this weekend — centers on the assassination of John Lennon.

Michael told Us those films "were geared to a specific audience."

"When you're the kind of star Lindsay is, you have to appeal to a general audience, not just a specific audience," he added.

Michael also told Us he was relieved those Callum Best sex tape rumors were put to rest.

"You don't know what people put out there anymore!" he said. "So many people have hidden cameras. Our private lives are our private lives — people don't respect that."
Guess what, pops? The "wholesome roles" ship has sailed when it comes to your older daughter. The reason she's accepting roles as nut jobs and tramps is because they're easy for her to play, if you know what I mean. Can you imagine Lindsay doing another Disney film right now?
Picture note by Celebitchy: Lindsay Lohan is shown on 3/23/08 leaving Villa with her girlfriend, Samantha Ronson, thanks to Splash News. Her dress is see through so I guess these photos are semi NSFW. It looks like Samantha is wearing the "SR" ring now.