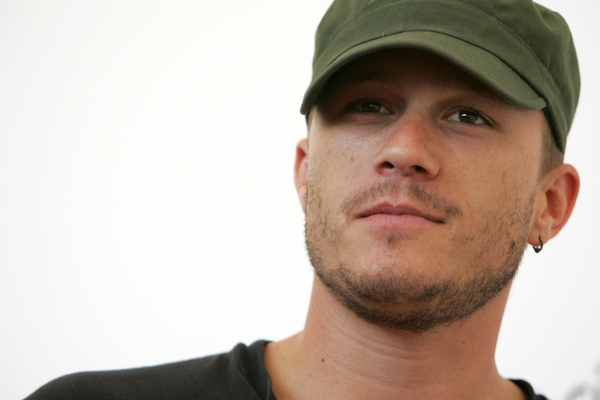 Late actor Heath Ledger is said to have had an affair at the age of 17 with a 25 year-old woman in his native Australia. The woman was in a relationship with someone else at the time and everyone assumed that the baby she had after she and Heath broke up, a girl, was the other guy's daughter. The child would be 12 this year and one of Ledger's uncles, the same one who was talking trash about Heath's father's ability to handle Heath's estate, confirmed that the girl is potentially Heath's.
The Hollywood star is believed to have been 17 when he had an affair with an older woman.

The mother – in a relationship with another man at the time – is thought to have only learned she was pregnant after the affair with Ledger ended.

Ledger's uncle, Haydn Ledger, yesterday confirmed there was a "real possibility" his nephew had fathered a girl with the woman.

Family sources said the girl was raised by the woman and the other man, although there were suspicions about the child's father.

Ledger's parents Kim Ledger and Sally Bell yesterday refused to comment on the latest scandal.

If the claims are confirmed, it could split his multi-million dollar estate between daughter Matilda Rose and the love child…

Heath was still at school at Guildford Grammar when he began the affair with the woman, then aged 25.

Yesterday another family source said: "She had the baby. Everyone lived under the assumption that she was the daughter of the mother's boyfriend and that is how she has been brought up."

The woman is now married with a young family.
[From News.com.au]
Heath's will was drawn up in April, 2003 before he had Matilda. His father, mother and sisters were listed as beneficiaries and he had only $145,000 in assets at that time. Many news outlets were confused by this number, and assumed Heath squandered his millions before he died. It is assumed that he did have millions in the bank and that $145k represents his savings in 2003 when the will was written.
Heath's father, Kim, has said that his son's one known daughter, Matilda, will be taken care of. Kim's brothers question his ability to handle the multi-million estate, and cite his mishandling of their late father's estate in the mid 80s. Kim Ledger squandered over $2 million of his late father's money, leaving his brothers with nothing. He was eventually removed as executor by the Western Australian Supreme court.
If Heath has a 12 year-old love child this could get interesting. Matilda's mom Michelle Williams has a thriving movie career and her daughter will hardly suffer if her grandfather doesn't leave her the bulk of the estate. This other woman could potentially gain millions if her daughter is Heath's. It's not going to happen without a drawn and highly publicized legal battle, though.