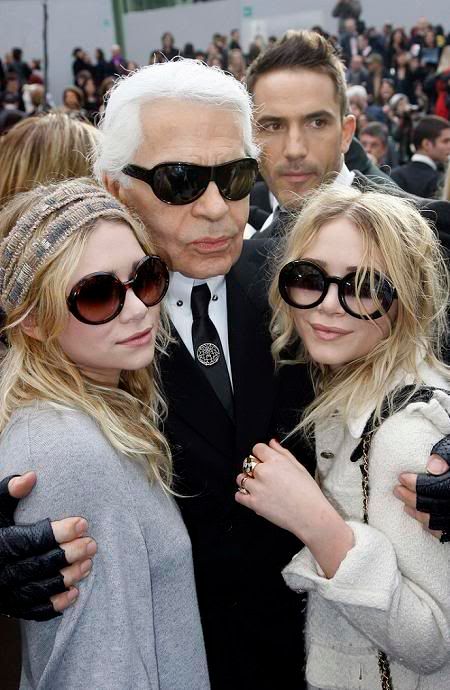 I've always been really surprised that there wasn't more drama between twin sisters Mary-Kate and Ashley Olsen. I can't imagine any sisters that don't argue – I can only wonder how hard it would be to run a multi-million dollar business empire with your twin. The 21-year-olds have spent more time apart in the last few years and have been photographed actually hanging out with people besides each other. However their business interests have remained almost entirely intertwined. While it seems like the two have been nearly joined at the hip, apparently there's been some trouble between them, and they've been fighting over business and real estate decisions.
"They've finally had enough of each other," says a friend. "They just don't see eye-to-eye anymore and are tired of constantly butting heads." Now friends say the rift between the twins seems to be growing bigger by the day. "Ashley isn't an angel, but she's tired of having to take care of Mary-Kate," says the friend. "One second Mary-Kate is maniacally happy, and the next she's sobbing. Her mood swings are dragging Mary-Kate down, and finally, Ashley's decided she doesn't want to go down with her."

But no matter how they feel, the twins can't simply ignore each other, sources say. At stake is their $100 million personal fortune – also a bone of contention between the squabbling sisters, say the insider. "Ashley's been considering separating their assets and trusts and getting her own business manger," the insider says.
[From Star, April 7 2008, print edition]
The Enquirer also has a similar story, saying the pair are fighting over the company and have deep-seated resentments towards one another. Apparently Mary-Kate feels Ashley manipulated her into making bad business decisions, and regrets the twins' choice to cut their parents out of their company Dualstar.
And one of the biggest rifts between the sisters centers on their decision to "fire" their parents – David and Jarnette, who are divorced – when they took charge [of Dualstar]. Although they both agreed to the move at the time, Mary-Kate now blames Ashley for pushing her into it, says a family insider.

Mary-Kate went along with the firing in part because she was angry that her family forced her into Utah's Cirque Lodge rehab in June of 2004 to get treatment for an eating disorder. "Mary-Kate had some real issues with the family after they put her in rehab. But now she feels like that may have colored her decision to cut them out of Dualstar. Mary-Kate now regrets her decision — on the other hand, Ashley thinks it was the right move. That's what Mary-Kate and Ashley mainly fight about."
[From the National Enquirer, April 7 2008, print edition]
Neither magazine says if the girls' parents are still speaking with them, though the Enquirer notes that their dad and stepmom have publicly criticized the way they've run Dualstar since firing their parents. Both articles are a great example of exactly why it's not a good idea to mix business and family. Some manage to pull it off with amazing success, but it sounds like the Olsens are starting to unravel a bit. They also bickered about the sale of their Manhattan apartment – whether to sell it, and then for how much. Their identities have always been so wrapped up in each other – at least publicly – that it seems inevitable that they'd eventually want to carve out their own niche in the world. The fighting seems sort of unavoidable to me. It seems like Ashley's idea to separate their finances could be a really good thing, and then they could try just being sisters instead of business partners.
Here are Mary-Kate and Ashley with Karl Lagerfeld and with Mario Testino and Claudia Schiffer at the Chanel Fashion show, during Paris Fashion Week Fall-Winter 2008-2009 ready to wear collection, at the Grand Palais in Paris on March 8th. Images thanks to Splash.