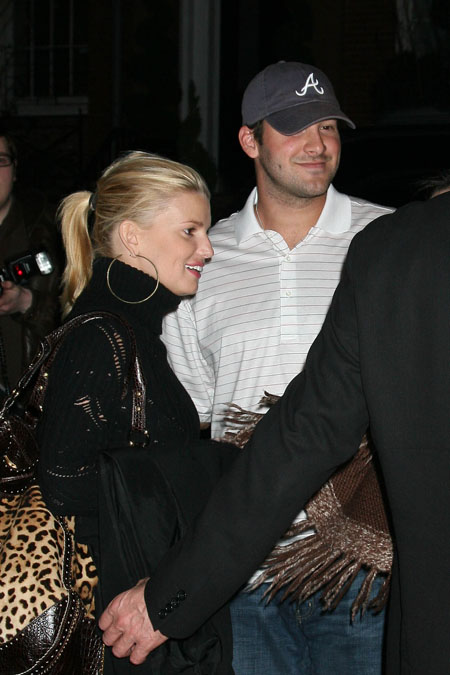 Jessica Simpson probably hasn't mastered the "always pee after sex" rule for women. She is currently hospitalized with a minor kidney infection.
Jessica Simpson is at Cedars-Sinai Medical Center in Los Angeles due to a small kidney infection, In Touch can exclusively reveal. "She checked in on Friday morning because she was feeling achy and had a fever," a friend of the family confirmed. Jessica was kept over the weekend for observations and is expected to be released Tuesday morning. "She is doing fine, but she is ready to get out of there," added the friend. And although Jessica's boyfriend, Dallas Cowboys QB, Tony Romo wanted to be by her side, he had prior commitments in Dallas. Get well soon , Jess!
[From In Touch]
I was plagued with urinary tract infections throughout my 20s so I have some sympathy for her. For self-treatment I used to go to the health food store and buy a couple of large jugs of unsweetened cranberry juice and try to drink them within a few hours. It was acidic and nasty, but would usually help. There's also something called D-Mannose which is supposed to be a safe and effective natural treatment for urinary tract infections and should be available at health food stores.
I was going to comment that Jessica Simpson's condition makes it clear that her relationship with Tony Romo is on hot terms and felt kind of guilty about it, but then I did five minutes of research and found that's probably the case, medically-speaking:
In general, however, it is the physical act of intercourse itself that produces conditions that increase susceptibility to the UTI bacteria, with some factors increasing the risk:

Women having sex for the first time or who have intense and frequent sex after a period of abstinence are at risk for a condition called "honeymoon cystitis."
A sudden increase in the frequency of sexual intercourse poses a significant risk for UTI, particularly if a diaphragm is used.
Sexual position (such as the woman on top) can contribute to the risk.
[From University of Maryland Medical Center]
So all that rabid sex that marks the beginning of a relationship can also come at a cost for women.
Jessica Simpson and Tony Romo are shown at the Waverly Inn on 3/4/08, thanks to Splash News.