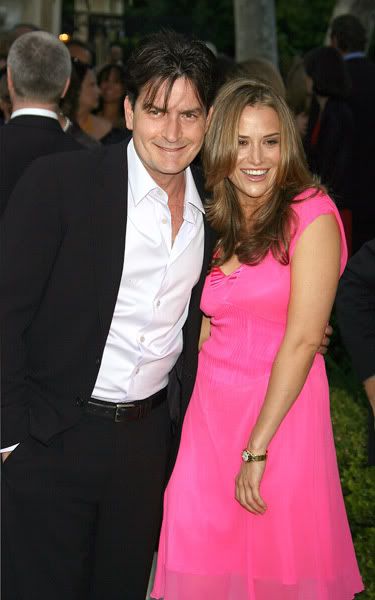 Charlie Sheen, 40, is dating 28-year-old real estate investor Brooke Wolofsky. Sheen brought Wolofsky as his date to the 2006 Butterfly Ball in Los Angeles this weekend. His publicist confirmed their relationship:
The actor, who has reportedly been looking for love on the Internet since splitting from Richards at the beginning of 2006, showed off new girlfriend Brooke Wolofsky at the 2006 Butterfly Ball in Los Angeles over the weekend.
Sheen's new woman is a 28-year-old real estate investor.
The actor's publicist, Stan Rosenfeld, has confirmed his client is dating Wolofsky, adding, "They make a very happy couple."
That's good for Sheen, and hopefully it will last for him. Now that his ex Denise Richards has shown what an attention whore she is I don't like her at all, and am kind of siding with him in the divorce.
Richards defended the fact that she's dating and possibly engaged to BonJovi guitarist Richie Sambora, saying that Heather Locklear wasn't really her best friend and that you can't help it when you fall in love:
Denise says that her new relationship was the "last thing I was looking for," adding, "it's true when they say things happen when you least expect it."
She confesses that dealing with the rumors hasn't been easy. "The thing with Heather, that's been hard … you know you can't help who you fall for and that friendship, unfortunately, was done and wasn't salvageable."
She says, "People have gone on. … Would you date your best [friend's husband]? You know she wasn't my best friend. She was a close friend in the last couple of years — I hadn't known her my whole life [like] people [are] portraying this."
She finishes, "[It's] been tough having people think that I'm such a crappy friend — because if we were friends I wouldn't be in this situation."
On rumors that she and Richie got together before their respective marriages were kaput, Denise says, "I get why people have been hurt in this situation — you know, it's not good but it is what it is." But she stresses that both her and Richie's former relationships were over before they got together: "We didn't meddle in marriages and anything like that … I wish everyone in this whole ugly situation the best and at the end of the day, it's not just two couples, there's children involved. And that's what's hard. My girls can't read these tabloids. Their daughter (Richie and Heather's) can. So that's hard too."
She's full of shit and that's lousy to say "oh, I wasn't that close to Heather anyway." She shouldn't go on so much about it, and just looks as desperate as she did when she dressed like a slutty majorette to perform with the PussyCat Dolls.
Here are Sheen and Wolofsky. She looks like a decent person and we'll have to see how it turns out. If she has some of the same problems with Charlie that Denise did, we'll rethink our opinion of him. He's not a saint, but he's probably not as bad as Denise makes out.