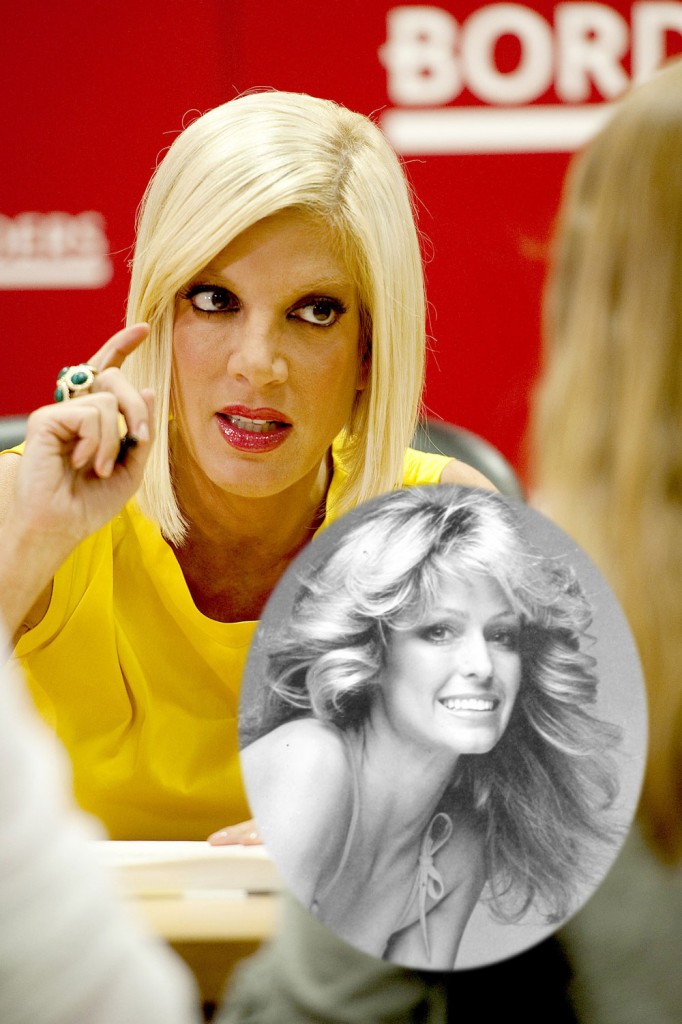 Tori Spelling is promoting her third memoir, the idiotically named uncharted terriTORI. Part of that involves telling stories to the press that will get her the maximum amount of press coverage. Tori has been candid about her marriage problems and the emotional distance she's feeling from her husband, Dean, as well as the fact that she's afraid that Dean, who cheated on his wife with her, is going to cheat on her. (Tori was also cheating on her then-husband when she hooked up with Dean.) She's also talked about her very low weight and tiny frame, blaming it on health problems and attempting to shame us for even noticing when she often brings up the topic herself.
Now Tori is telling a bizarre story about how she consulted a medium trying to contact her departed dad, but was allegedly contacted by the spirit of an actress from one of his hit television shows. Farrah Fawcett came through briefly from the other side, according to Tori, and gave her detailed information to pass on to her loved ones. Although she was disappointed that she couldn't talk to her dad, Tori dutifully wrote all of "Farrah's" messages down and sent a letter with the information to Fawcett's ex, Ryan O'Neal. It sounds like the medium was much more familiar with Farrah's story than with Tori's dad, Aaron.
It's almost been a year since Farrah Fawcett died on the morning of June 25, 2009, after a lengthy battle with cancer, and in a new interview, her former neighbor, Tori Spelling, told Access Hollywood that the blonde bombshell visited her from beyond during a psychic reading.

"I was talking to a medium," Tori told Access Hollywood in an interview to promote her third memoir, "uncharted terriTORI," which hit bookstores on Tuesday. "I was hoping my dad ['Charlie's' Angels' producer Aaron Spelling] would come through."

Instead of hearing from her father, while sitting down with medium and talk show host John Edward, it was the former "Angel" Tori heard from.

"Farrah Fawcett came through in my reading loud and clear," Tori continued. "It was really awkward for him as well. He's like, 'I have never had this happen.'"

Tori explained to Access that she knew Farrah for years – first through her dad and the actress' work on "Charlie's Angels," then because they were neighbors, and also because the blonde bombshell appeared on Tori's former VH1 show, "So NoTorious," but she wasn't entirely prepared for her psychic visit from the star.

"She wanted me to give a message to her family about how she was doing and what was going on and I'm like, 'Great! She really picked the wrong person,'" Tori laughed.

"Non-confrontational me, what am I gonna do?" Tori continued. "So I'm sitting on that information — I'm happy to say it's not in the book because it happened afterwards."

However, Tori eventually did make a move and got in touch with Farrah's loved ones.

"I actually wrote a letter to Ryan O'Neal and gave it to him so I was like, he's either going to think I'm completely crazy or he's going to say, 'Wow! Some of this makes sense,' because she gave very specific details of things to tell them," she explained.

Tori also reached out to Farrah's son, Redmond O'Neal, through his father.

"I did and I included that in the note to Ryan saying, 'Please pass this on to Redmond… She really wanted him to know these things,'" Tori explained. "I haven't heard from Ryan so I don't know, you know, I'm hoping you know he understood what I was trying to say and doesn't think I'm some loony."
[From Access Hollywood]
I have friends who believe in spirit contact, and I'm respectful of it, but I'm a skeptic and find it all pretty hokey. You know that Tori just wanted to ask her dad where he keeps the treasure in that ginormous mansion Tori's mom is trying to unload. Maybe if Tori had inherited a load of cash instead of the less than $1 million she received we wouldn't be hearing from her so often. She's got to hustle for her money, and that involves airing her personal problems on television, complaining about her weight, and visiting mediums to get material to talk about.
Tori is shown at a book signing in NY yesterday, 6/16/10. Credit: WENN.com