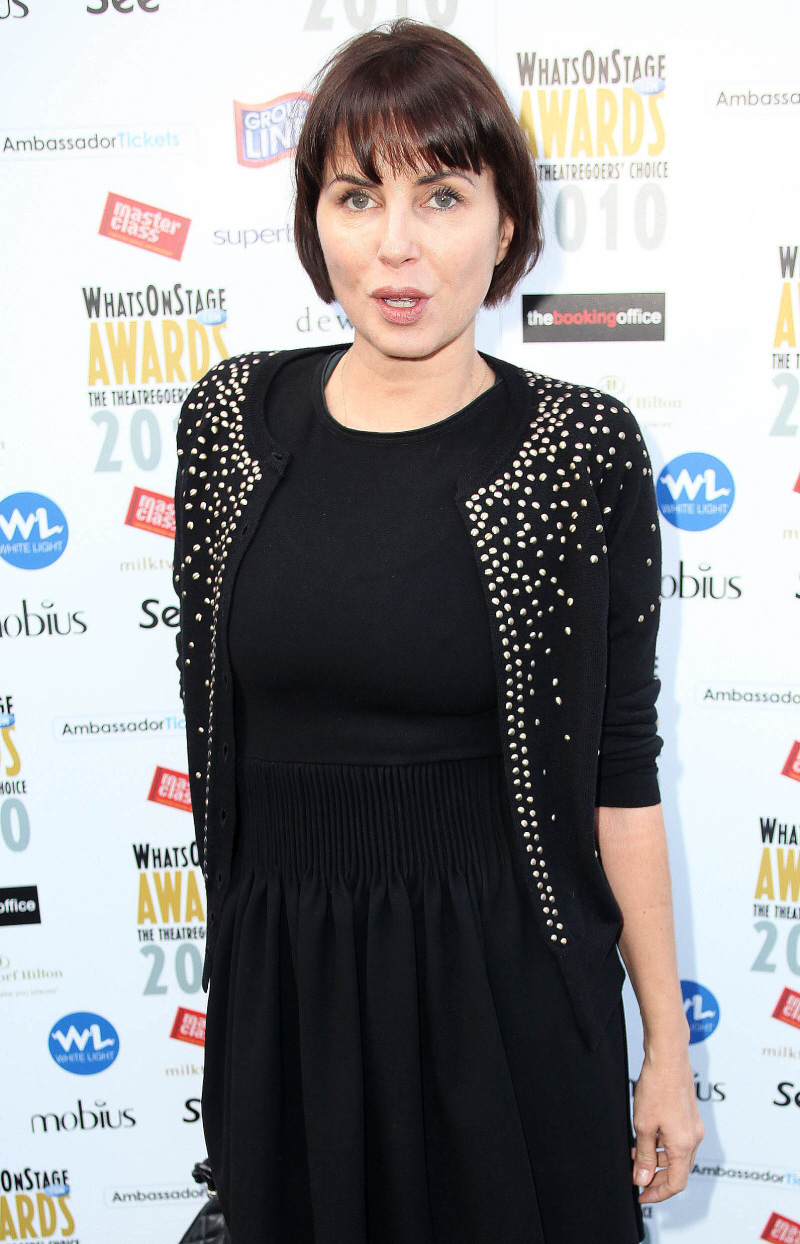 Sadie Frost and Jude Law have three biological children together – Rudy (7), Iris (9) and Rafferty (13). By all accounts, Jude is a very devoted father to these children (not so much with his daughter Sophia, with crazy one-night-stand Samantha Burke). Jude generally doesn't introduce his kids to his ladies, although in the years since Jude and Sadie divorced, Jude has only been serious about one person – Sienna Miller. They dated and got engaged in 2004-05, and they are back on right now. So, Jude lets Sienna hang out with his kids, and they seem to like her, and Sadie seems okay with it. Until now. Apparently, Jude and Sienna took his kids out for a holiday, and while vacationing, Sienna decided to let Iris get a haircut. Sadie was pissed.
SHOCKED Sadie Frost tore her hair out when her daughter Iris's stepmum-to-be Sienna Miller had the little girl's locks chopped off. Sadie left nine-year-old Iris with her ex Jude Law and film beauty Sienna, who are due to wed soon, while she went to the Isle of Wight rock festival.

Sienna, 28, took the girl to a hairdresser's. And actress Sadie returned to find Iris, who had a long bob style, with a boyish elfin cut.

The mum of four, 42, was so annoyed that she ranted at Sienna on Twitter: "I think ya should get ya own child and then cut their hair!"

A friend said: "Sadie had a great time at the festival but it was all forgotten when she saw Iris's hair. It's not that the style doesn't look nice – it does – but that it was done without her permission. I'm sure Sienna was just trying to be nice. But Sadie doesn't want Sienna playing mum to her kids."

Jude and Sienna also took Iris and her brother Rudy, seven, on a Eurostar trip to Paris, where Sienna and the girl held hands. Another pal said: "The kids love Sienna, especially Iris."
[From The Sun]
Was Sienna rude? I'm not so sure. Sure, Sadie and Jude should be making the decisions about their 9-year-old daughter's hair, but for Sadie to place the blame entirely on Sienna seems strange. Jude was there too – on vacation, I mean. Maybe he didn't know Sienna was taking Iris to the salon? My guess is that Sienna was just trying to do something cool for the little girl in an attempt to buy her love, you know? My verdict is that Sienna definitely should have known better, but Sadie overreacted a little. Plus, Jude should have kept a better eye on Sienna and his kids.
Here are some photos of Jude, Sienna and the kids on holiday, before the haircut. Iris is the little girl in the red-and-white striped shirt.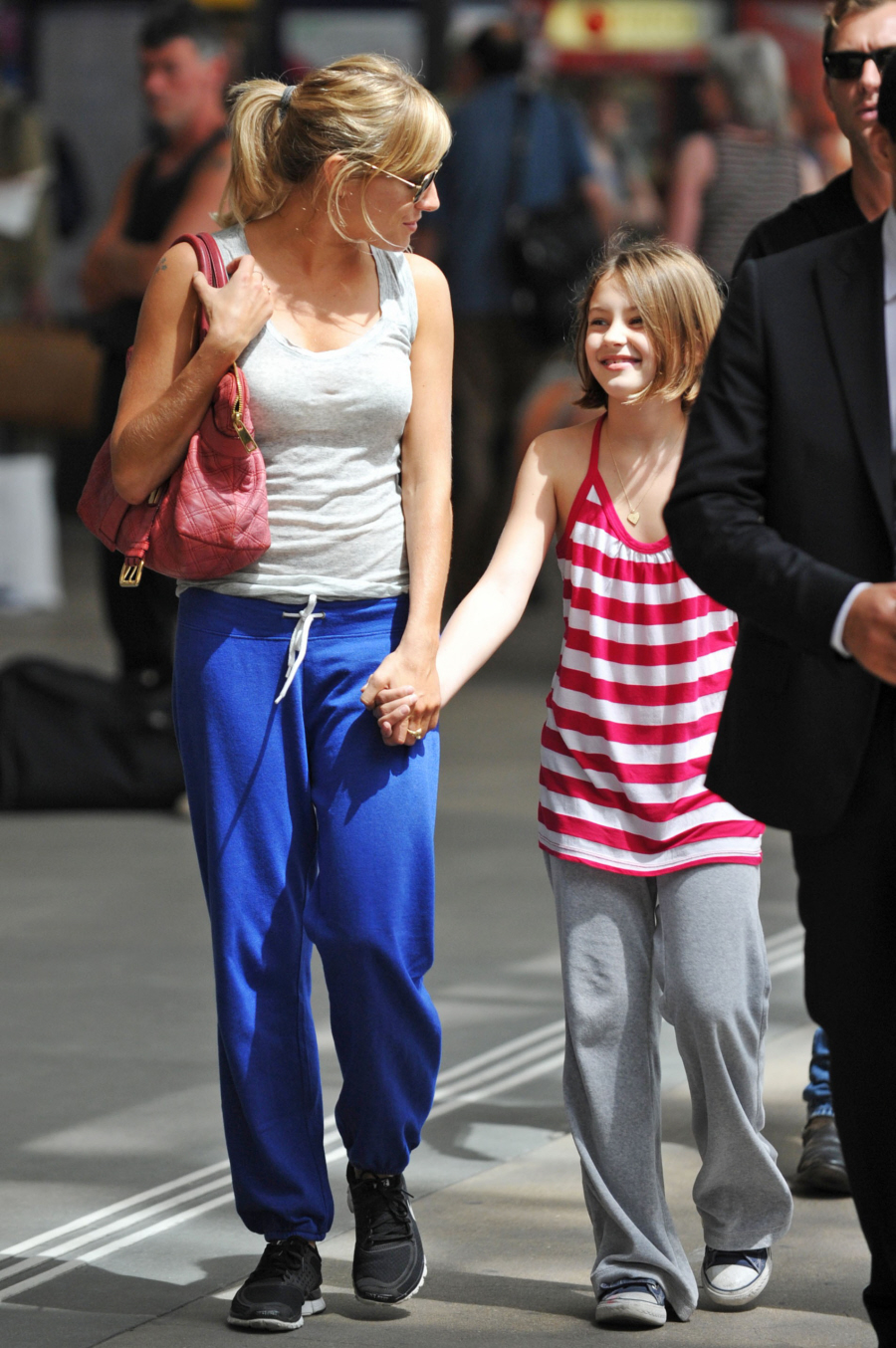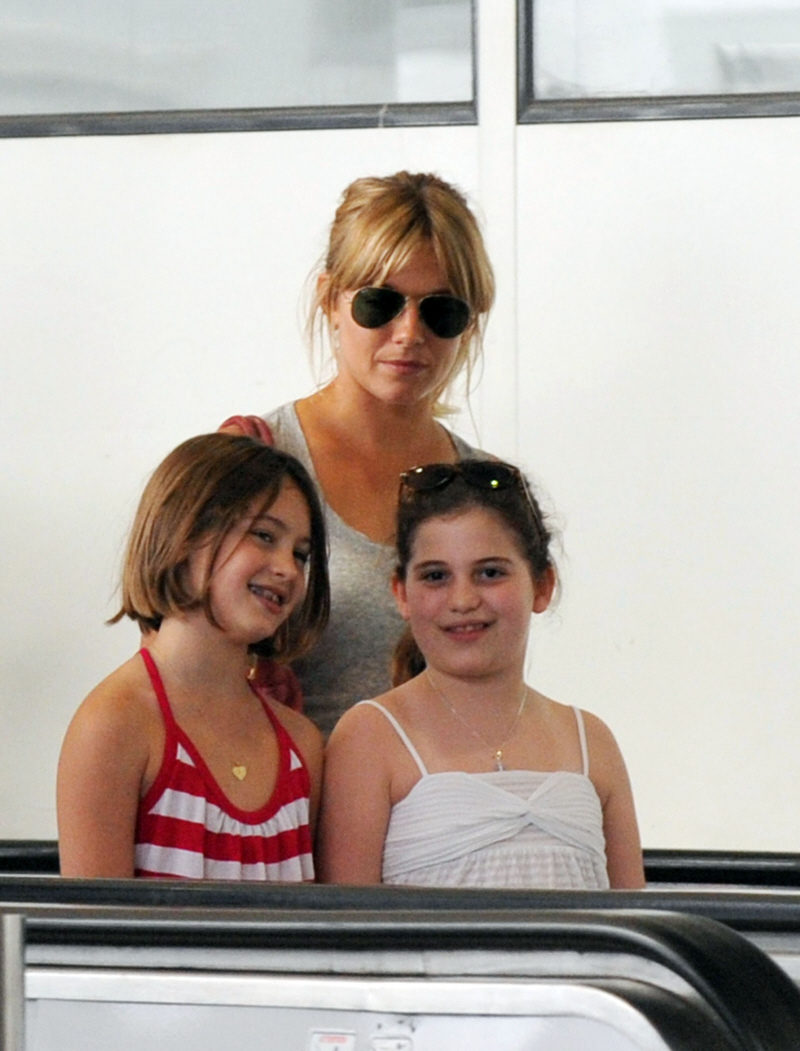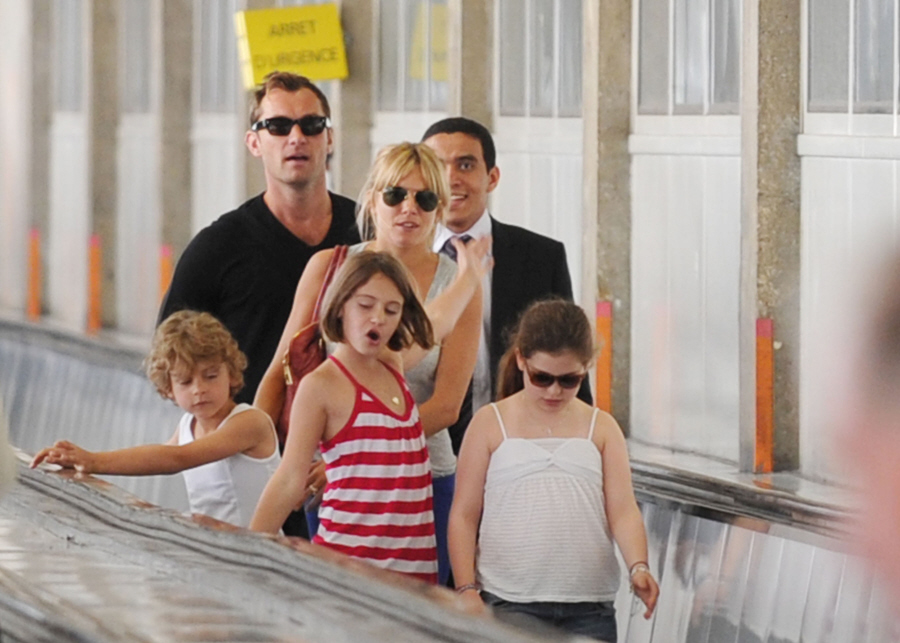 Header: Sadie Frost on Dec. 4, 2009. Credit: WENN. Also, Jude, Sienna and the kids on June 11, 2010. Credit: Bauer-Griffin.