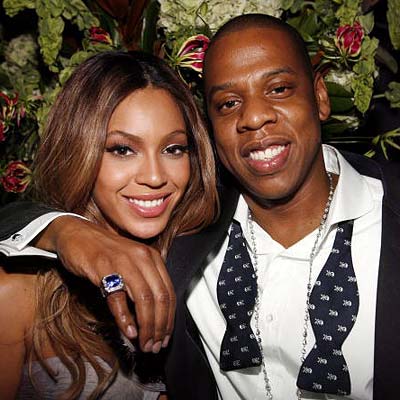 People reports that sources say that Beyonce and Jay-Z registered for a marriage license on Tuesday morning in Scarsdale, NY, which would give them 60 days to get married in the state under that license. Beyonce's rep had no comment and there is no further information about it.
Singer Beyonce, 26, and rapper and media mogul Jay-Z, 38, have been together for over five years and this isn't the first rumor that they were about to tie the knot. In early March there was a story that Beyonce and Jay-Z were out at Butter Nightclub in NY and that Beyonce stashed what looked like a giant diamond engagement ring in her purse when witnesses spotted it.
Back in January there was a rumor that these two were secretly married at Georgio Armani's house in Paris over the Christmas holidays. They were each seen with matching ring finger tattoos around that time that seemed to signify some kind of commitment.
The NY Daily News reports that Jay-Z was seen meeting up with Beyonce's younger sister, Solange, in Miami recently, with a source claiming the meeting was about asking her family for permission to marry.
If this is true congratulations to Jay-Z and Beyonce. It would also be nice if they got married in a low-key ceremony without a lot of guests or a huge party. Either way is great for them, but it would be a pleasantly surprise if they got married under the radar.