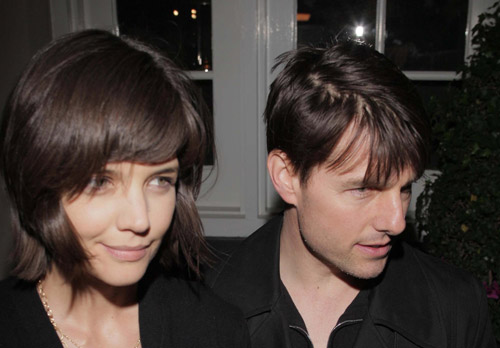 There was a photo that was online late last year of Tom Cruise bald and wearing a fat suit. The NY Times reports today that it's from an uncredited cameo in the upcoming Ben Stiller comedy "Tropic Thunder" also starring Robert Downey Jr., Jack Black, Matthew McConaughey and Nick Nolte. They wanted to keep Cruise's appearance a secret, but the news got out at an industry screening of the film, put out by Paramount Pictures.
Paramount head Summer Redstone decided to cut ties with Cruise's production company in August, 2006 after public outburst against pharmaceutical drugs. Redstone made it clear that Cruise was no longer working with him due to his behavior, and said "His recent conduct has not been acceptable to Paramount."
Cruise and Redstone had lunch last week in what many people thought was a bid to patch things up, and now it's known that he plays a character in "Tropic Thunder" that is thought to be a parody of Redstone. The screening audience was howling with laughter at Cruise's scene:
At an industry screening Tuesday night of the forthcoming comedy "Tropic Thunder" from Paramount Pictures and its unit DreamWorks, Tom Cruise brought down the house with his surprise portrayal of a bald, hairy-chested, foulmouthed, dirty-dancing movie mogul of the kind who is only too happy to throw an actor to the wolves when his popularity cools.

The several hundred Hollywood agents, managers, publicists and reporters at the screening on the Paramount lot here couldn't have missed the joke. In August 2006 Mr. Cruise — after spending many years at Paramount and appearing in some of its biggest hits, including "Top Gun" and the "Mission: Impossible" series — was sent packing by Mr. Redstone, the chairman of Viacom, the studio's parent.

Two years later Mr. Cruise is back in a Paramount movie, playing a craggy ingrate in what is shaping up as one of the studio's best prospects for the summer. The movie, a raunchfest directed by Ben Stiller, about a bunch of actors whose jungle war movie turns unexpectedly real, also stars Mr. Stiller, Robert Downey Jr., Jack Black, Matthew McConaughey and Nick Nolte.

The humor may have been heightened by knowledge that Mr. Cruise and Mr. Redstone only last week kissed and made up over a very public lunch at the Beverly Hills Hotel.
[From the NY Times via Huffington Post]
Why do you have to go endear yourself to the industry like that, Tom Cruise? You're supposed to be a batshit crazy cult leader, not a funny guy who pokes fun at his career setbacks.
Robert Downey Jr. is also said to have brought down the house. Downey plays an actor playing a soldier in blackface, so it's more of a meta-role and not a straight case of a white actor playing an African American role.
"Tropic Thunder" will be out in the US on August 15, and is about a group of actors filming a Vietnam war movie who get abandoned in an actual war. It's thought that the film will be a real hit for Paramount, and it could do wonders to revive Cruise's image.
Header image is of Tom and Katie pre-shorter haircut out at The Cut restaurant on a double date with Will Smith and Jada on 2/27/08, thanks to WENN.
Here's the trailer, which does not include Cruise: