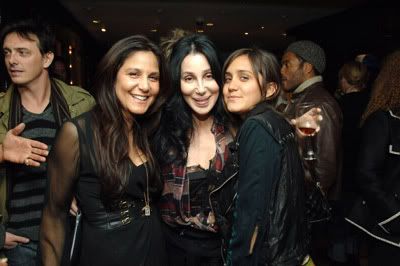 Cher may get an ongoing gig at The Coliseum at Caesars Palace when Celine Dion ends her longstanding run there next year. If the deal goes through it will be worth $60 million to the aging singer, who was thought to have announced her retirement last year.
The well-preserved diva-saur – who just finished a three-year "farewell" tour – is in talks to take the stage at the Coliseum at Caesars Palace for a whopping $60 million when Celine Dion gives up the same stage next year. Cher will be paid roughly the same sum Barry Manilow is getting to warble his moldy hits at the Las Vegas Hilton. Elton John also has a regular gig at Caesars. A rep for Cher didn't return calls or e-mails.
Here is Cher at a party for the Chrome Hearts goth store line. She is pictured with the company's owner, Laurie Stark. There's also an earlier photo of Cher at LA fashion week a couple of weeks ago holding the hand of Stark's husband, Richard.