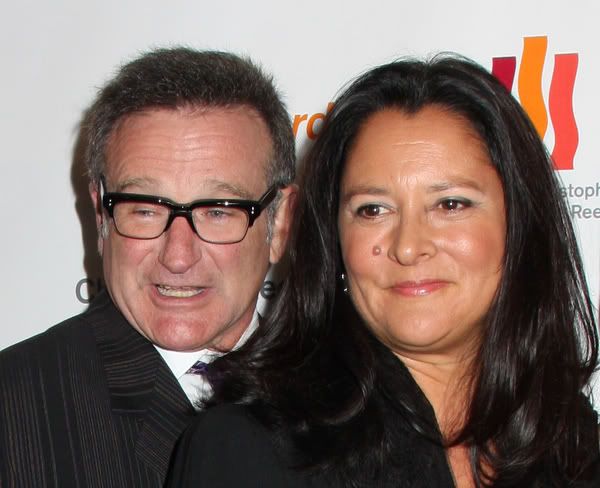 Williams and his wife of 19 years, Marsha, on 11/12/07 before she filed for divorce
Robin Williams has been living apart from his wife for two years, claims the latest issue of the National Enquirer, and he has had a 27 year-old girlfriend for the past few months. It was his cheating that was said to eventually drive his wife to file for divorce after 19 years of marriage.
Williams met modern artist Charlotte Filbert about six months ago through friends and owns some of her paintings. Filbert lives in Greenwich, Connecticut, and comes from a well-to-do family.
Robin is said to have given his new girlfriend a $10,000 a month limit to rent an apartment in Manhattan:
Robin Williams was cheating with a knockout blond half his age before his wife Marsha hit him with divorce papers, ending their 19-year marriage, The Enquirer has learned exclusively.

The other woman is Charlotte Filbert, a 27-year-old artist from tony Greenwich, Connecticut, and she's the secret behind the comic's bust up, sources reveal.

Williams, 56, met Charlotte last year through a pal – and the… actor owns several of her paintings, according to her agent…

"Charlotte wants to move from Greenwich to Manhatta, and Robin gave her a $10,000 a month limit for a rental apartment," said the source.

When approached by an Enquirer reporter, Charlotte did not deny her affair with Robin, saying "I can't comment on any of this stuff."
[From The National Enquirer, print edition, April 14, 2008]
The Enquirer says that Robin wooed Charlotte through dinners and walks on the beach with her dog, and lots and lots of listening to his jokes. I don't think I could stand to be with a guy that doesn't have an off switch like Robin, but there have to be women who find that funny and refreshing.
Maybe Williams' marriage had run its course and if he was already living apart from his wife for two years they may have been preparing for divorce for some time. It's still got to come as a slap in the face to find that your maybe-estranged husband has a girlfriend who is almost 30 years younger than he is.
Inset image of Charlotte Filbert is from her website. She's a talented artist. You can see a larger photo of Filbert in the new National Enquirer with Jennifer Aniston's adoption on the cover. One of her paintings called "Swim" is below.