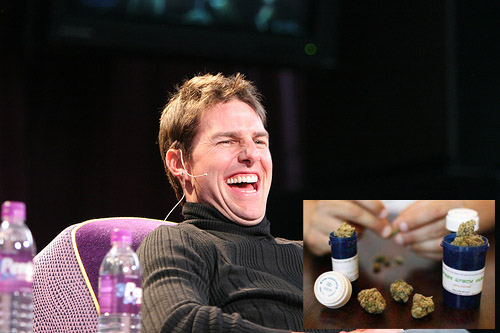 Actor/scientologist/couch jumper Tom Cruise is reportedly miffed that a new strain of medical marijuana has been nicknamed in his dubious honor. The weed, dubbed "Tom Cruise Purple" on the street, reportedly is so potent, it makes you see things that aren't there. Although, since it's named for Cruise, it should make you dance around your house in your underpants and socks to "Old Time Rock n' Roll." Cruise, who has been embarrassingly vocal about his objection to prescription drugs, isn't flattered by the moniker and wants his legal team to put the kibosh on it, according to rumors.
Tom Cruise isn't getting any giggles from a new strain of medical marijuana being marketed as "Tom Cruise Purple."

Word is that the actor's lawyers are taking a serious look at the strong brand of bud after we brought it to their attention.

One of Cruise's friends found it "outrageous" that licensed cannabis clubs in Northern California are selling vials of pot featuring a picture of Cruise laughing hysterically.

Like other followers of Scientology founder L. Ron Hubbard, Cruise is opposed to the use of psychotropic drugs.

Staffers at several California clinics we called said they were forbidden to discuss any of the herbal varieties in their "inventory."

But one weed devotee said, "I heard it's the kind of pot that makes you hallucinate."
Tom– if it weren't prescription strength, would that make you feel better about it? What a bunch of rubbish. What is his lawyer going to do- bust into every pot party in Southern California and slap the hippies with an injunction every time their client's name is mentioned? Good luck with that. Just when I thought Tom might actually be getting his sense of humor back.