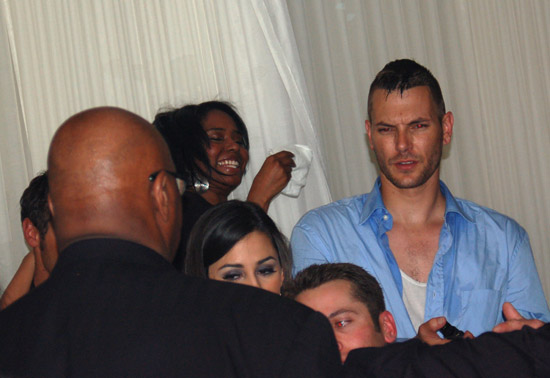 Devoted babydaddy or lazy gigolo- will the real Kevin Federline please stand up?
In the months following the Britney-K-Fed divorce, the ongoing custody battle, and the slow, steady Brit meltdown, Federline has kept a fairly low profile and done a good job of keeping their two children protected. But recent documents revealed that K-Fed many have been lying about his income in order to get his ex-wife to pay his legal bills- and that the single dad likes to blow money on strippers, nightclubs, booze and ridiculous tips.
K-Fed lied about his income and charged up ridiculous expenses, including insane tips, according to new court documents. Britney Spears' newest lawyer, Stacy Phillips, filed documents challenging the legal fees that Brit was ordered to pay for Fed-ex. Phillips claims K-Daddy "understated his income by at least $200,000." She also says Federline buried all sorts of personal expenses and pretended to have $800,000 worth of business expenses. PopoZão!

According to the legal papers, Federline grossed $544,074.73 from his production company, "Gooseneck Productions" in 2007, and his expenses totaled $841,128.67. Phillips says Federline's so-called business expenses included "extraordinarily high tips for food and beverage services [e.g., $1,100.76 tip on $2,782 bill; $200 tip on $371.29 bill; and $2,000 tip on $365 bill].

K-Daddy got Britney to pay his legal bills, claiming relative poverty. But, as her lawyer calls it, "Bank of Britney" may have been taken for a ride — specifically, from L.A. to Vegas. According to legal docs, in a recent eight-month period, Federleezy blew $50,489.71 on hotel rooms and refreshments in Vegas.

In one day alone, K-Fed dropped $2,632.50 at TAO Beach (the pool club at The Venetian). And on one wild evening, he spent $2,862.60 at TAO nightclub. One day at the Hard Rock Beach Club — $3,008.33

Oh yeah, and there's this…. at Scores strip club, he once spent $365, but left a $2,000 tip.
Juxtapose these legal findings with the public image of a caring dad trying to create a stable enivronment for his two young sons, and I don't know what to think. I do remember K-Fed spending a lot of time at clubs while Britney was home with two small boys, which led up to their divorce. It seemed as though he'd given that up after becoming the sole custodial parent, but maybe not. Also, how did K-Fed earn anywhere near $500k though his "production company"? What exactly did he produce, besides Sean and Jayden? I'd be willing to bet that all that money he blew in Vegas was courtesy of his ex-wife. Last time I checked, having a two-minute cameo on "One Tree Hill" doesn't pay well enough to justify that kind of spending.
Picture note by Celebitchy: K-Fed is shown at his 30th birthday party on March 21, for which he was said to have been paid $175,000. That might explain where he got the money. Thanks to WENN and PRPhotos.