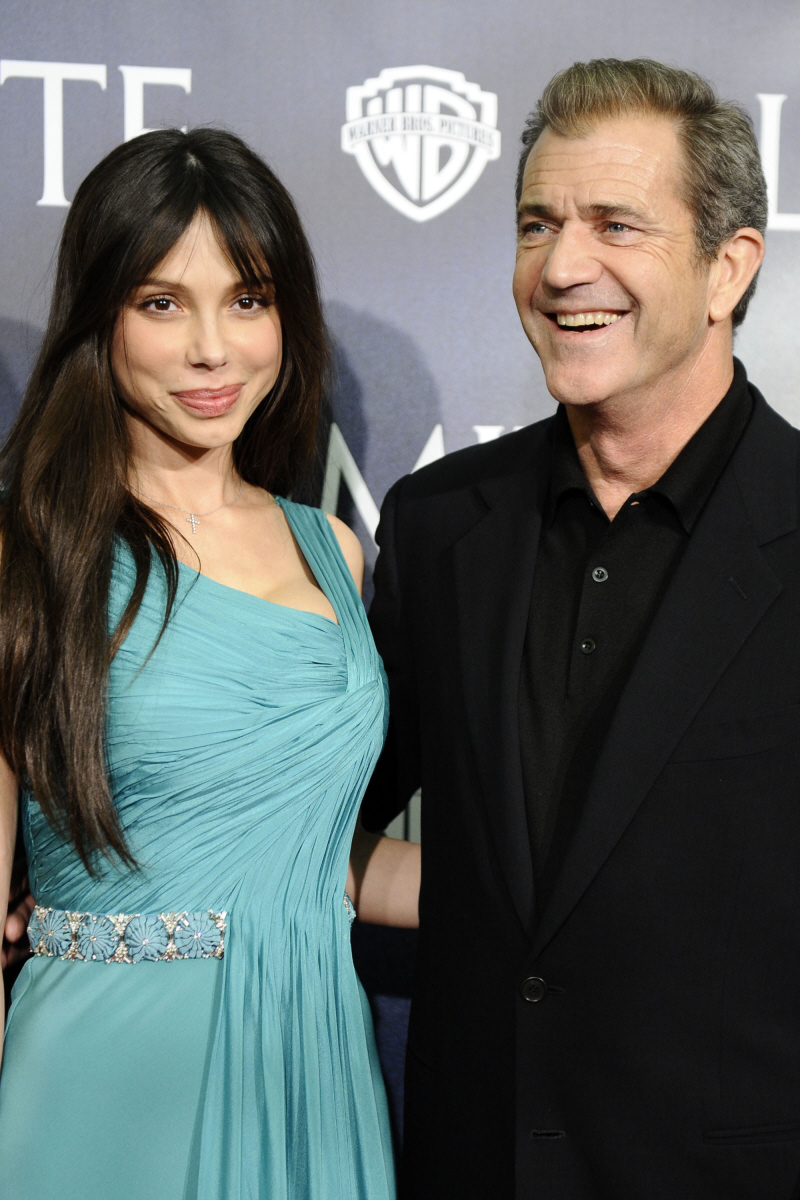 I wonder why all of this Mel Gibson-Oksana drama is going down over a weekend? It's strange, you think Oksana would have played this one better, for maximum publicity and attention. But still, here I am updating the story on a pretty non-eventful weekend, so maybe she is smart. Early Friday, Radar had a report that Mel Gibson had gotten a restraining order against Oksana, leaving the impression that she was about to open her big mouth and say something damaging about Mel. Then, hours later, TMZ reported that Oksana had actually been the first to get a restraining order, and it was about Mel being abusive towards her. Oksana then gave a brief interview to Radar claiming that Mel was "playing dirty" and that "the truth will come out." Well, even more sh-t came out in the past 48 hours, so let me just do the highlights:
*Mel Gibson's PR team went to People Magazine with this story: the "abusive" incident in January that Oksana is talking about is Oksana's "distortion". Mel's team claims that "Oksana was completely out of control that day, screaming, and shaking Lucia like a rag doll. Mel stepped in to stop her from injuring the baby." Then, just last weekend, Oksana refused to let baby Lucia go to Mel's home for Father's Day, and that's what started this round of legal give-and-take. The source says: "He was as frustrated as any father would be when they're kept away from their child. He was with all his kids and family and the one person missing was Lucia. Oksana is not putting the interest of their daughter first." Another source: "The allegation that Oksana is in fear of Mel is ridiculous. From January to March, she traveled with Mel to London and Paris at her insistence. This is all an attempt to gain financial advantage over him."
*Oksana's PR team didn't get into details with People Magazine, but a source did tell the mag: "That is absolutely not what caused all this. There's other reasons in this case that brought it to where it is today. Oksana doesn't feel the custody agreement is fair." The restraining order that Oksana got against Mel forbids him from having contact with her or with Lucia. All of this won't be cleared up until July 20, at a hearing.
*Then Oksana gave an interview to the Daily Mail, and she claims that none of this is about money, because he's not giving her any money and she needs money. Tricky reasoning. Oksana says: "He is not paying me a penny. Nothing. There are so many lies being said about me. I was trying to keep things dignified and be respectful to the father of my daughter, but what he is doing is cruelty. I am having to live on credit cards and borrowed money. It is not a good situation." Oksana also said: "We were together for three years. So much that is being put out there is wrong. He didn't dump me, I left him. I rescued my children and myself. There is no restraining order against me, but my lawyers went to court and a judge granted a restraining order against him."
*And now TMZ is reporting more details about the alleged incident in January:
According to sources connected with Mel, on January 6, 2010, Mel and Oksana were arguing at home when Oksana took baby Lucia, ran around the backyard, threw herself on the ground, came back inside the house and began shaking Lucia like a ragdoll. Mel followed and the sources acknowledge there was physical contact, but insist Mel did not punch her and was just trying to protect the baby.

The sources say Oksana began traveling the world with Mel and made no mention to anyone about being the victim of brutality at the hands of M.G.

In May, after the couple split, there was a mediation in which Mel and Oksana got joint legal custody of Lucia — Oksana got primary physical custody and Mel got visitation, which included overnights. The deal was … the arrangement was eventually supposed to turn into 50/50 custody. On one occasion, while Oksana was touring Russia for her singing career, Mel went to her house to see Lucia. Oksana's mother was there and told him to stay overnight with the child, which he did. Oksana's mother even let the bodyguard go for the night. Oksana had no problem with this, sources say.

Sources connected with the couple tell TMZ Oksana regretted agreeing to the mediated custody settlement and wanted to limit or even exclude Mel's contact with Lucia. A week ago Friday, Mel's representatives got a call from Oksana's lawyer, saying Oksana would not allow Mel to spend time with Lucia on Father's Day … something to which she had already agreed.

According to sources, at noon on Monday, Oksana's lawyer called Mel's rep and said she got a restraining order against him to stay 100 yards from her and couldn't even see Lucia until a hearing in July. The next day, Mel's lawyer went to the judge and got the restraining order modified, allowing him to see Lucia — just like it was agreed before.

During the hearing, it came out that Oksana had secretly taped arguments she had with Mel. The judge ordered the tapes sealed and also ordered Oksana not to talk publicly about the recordings. And, we're told, the judge was extremely unhappy with Oksana's lawyer for not revealing that there had been a mediated custody agreement in place.

Sources close to Oksana Grigorieva tell TMZ … Mel Gibson punched her in the face and knocked out her teeth in a fit of rage.

Sources connected with Gibson have told TMZ the actor did not get violent with Oksana during their January 6 confrontation, although they admit things did get physical. A source connected with Oksana, however, says, "Mel and his camp are spinning the facts in a desperate attempt to protect his reputation."

Sources in Oksana's camp say Mel's people are lying when they say she shook the baby. Instead, the sourceds say, "She tried to protect the baby during one of Gibson's violent episodes when he punched Oksana in the face two times, breaking her teeth and giving her a concussion."

As one source put it, "She tried to protect his reputation, depsite her fears of him and his verbal and physical abuse." And the source goes on, "She regrets having believed in his empty promises to obtain professional help to control his violent nature."

TMZ broke the story … Oksana obtained a restraining order against Gibson last Monday, which prohibits him from coming within 100 yards of her.

Oksana's attorneys would not comment about the case, but did say, "The true facts will be brought out in a court of law. Oksana will continue to abide by the ethical obligations and rules arising from a confidential paternity action and will let the court decide the issue in this matter."
[From TMZ (two articles)]
So, basically, everyone is playing a game of "Which of these two evils do you believe more?" I find it hard to believe that Oksana was shaking Lucia like a rag doll, honestly. I'm not naïve or anything, I know that there are mothers who do that, but Oksana doesn't strike me that way. Yes, I think she's a gold-digger, and yes, I think she hooked herself a big fish and she's playing it for all it's worth, but I don't think she would shake her baby. I think she would use her baby to get more cash-money, and I think she wouldn't do anything to harm her little golden goose. And I buy that Mel is a rage-filled guy, so the idea that he would punch his baby-mama? Sure. I could see that. But we'll see how it all plays out. Oh, and by the way – my guess is that this sh-t is going to continue to play out in the media for a while. Both Mel and Oksana have really smart PR people.
Header: Mel & Oksana on February 1, 2010. Credit: WENN.