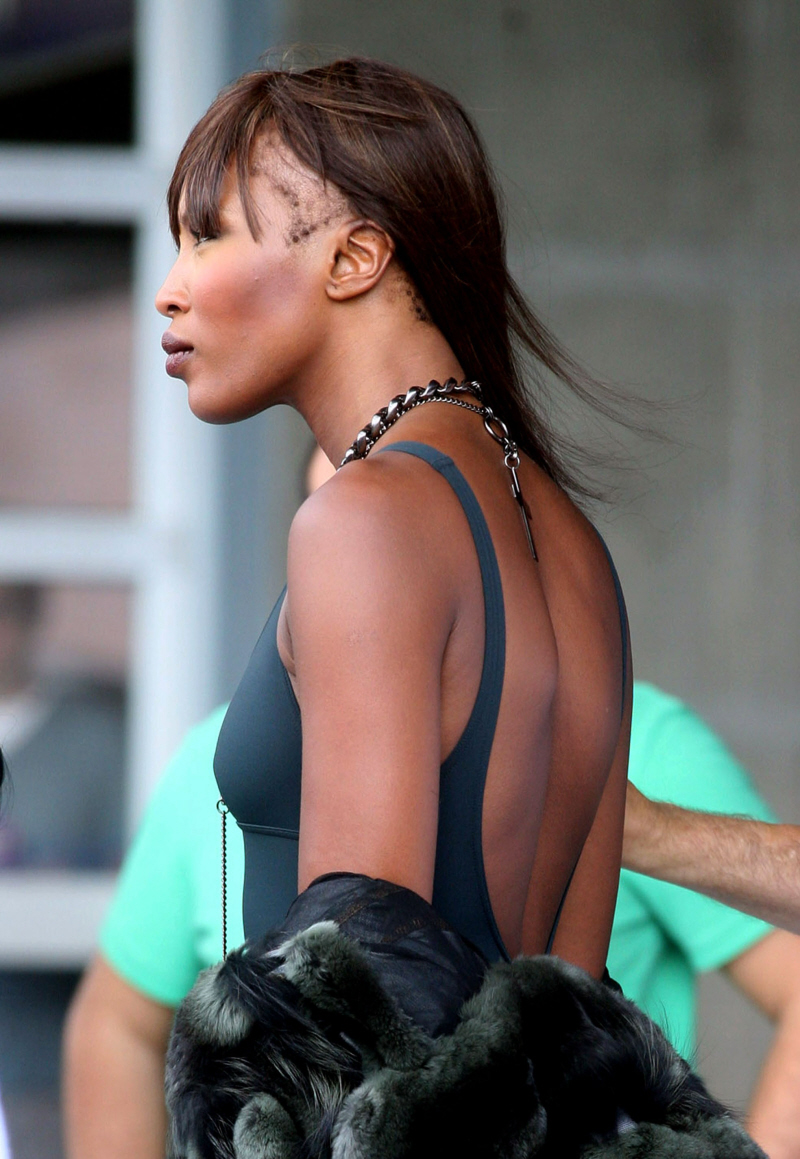 Here are some new photos of Naomi Campbell being photographed for some kind of pictorial or ad campaign that revolves around fur. That alone makes me want to be nasty. However, the photo agency managed to get some strange photos of Naomi in profile, and the woman looks like she's got some really strange bald spots on the side of her head.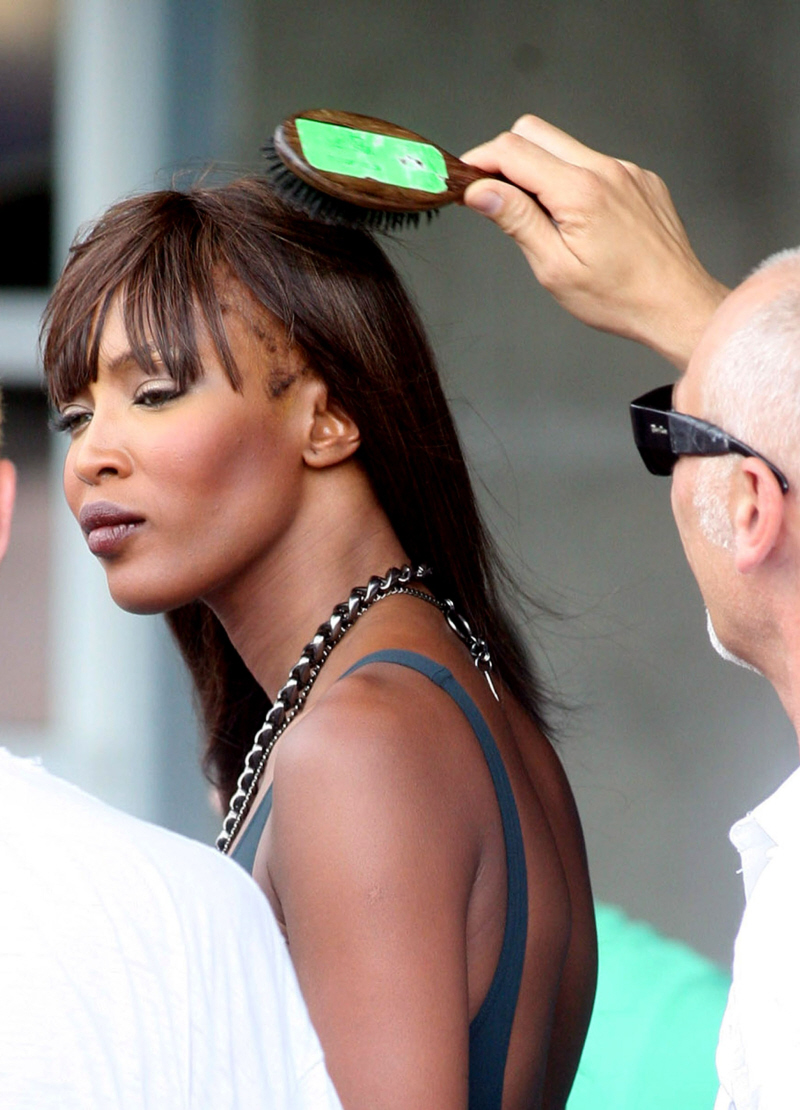 Is this from chemical relaxers? From bad weaves? Has she been bald all along and she's just worn a series of wigs? I Googled "Naomi Campbell bald" and it seems like there's quite a collection of Naomi's baldness, so it's been a talking point for a while. The Daily Mail even got a hair expert to way in:
Naomi Campbell left onlookers stunned as she revealed a huge bald patch beneath her long luscious wig while on a fashion shoot for designer Dennis Basso in New York. The 40-year-old has revealed signs of a vanishing hairline before, but the true extent of the problem was put on show as she held her hair back as a stylist adjusted her clothing. It appears that years of wearing tight hair extensions have taken a toll on the model's natural hair, causing severe breakage.

Hair loss associated with hair braiding, weaving and extensions is known as 'traction alopecia'. Britney Spears, Paris Hilton, Victoria Beckham and Alexandra Burke are all reported to have suffered similar symptoms as a result of their extensions. While prolonged traction can cause permanent loss of hair in the affected areas, it is reversible if caught early.

Trichologist to the stars Philip Kingsley said tight hair styles, pony tails, hard brushing and hair extensions could all lead to traction hair loss.

'The old-fashion hair extensions were put in by weaving threads which had hairs attached to them between the natural hair,' he said. 'They were weaved next to the scalp and tightly knotted at each end to secure them. Because of their proximity to the scalp, the thread, which the hair knotted onto it, rubbed on the scalp, caused irritation, consequently making it sore and sometimes breaking the skin.'

He said the new way to put in hair extensions, which involves glue-heating them onto natural hairs, could cause similar problems.

'The biggest potential problem is traction hair loss and breakage because of the pulling involved.'

But Naomi appeared oblivious to the revelation as she posed at a gas station in the Meatpacking district. She wore a green swimsuit that put her long, lean legs on show and also paraded a series of fur coats. The former Peta campaigner famously declared in the Nineties that she would rather go naked than wear fur but she had a change of heart some years back.
[From The Daily Mail]
Ugh, the things women do for beauty. Does the weave-glue answer make sense? I have to admit, I'm not familiar with so much of what women do with their hair. I have very fine Asian-girl hair that doesn't do anything but lay there and be silky (ha!). I've never gotten a weave – I've never even dyed my hair. So to me, this explanation makes sense, although I think professional weavers should get a better system, right? Hot glue that yanks out your hair? No thanks.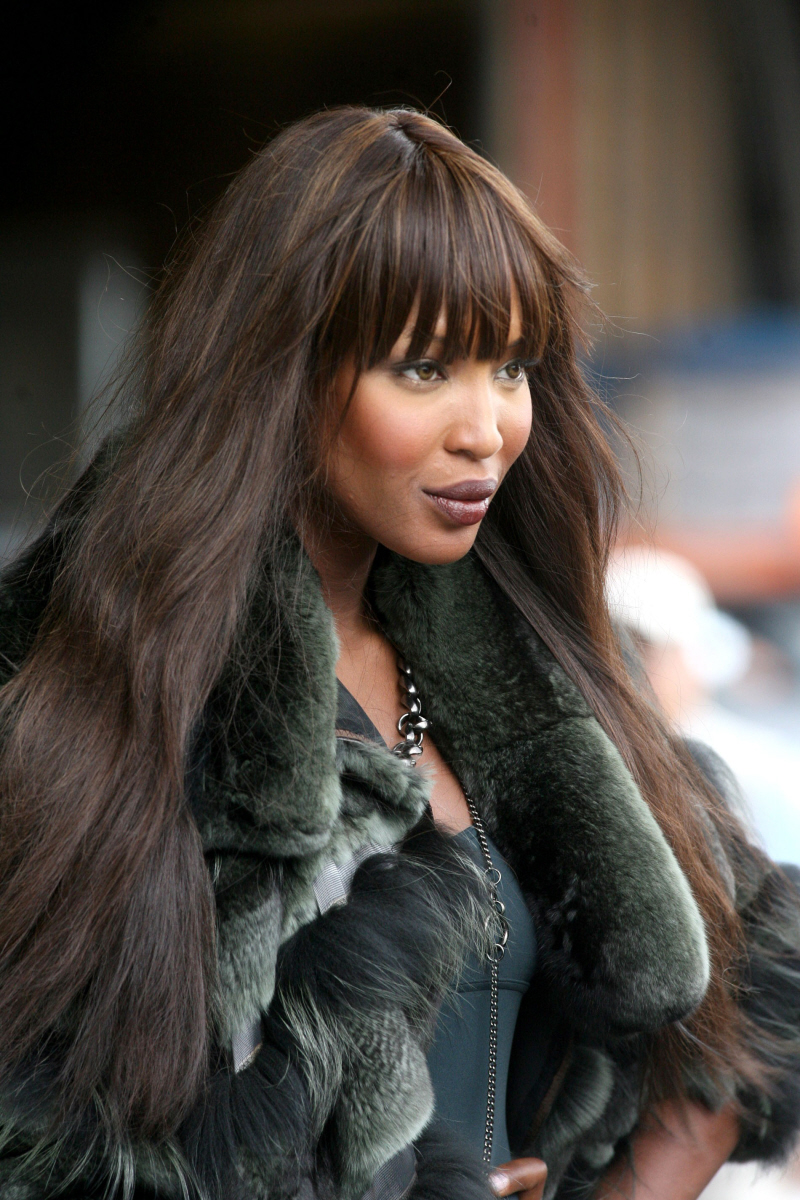 Naomi on June 28, 2010 in NYC. Credit: Bauer-Griffith.