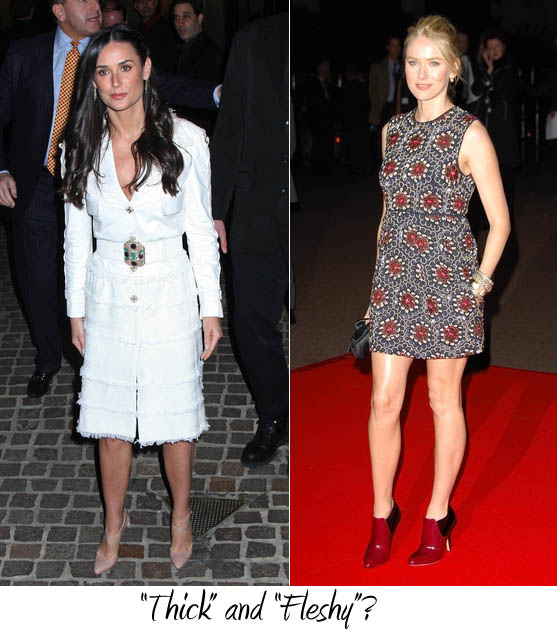 Personal trainer to the stars Rob Parr has a new book coming out called "Star Quality: The Red Carpet Workout for the Celebrity Body of Your Dreams
" The way Parr describes some of his celebrity clients when he first started working with them is not flattering at all. Perhaps he's trying to explain that you too can have a celebrity body, or maybe trainers regularly talk like that, but the way he disses the "before" bodies of some celebrities is just plain mean:
Demi Moore needed some major work to turn herself from a fat-kneed, thunder-thighed girl into a ravishing knockout, according to Robb Parr, her former personal trainer. In his upcoming exercise book, "Star Quality," Parr writes: "[Demi] lacked a defined waist, carried too much meat on her thighs, and was, by movie-star standards, thick overall. To taper her waist, we decided to accentuate her shoulders, creating a V-shape. We trimmed her thighs, shaving off some of the excess fat from above her knees, and accentuated her butt, further emphasizing her waist." As for Madonna, whom Parr also whipped into shape, "When [she] and I started working together, she was very soft . . ." As for Aussie cutie Naomi Watts, she came to Parr "fleshy, and we needed to trim and tighten so that she would fit the mold of a bikini-clad babe."
[From The NY Post]
This guy's book could also be called "You'll never fight flab in this town again," because he's not going to win any business in the future by being so rude about his clients. Some programs work better than others, but Parr is fooling himself if he thinks that his routine is so unique and worthwhile that stars are going to keep seeing him after he talked smack about his clients. Celebrities expect some kind of discretion and privacy in the professionals they work with. Maybe they gave him permission to mention them in his book, but it's doubtful.
According to Amazon, Parr's book classifies the female stars into different body types to help you achieve their slender and defined physiques:
Success is in the stars with this proven celebrity-based program that offers lasting transformation in 90 days. Instead of the standard apple, pear, or celery stick body shapes, Rob Parr presents body types based on some of his most famous celebrity clients, so that readers can identify with, aspire to, and work toward a body shape like Madonna's (athletic), Demi Moore's (hourglass), or Naomi Watts's (long and slender). The plan is easy to follow and has a lot of variety to keep routines from getting dull, plus celeb secrets, motivational tips, and Hollywood stories to keep things fun and interactive.
[From Amazon.com via Huffington Post]
One of the best and easiest diet and exercise programs to follow is the now-classic "Body for Life: 12 Weeks to Mental and Physical Strength
." (It's easy to follow, but the work is hard although definitely doable.) Another one I recommend is Don Lemmon's Know How – The Truth About Exercise and Nutrition
which is also very effective but not as easy to learn. Overall it's all about getting your butt in the gym and lifting weights and eating less. For me I need a formula to follow and don't like to count calories or weigh food.
There are plenty of excellent programs for losing weight and firming up and it's all about picking one and getting motivated to follow it most of the time. I don't want some arrogant trainer telling me that Madonna and Naomi Watts used to be fat at some very brief point in their lives, though. That really isn't going to make me want to buy his book.