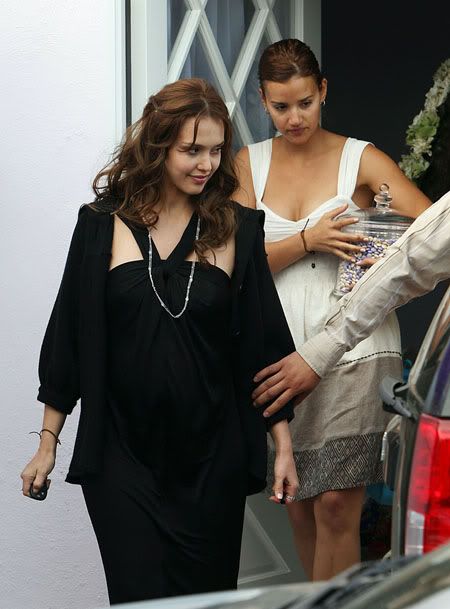 Jessica Alba had her baby shower yesterday in LA at the Ever After Teahouse. Her sister, Jamie King, and reality star Kim Kardashian were among the guests, and there were plenty of security guards on hand to make sure the paparazzi didn't get out of hand.
Guests enjoyed tiger shrimp, pulled chicken, chocolate strawberries, and mini custard tarts and eclairs.
Alba of course received a lot of gifts, including a cradle, books, and baby clothes. She also gave her guests a gift bag from Tastybaby, an organic baby food company.
Alba is due in June and is rumored to be having a girl. She received at least $4,000 worth of high end baby gifts in a surprise shower thrown for her on the Tyra Banks show in February, so it's not like she needs many more supplies. A shower is a nice way to celebrate an upcoming arrival with friends and family, though.
Thanks to MarieClaire for the details for this article.
Photos thanks to WENN and Splash News.