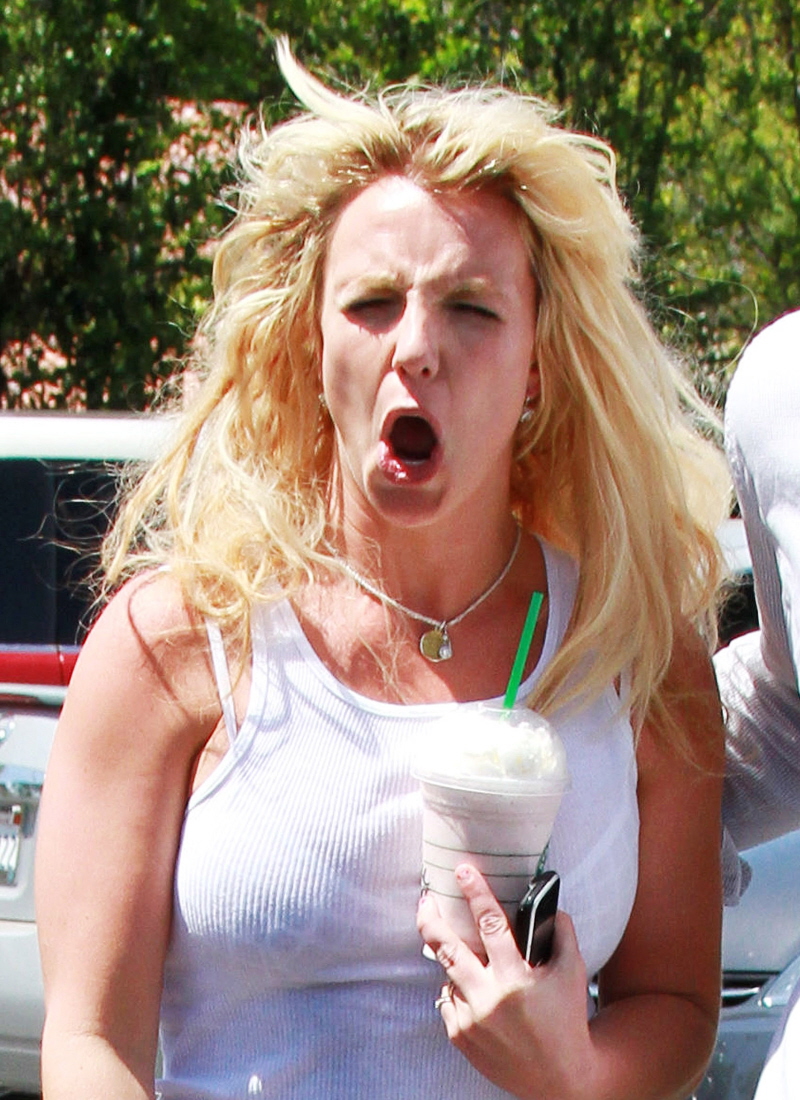 These are some new photos of America's Princess, Britney Spears, acting like the batsh-t crazy sweetheart we all know and love. Are we letting the social workers see these? Fame Pictures notes that Brit's "hair extensions, underwear, body parts and erratic emotions all hang out" and they even did their infamous red circles around her cellulite, because I guess this girl doesn't have enough problems. So what caused this flurry of hilarious/crazy/sad expressions? Fame: "When her bodyguards lead her the wrong way past her car, Spears put on a display of unflattering facial expressions and growled in frustration." That's right, bitches, when Brit gets upset, she growls. Do you have a problem with that? Also, everyone seems to think that getting a visit from the social workers might have set her back. You think?
As I mentioned before, Britney Spears cracked the top ten on the Forbes Magazine Celebrity 100. Meaning that she's one of the most "powerful" celebrities in the world, and is still raking in the money:
When Britney Spears popped up at no. 6 on our Celebrity 100 list, we too thought it must be some sort of technical glitch in the number crunching process. What else could explain the placement of the former head-shaving, umbrella-swinging, rehab-visiting pop-tart near the top of a list of the world's most powerful stars? Could this one-time train wreck really be that rich or that important to the entertainment business?

The answer is yes. The Britney Spears who made our list was not the tabloid target whose frequent meltdowns only two years ago relegated her to our infamy index. Instead, the 28-year-old that clocked in in our top 10 was the chart-topping songstress whose past 12 months included the 5th highest-grossing tour of the year. According to concert trade publication Pollstar, "The Circus Starring Britney Spears" tour grossed more than $130 million. Spears took in still more from tour merchandise and another greatest hits album, "The Singles Collection."

Like her savvier Hollywood cohorts, she has been similarly busy building the Spears brand, extending her fan-base –and wallet—with a host of top-selling Elizabeth Arden fragrances, an endorsement deal for Candie's and a fashion collection for juniors. She added the latter last month, and will sell her designs exclusively at Kohl's.

But for her to land as high on the list as she did, she needed to garner as much fame as she did money. She did. In fact, the mother of two ranked third overall in Web mentions (behind Lady Gaga and Beyonce, who banked an estimated $62 million and $87 million, respectively, during the same period) and second in a social media metric that factored in both Twitter and Facebook followings (Gaga has her beat with nearly 10 million Facebook fans).

Still more impressive: in May, Spears overtook Twitter king Ashton Kutcher as the most popular celebrity on Twitter. At last check, she had 5.2 million followers, a group with whom she responds to and frequently updates.

So no, Britney Spears is far from through. If the last year is any indication, she's just getting started.
[From Forbes]
Yes, she looks like a woman who is in total control of her career, what with the flying budget weave and the growling and the underwear hanging out of shorts. I'll give it to Brit – her "comeback" has been pretty well staged, considering I'm not convinced she's anywhere close to functioning sanity. People want her to do well and get better, and that's what Brit's management team has used to rake in obscene profits on the back of this poor woman. Oh well. I guess it's good news overall. Free Cheetos for everyone!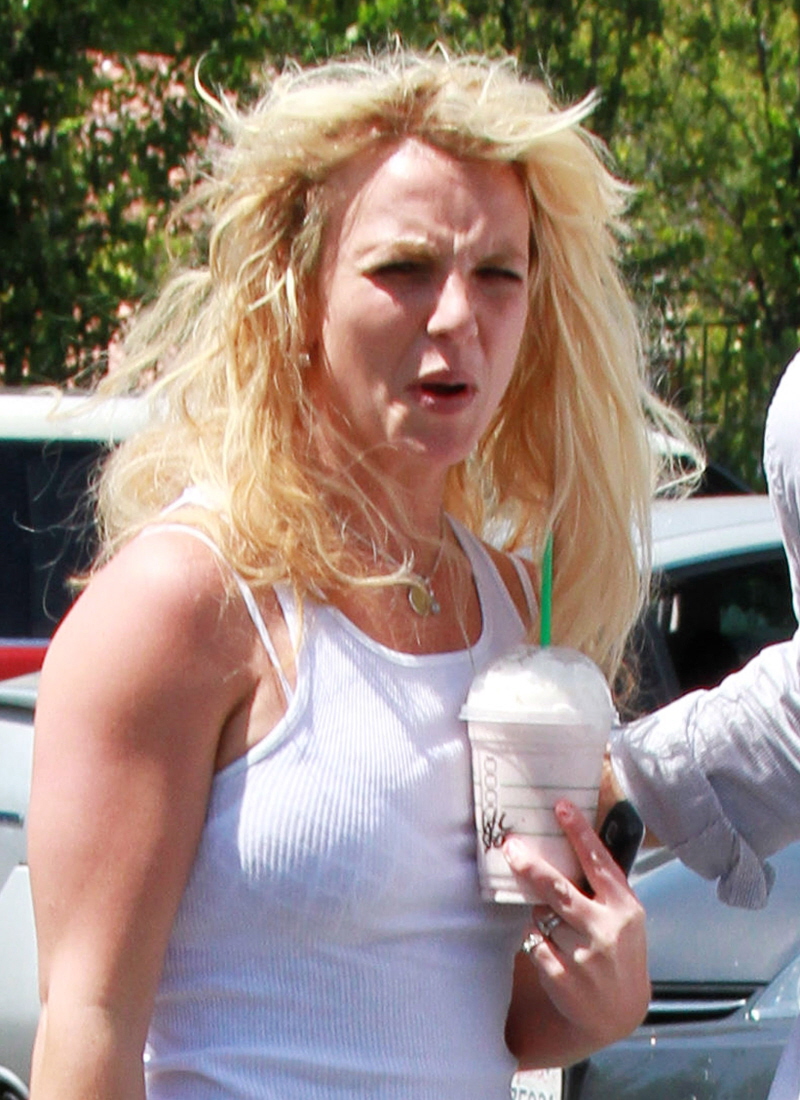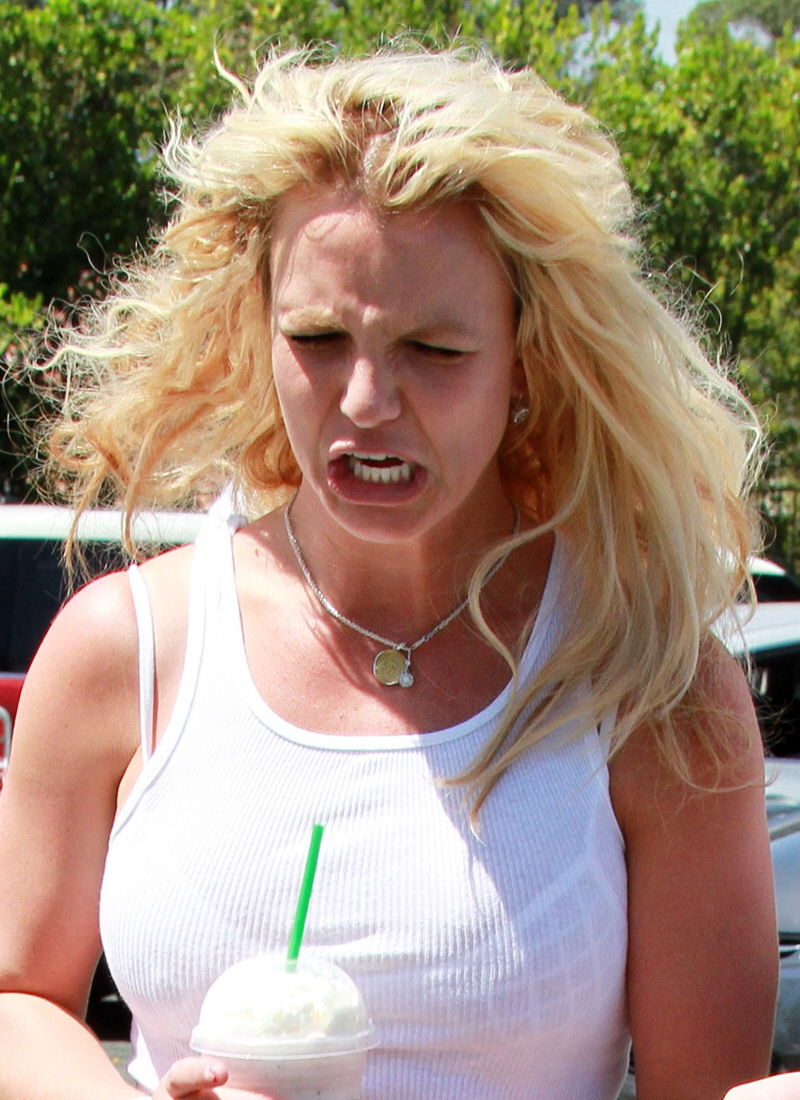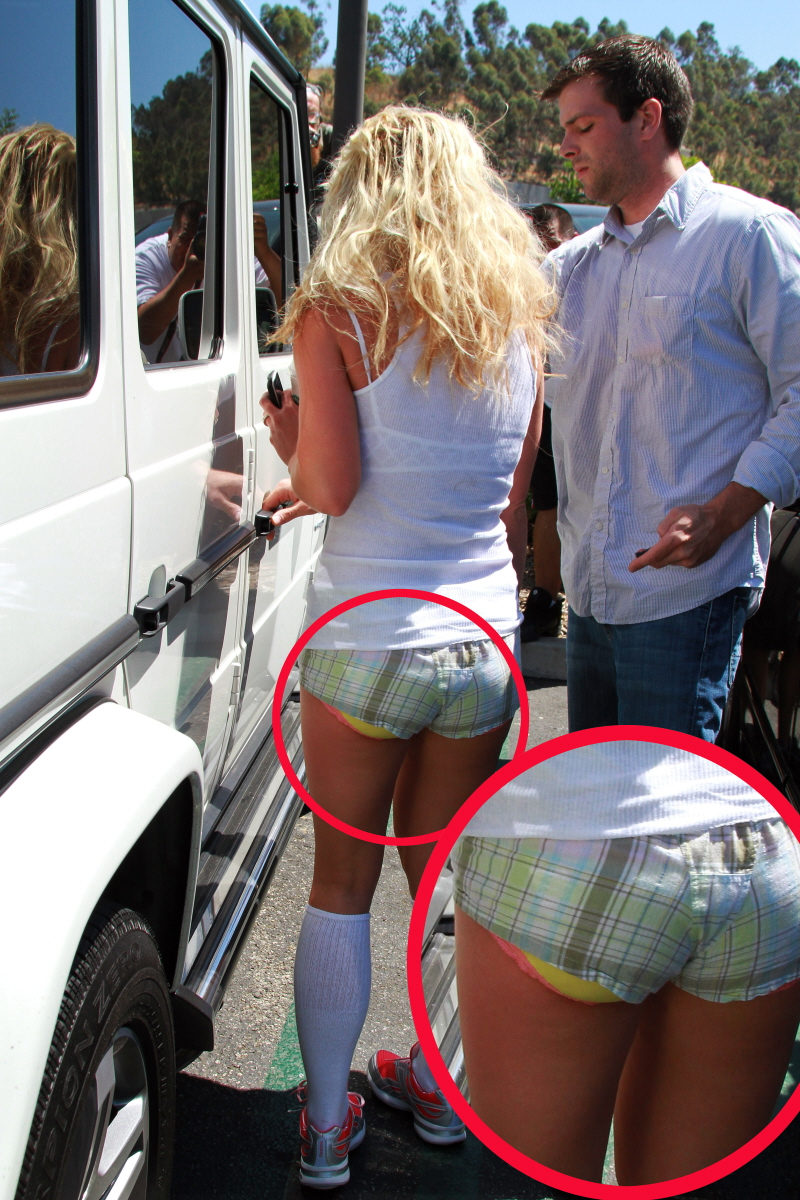 Britney on July 1, 2010. Credit: Fame.