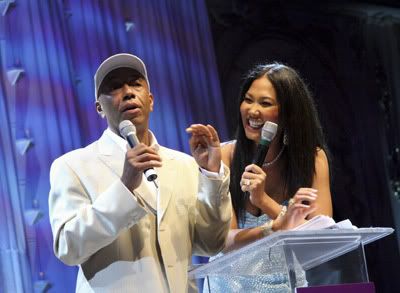 Kimora Lee and Russell Simmons attended a benefit together despite the fact that Kimora's representative confirmed at the end of March that they're splitting. Russell has admitted an ongoing affair with gorgeous model Denise Vasi, but stated that he's still friendly with Kimora for the sake of their children and business empire.
They put on a happy face at their annual Art for Life Benefit in Palm Beach this weekend, and Russell's new girlfriend was not seen at the event. Still things were a bit straned for the two:
Open-minded as Russell is about love triangles, he didn't bring his 23-year-old girlfriend, Denise Vasi. Still, there were moments of awkwardness. Like when honoree Denise Rich asked guests, "Don't they look good together?" She added, "[Russell,] you have always taken my advice, but this time you're not!"
"Things between Russell and Kimora seemed strained," according to one guest. "She showed up late and left right after she was finished speaking onstage."
Also at the party was Star Jones without her husband Al Reynolds. Star was said to be feeling her new boobs all night:
"Her breasts must hurt after the surgery," says our spy. "She kept touching them all night."
Here are photos from the benefit, with guests pictured including Gayle King, Star Jones, Sammy Sosa, Venus Williams and Antonio LA Reid.