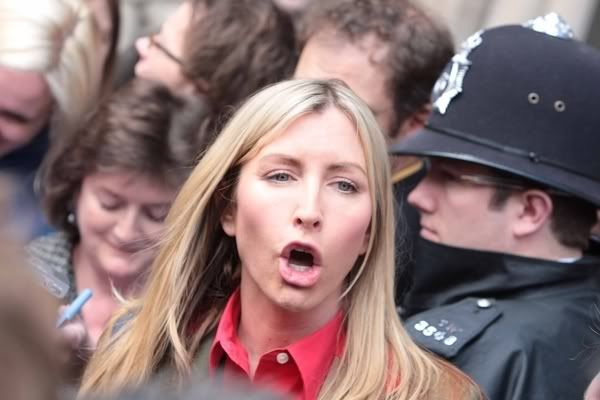 To say that Heather Mills doesn't know the meaning of graciousness would be quite the understatement. But clearly the vindictive woman (with a mouth that looks like a cow chewing its cud) has decided that she's going to make every second of ex Paul McCartney's life as miserable as she possibly can, even if she has to use their daughter to do it. As long as Heather's making people miserable she's happy, and that's all that really matters. Heather's been forced to let Sir Paul take daughter Beatrice, 4, on vacation next week to a lovely hotel in Morocco. But of course she couldn't let a nice time just be a nice time.
Fussy Heather Mills has issued an amazing list of dietary demands for daughter Bea while she is on holiday with Sir Paul McCartney. She has faxed the five-star La Gazelle d'Or hotel in Morocco – where Macca plans to take the four-year-old next week – with EIGHT pages of instructions on what she can and can't eat.

Heather, 40 – who recently won a £24million settlement from Sir Paul, 65 – is adamant that Bea's strict vegan regime should be maintained. A source said: "Paul booked the break for some quality time with Bea. Now he's found out that Heather has been driving the hotel staff mad, faxing both the head chef and manager instructions and recipe suggestions for Bea. Paul is furious. He is perfectly capable of looking after his own daughter – especially after successfully bringing up his other children on vegetarian diets."
[From the Mirror]
Since Heather couldn't be there in person to ruin the day, it seems that she's relying on technology to do the job for her. It's hard to say if she's just freakishly controlling (obviously she is) or if she's actually trying to be a total bitch. That's probably a good question to ask about Mills in general. Is she trying to be such an annoying, bitchy, universally hated woman, or is it just who she is and she honestly has no clue? Either way, when a person is so controlling that she starts fax-lecturing the staff of a hotel on how to do their jobs to her specifications, it's time someone figure out a way to muzzle the cow.
Here's Heather Mills at her divorce hearing on March 17, 2008. Not that you'd want to see a lot of her – but she's making some sort of hideous expression with her mouth in each and every photo. I literally could not find one photo from that day where her mouth and jaw weren't in some bovine-esq shape. Maybe she should try closing it once in a while. Images thanks to PR Photos.