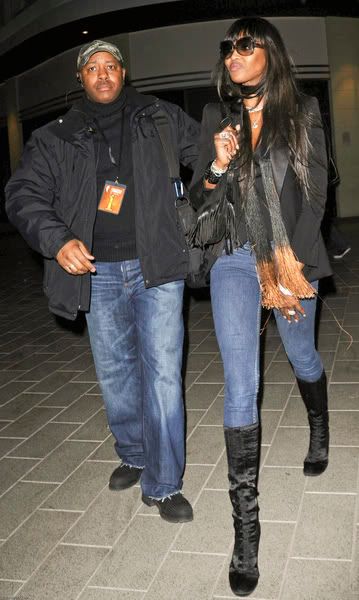 Last week, Naomi Campbell was hauled of a British Airlines flight after throwing a shit fit when they lost one of her bags. It was first reported that Naomi was then arrested in the first class lounge, but it appears that she was actually dragged off the airplane by police. Which makes me really happy, because I have this image of four cops against one Naomi Campbell, and it's still barely a fair fight. Since then, it's emerged that Naomi threw out some racial slurs at the cops as well. Because she can never just go out graceful.
Bucking clothes horse Naomi Campbell has been accused of hurling a torrent of racial abuse at a woman cop during her arrest at Heathrow last week. The supermodel later claimed police only nicked her because she was black. Now cops claim she called a WPC a "white ****" and a "white s**g" as she was dragged off the LA-bound jet in handcuffs.

The police source said Naomi continued, screaming: "f***ing white honkeys" at the officer and her colleagues. Those anger management classes have clearly been a great success, then. Campbell went berserk when she discovered one of her bags was missing at Terminal 5 last Thursday, allegedly spitting at officers who approached. Senior Scotland Yard staff were furious when Naomi later claimed police only arrested her because of her colour.
[From the Sun via the Huffington Post]
I took a criminology course in London four years ago during which time I learned just how serious the British criminal justice system takes racial slurs. One of the professors gave the example of someone yelling at a bouncer who kicked them out of a club, and the bouncer was Indian. If the guy called the bouncer a jerk and walked away, nothing would happen. But if the guy called the bouncer a jerk and mentioned his ethnicity in any way, that would be considered a hate crime and he could be arrested. I have no idea how often people are actually punished for it, but they made it sound like it was a pretty serious offense that they dealt with harshly.
Hopefully Naomi Campbell will finally do some real jail time. I doubt it'll be anything legendary in terms of length, but anger management and community service clearly hasn't done a thing for her. She still thinks she's mightily entitled to do whatever she feels like and treat people like crap.
Here's Naomi Campbell at the Led Zeppelin Concert "Tribute to Ahmet Ertegun" at the O2 Arena in London on December 10, 2007 . Images thanks to PR Photos.