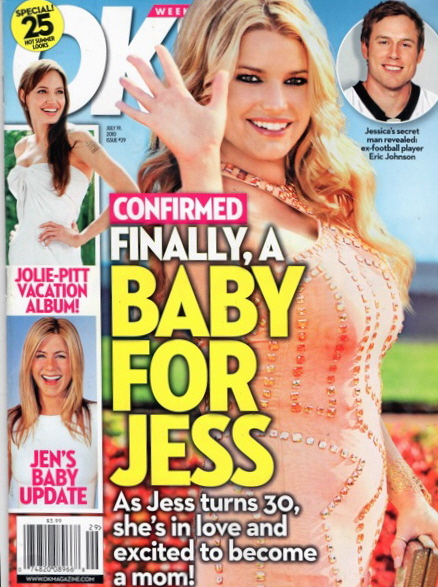 Is Jessica Simpson pregnant? That's what OK! Magazine is claiming, in a brilliant/stupid piece of passive-aggressive photo assumption. This photo on OK's cover is the same one I used a few days ago to illustrate A) how unflattering Jessica's dress was for her big appearance in West Virgina over the weekend and B) how she should have avoided showing her profile. Now that everyone just assumed Jessica had gained some weight in her abdomen (the logical conclusion), OK wants us to know that Jess is just pregnant. No mention of the baby daddy – at least not with OK:
As Jessica Simpson turns 30, the singer/actress has a new man and a new plan — to become a mother! Enjoying an early birthday celebration at the Greenbrier Casino Club gala opening in West Virginia on July 4, Jess caused a stir with her visible bump! OK! brings you the inside story on Jess' new love, her plans for the future and what kind of a mom she will be!
[From OK! Magazine]
Now, Us Weekly tried a different tact – calling Jessica out for boning a "married man". Since Us Weekly hasn't released their story yet, I'm going to assume that the married man is Eric Johnson, who is actually in the midst of a divorce. According to TMZ, Eric and his wife filed for divorce in February. So… yeah. "Risky!" I think the only thing "risky" about it is that Jessica is a rebound girl for Eric, and she's probably thinking "Finally, a nice guy who can stand to listen to me without gauging out his eardrums, maybe he'll marry me!" And Eric is thinking, "Mm, sexual napalm."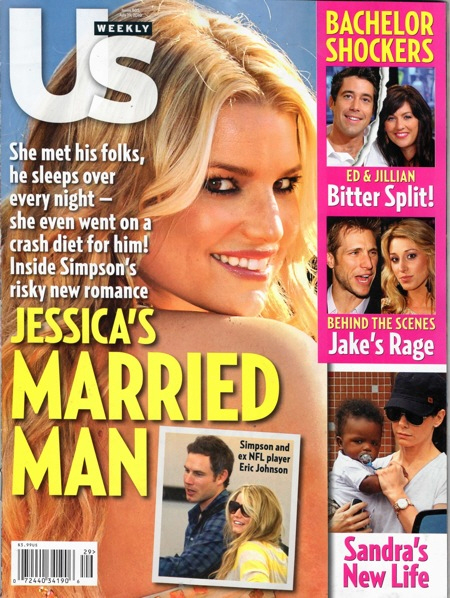 Covers courtesy of CoverAwards.