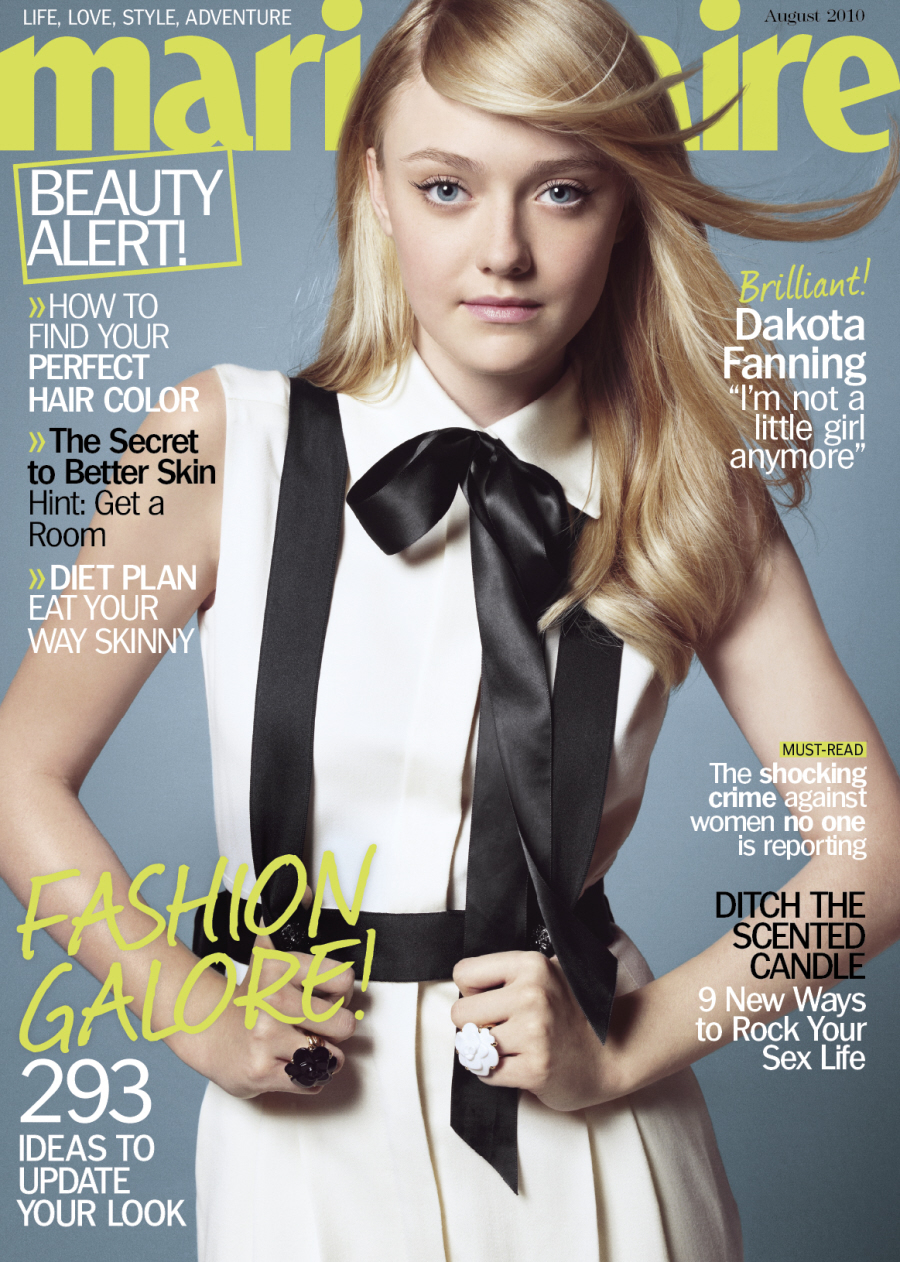 I know Dakota Fanning is a bright, capable, intelligent, surprisingly-low-key young woman. But I am still finding it really hard to accept that she's old enough to be on the cover of fashion magazines and have lesbian makeout scenes with Kristen Stewart. In my mind, she's still the adorable little 8-year-old prodigy. But now she's 16 years old, and she's a big movie star, and she's got nothing but good vibes for her future. As far as her photo shoot for August's Marie Claire, I'm kind of meh on it. The cover shot in particular makes her look like she's about 12 years old, but some of the other photos are rather lovely and truly high-fashion. The full Marie Claire piece is here, and here are some highlights:
Kristen Stewart on Dakota: "Dakota is so unfaultingly steady. In most cases, I feel like she's older than me. It's only when she starts talking about boys that I remember how young she is."

Dakota doesn't have a boyfriend: So far, she says, there has been "nothing serious."

Dakota on wearing red contacts for her role in Twilight: Given how much actors rely on their eyes to communicate emotion, the contacts were a handicap that might well have unsettled another, less confident performer. "It's something that's always been there for me, that I have huge blue eyes — it's been something that people have always talked about," Fanning says. "But I enjoyed the red. You're automatically transformed into a creature when you put those red eyes in."

On the Twilight Saga books: "They're so addicting!" she says, though her natural taste in literature tends toward the more refined: Right now she's reading Jeffrey Eugenides' novel, The Virgin Suicides.

On growing up in front of the camera: "When you start out young, people get really attached to who you are at 6 years old," Fanning says. "I hope that The Runaways was kind of a moment to be like, 'You know, I'm not that young little girl anymore, but I'm still not all grown up, either.'"

On her future in the business: "As you get older, there's so much more that you can do in films," she says. "I've never wanted to rush that; I've always wanted to do what's right for my age, but as you approach 18, a whole new world opens up to you as an actor, and I really look forward to that."
[From Marie Claire]
Dakota does sound very smart and… what's the word I'm looking for? Like, she's hip to way Hollywood can f-ck up a young woman. She's ambitious, but her ambition is channeled into her work and being an authentic actress rather than being a "celebrity". Will Dakota end up some Lindsay Lohan-esque disaster? My guess is no, she won't. But I bet there will be a few moments where she parties and acts like a dumb kid, and we should be prepared for that! Either that, or Kristen is just going to introduce Dakota to marijuana, and Dakota will just end up a paranoid pothead who works constantly. Either/or.
By the way – Dakota and Taylor Momsen are the same age. Just thought I'd throw that out there.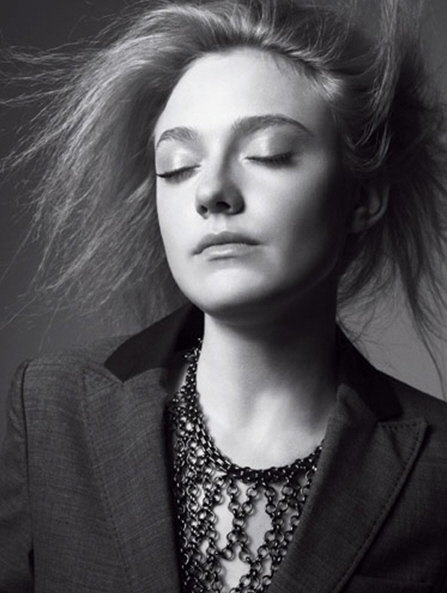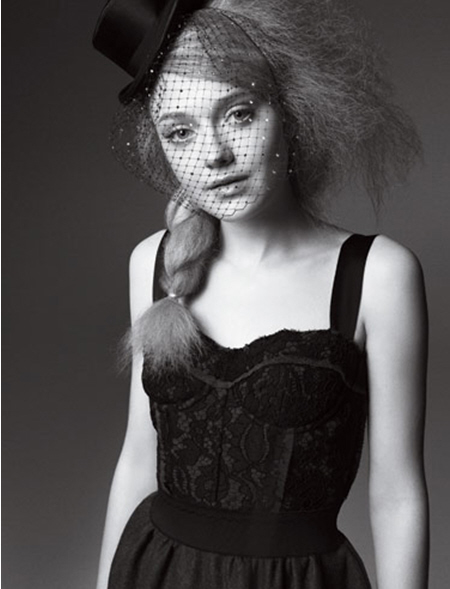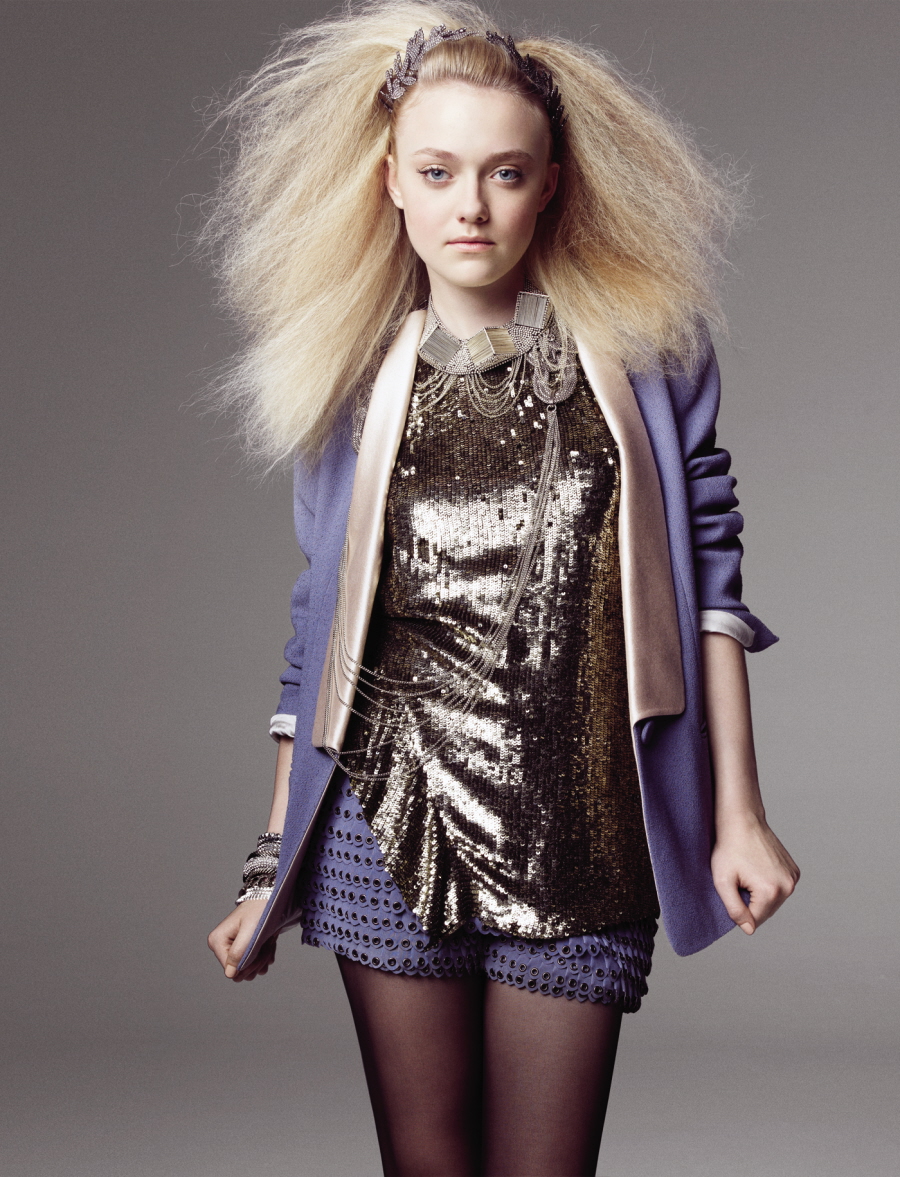 Photos courtesy of Marie Claire.