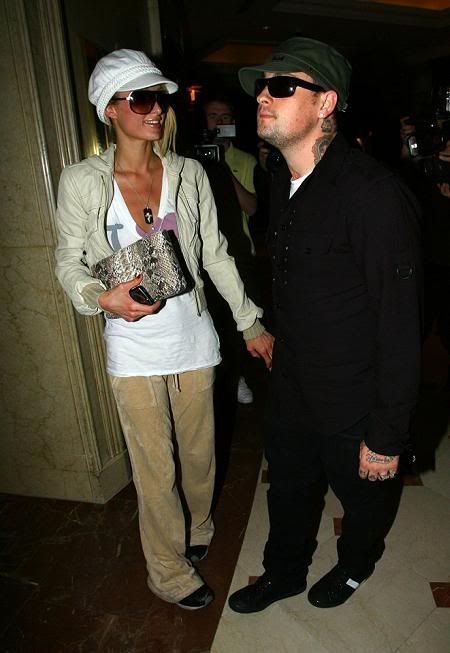 I can think of few things I would enjoy more in life than being Paris Hilton's best friend forever. Except pretty much everything else. Yeah, come to think of it, I'd rather bungee jump with a rope that's too long before I had to spend 15 minutes with Paris Hilton. And apparently a LOT of people agree with me. Paris is starring in some ridiculous sounding reality show where people compete to be her BFF. When casting agents held auditions in New York City, instead of the hundreds of people they expected, they found just 40 waiting in line. And of those 40, most of them seemed to have suspicious motivations.
"There were less than 40 people there," one audition insider tells OK!. But despite the poor turnout, each of the hopefuls seemed ready to show their unique desire to grab the attention of the casting directors. "There were girls wearing matching pastel prom dresses with Swarovski crystal pendants and updos, ghetto-fabulous girls and two goth-inspired girls with bleach blonde hair, pale makeup, eyelash extensions and leather clothing."

Additionally, OK! has to question the motives of these attention-seekers, as at least one contender was overheard remarking that she, "totally couldn't live in the house with Paris," because "she would be so annoying!" But for those camera-hungry wannabes fortunate enough to merit a call-back, they were approached by a casting director who handed them the show's version of a golden ticket — a card that read, "You are cordially invited to join us at our audition to become Paris Hilton's new BFF."
[From OK!]
Wow. Just… wow. So of the only 40 people that showed up, it sounds like some of them clearly can't stand Paris, and the rest think they're attending junior prom. Wonder who they'll pick? Which of these girls sounds more like Paris? I don't care who you are, I can't help but wonder how anyone could deal with someone so flat and vapid. I know there's other people like that out there, but something tells me Paris pretty much takes the cake. Apparently auditions are still open, so if anyone out there thinks they can handle the heirhead for a few months… looks like the job's yours.
Here's Paris and boyfriend Benji Madden arriving at the Hilton Hotel in London today, and Paris visiting a tanning salon. They're are in town as part of Good Charlotte's 2008 world tour. Images thanks to WENN.