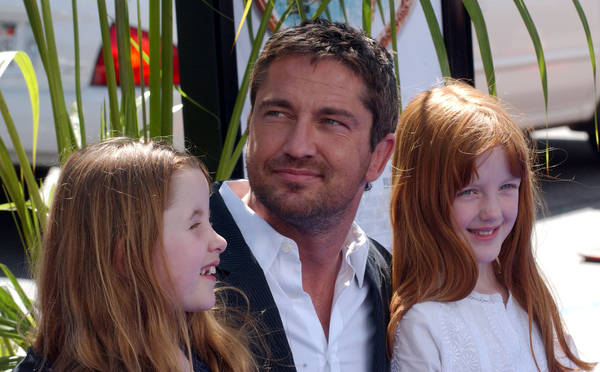 Gerard Butler with his nieces at the Nim's Island premiere
It seems that every now and then a Hollywood celebrity does something good, like donates a large amount of money to a worthy cause, or brightens a sick child's day with a visit, or raises awareness about global issues.
While these are excellent actions that applaud, I always think it can't compare to daring rescues or other selfless gestures made by civilians in times of crisis. Gerard Butler performed his own rescue in Scotland ten years ago, the kind of action that movies are made about.
The actor was handed a Certificate of Bravery by the Royal Humane Society of Scotland in 1997 after putting his own life on the line to pull a child from the River Tay.

But the 300 star refuses to accept he was brave: "I didn't feel like a hero at all.

"I was initially gripped by fear and an empty feeling, thinking that the boy was dead."
That is absolutely amazing – I admire anyone who will do that for a stranger. The most incredible story I've ever heard was one of a skydiver who was posthumously honored with a Star of Courage by Australia for giving his own life to save another.
On July 29, 2006 Melbourne woman Kimberley Dear was to have made her first skydive in America. But when engine failure caused the plane to plummet to the ground seconds after take-off, Mr (Robert) Cook, her instructor, clipped his skydive harness to hers and demanded she use his body as a mattress. He was killed on impact.

Still recovering physically and emotionally from the accident, Ms Dear said: "There aren't many people who would put their life on the line for a stranger – you might do it for the people you love but would you do it for someone you just met?"
It's hard to believe that people can chose to save someone's life at the cost of their own. I don't know if I could risk my life for a complete stranger.
Gerard Butler is obviously reaped good karma from his rescue – his career has been going from strength to strength in recent years. He appears this summer in Nim's Island.
Butler is rumored to be dating Cameron Diaz.
Gerard Butler is shown with his nieces at the premiere of Nim's Island on 3/30/08, thanks to PRPhotos.