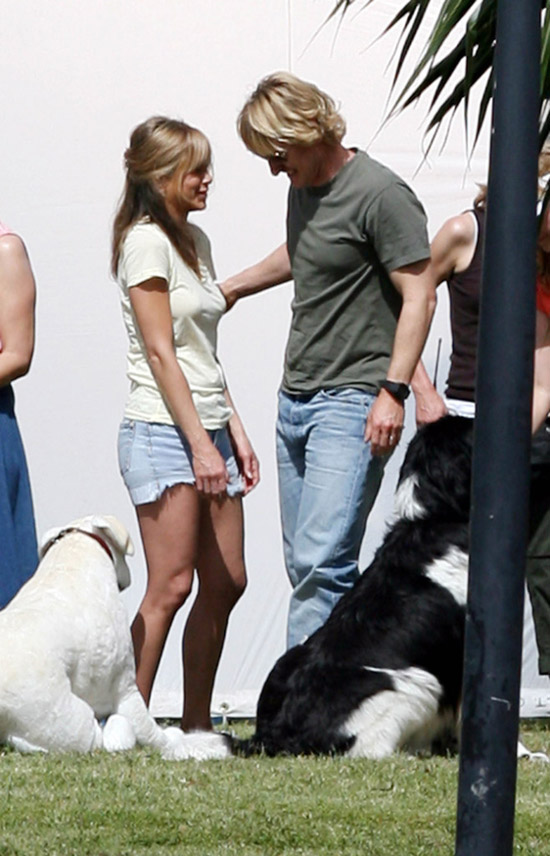 Jennifer Aniston is not dating Orlando Bloom. This should be a relief for Orlando's girlfriend and Victoria's Secret model Miranda Kerr.
OK! reports the new couple has been pals since Bloom was cast alongside Aniston's ex-husband Brad Pitt in 2003 movie "Troy," and that the actress has held a longtime crush on the 31-year-old Brit.

In its new issue, the publication quotes eyewitnesses who claim the pair "only had eyes for each other" at an Epidermolysis Bullosa Medical Research Foundation fundraiser last month.

A source tells OK!, "They were like heat-seeking missiles."

But Aniston's representative has dismissed claims of a romance, insisting, "Orlando is a friend. They both have the same manager and sometimes will be at the same place."
Of course, Jennifer Aniston's publicist Stephen Huvane hasn't always been completely honest in his statements. Although I believe that Jennifer Aniston isn't dating Orlando Bloom, because who has a crush for five years? These are some of Stephen's classic denials.
BRAD AND JEN ARE NOT ENGAGED
After Jen and then-boyfriend Brad Pitt took the stage during a Sting concert in November 1999 and Jen flashed a big diamond ring on her left ring finger, Huvane told the media: "She has a ring, but it's not an engagement ring." He continued to deny any engagement until the couple married July 29, 2000.

BRAD AND JEN ARE OK
Two weeks before Brad and Jen announced their separation on January 7, 2005, Huvane told Us: "They are looking forward to spending the holidays with each other. There is no split. They are fine."

JEN AND VINCE ARE NOT DATING
When pictures of Vince and Jen cuddling on the set of The Break-Up surfaced in July 2005, and rumors circulated that the costars were dating offscreen, Huvane denied the coupling to the New York Post: "There is no romantic interest. Vince is a good friend of Jennifer's. I think the tabloids are so eager to see her with someone romantically that they just make these false assumptions."
Of course, he might not actually be privy to all the inner workings of his client's lives. While some might argue that is his job, maybe he just calls them periodically and asks what they're up to. When they give the universal response of 'Not much', he just lets it slide.
Jen also has a very tiny co-star on her new film Marley and Me – named Shiloh, but it's not that Shiloh:
Jennifer Aniston's infant co-star in new movie Marley and Me is a seven-month-old baby named Shiloh Yapp, named after Aniston's ex-husband Brad Pitt's daughter with his new partner Angelina Jolie.
Do people name their kids after Hollywood celebrity babies? Are you telling me at pre-schools across the globe dozens of Apples fraternize with Moses and Harlow?
Marley and Me features, Jennifer, baby Shiloh, a dog as Marley and Owen Wilson, who also isn't dating Jen.
Jennifer Aniston is shown on set with Owen Wilson on 4/1/08, thanks to Splash News.