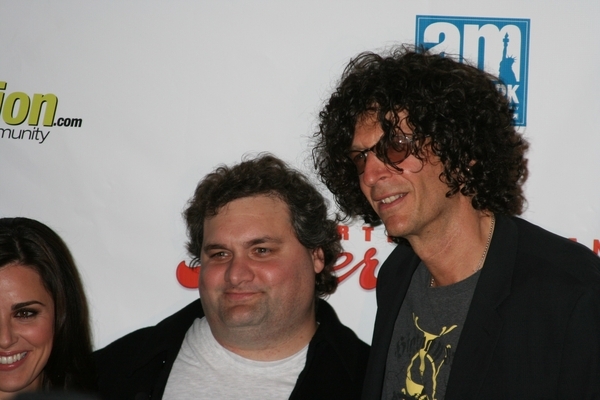 Anyone who thought shock jock Howard Stern's radio show would lose steam once it made the leap to satellite radio hasn't been listening lately. If you have been listening to his Sirius show, you have been witnessing the slow, uncomfortable breakdown of comedian/on-air sidekick Artie Lange. Lange, a portly stand-up comedian who replaced longtime sidekick Jackie Martling and has become a beloved figure on the show, has been gaining even more weight, blackout drinking and dabbling in drugs over the last year, to the point that his co-workers have expressed concern on-air. Lange's downward spiral finally came to a head yesterday on the air, when he physically attacked his assistant and hurled various epithets at him, and then quit the show.
Stern was finally left speechless yesterday after a brawl erupted inside his Sirius Satellite studio between his hard-partying sidekick Artie Lange and Lange's assistant, Teddy, which ended with Lange's quitting the show.

The bickering started off air in the morning, in the hallway adjacent to Stern's studio. Show staffers overheard Lange screaming at Teddy because Teddy asked him for his passport for the fourth time as he planned their flight to Amsterdam, which was set to take off last night. Lange told Teddy he should have photocopied the passport the first time.

Stern was told they had been bickering and brought it up on air. When Teddy came in to defend himself, Lange snapped.

"He's a loser," yelled Lange. "He's the most unorganized assistant. I want to fire him, but he has no money. I hope he dies of AIDS."

Lange, who pays Teddy $24,000 a year for part-time work, then accused Teddy of embarrassing him in front of friends last week in LA when he called Bloomingdale's department store by its nickname, Bloomie's, and announced the store didn't have something in Lange's size.

"I think I hired a fag," said Lange. "I wanted to throw him out the window."

Lange then threw a cup of water at Teddy and lunged at him, throwing a punch that didn't land. Show writer Benjy Bronk jumped on Lange and held him back, while Ronnie "The Limo Driver" Mund burst in to get Teddy out of the studio.

Lange blamed Stern for the fight, saying that Stern "pushed" him to the breaking point and that he couldn't guarantee he wouldn't snap again in the future. He then told Stern he loved him and resigned.

"Don't ever mention Bloomie's around the guy," Stern sighed.

One show insider says that the staff loves Lange and is "extremely upset" but that it's out of Stern's hands and that Sirius management will soon decide Lange's fate. The show is on a break next week.

Both Lange and Teddy failed to return calls for comment. Lange was last spotted by a fan at the Brooklyn Diner on West 57th, drowning his sorrows in a plate of food.
It's a shame that Lange is at such a low point that he feels the need to lash out both physically and verbally at someone "smaller" than him. The poor kid is making what equates to less than minimum wage and doesn't deserve to be called names and attacked. Hopefully, Lange will check himself into rehab, look back on this and realize that this was his "rock bottom" moment. Stern, for his part, was extremely upset at the end of the broadcast and tried to defuse the situation, asking Artie to go cool off and then come back to work tomorrow, but it was too late.
Update by Celebitchy: Here's the audio clip, which was initially blocked by Sirius through a cease and desist they sent out. Sirius has since issued the OK to publish it. Thanks to Rowdy on Redlasso for this clip.
Artie Lang is shown at "Artie Lang's Beer League" premiere on 9/16/06, thanks to PRPhotos.