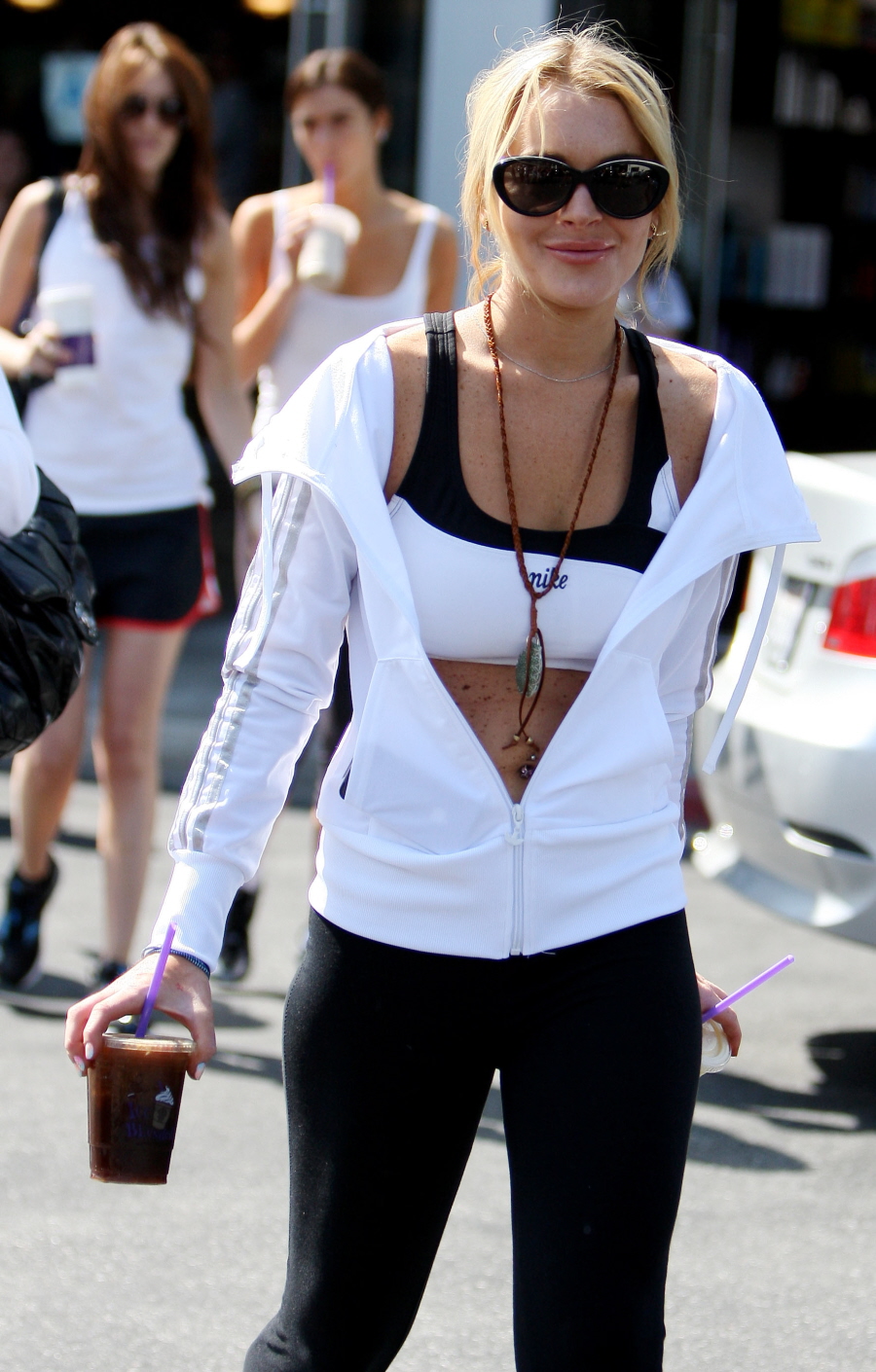 Crackhead drama queens don't take the weekend off, especially when they only have a few weeks of crack drama left before going to jail, so there is a ton of new Lindsay Lohan info today. First off, Lindsay Lohan does not believe she is going to go to jail. She's hatched a crack scheme to ensure that doesn't do the 90 days in jail. Lindsay's plan? She's going to appeal, appeal, appeal, hoping to draw this thing out for a year or longer. Is this all because she doesn't want to kick her pack-a-day habit? No smoking in jail, poor Raspy LiLo.
Lindsay Lohan has figured out how to work the legal system and possibly stay out of jail for six months to a year, RadarOnline.com has learned exclusively. A source close to the situation tells RadarOnline.com that by appealing her 90-day jail sentence for a probation violation, Lindsay will buy herself some time.

"Lindsay's lawyer only has to file a notice of appeal with Judge (Marsha) Revel, and under terms of California law–particularly misdemeanor probation appeals–the defendant must be granted bail," the source said, "Judge Revel will be forced to give Lohan bail pending the appeal, and Lilo wouldn't even have to appear in front of Judge Revel again."

The insider goes on to say, "the appeal will take six months to a year to be heard. It's highly unlikely that Lohan's appeal will be successful. However, it will keep her out of jail for at least the next six months to a year."

While Judge Revel is required to legally grant her bail, the source added: "Judge Revel could order Lohan into the 90 day in-patient rehab program immediately."

RadarOnline.com first reported Lindsay's attorney Shawn Chapman Holley quit on Thursday after finding out that Lindsay was lawyer shopping. A source close to Lohan says, "Lindsay met with two prominent criminal defense attorneys on Wednesday, but both refused to take the case because of her bad attitude. Lohan blames everyone around her for her circumstances, and she is absolutely unaccountable. She is an attorney's worst nightmare because she simply refuses to follow any advice that she disagrees with."

If she isn't given a reprieve, Lohan will begin serving her 90 day jail sentence on July 20.
[From Radar]
Yes, Lindsay has been doing some lawyer-shopping, looking for someone crazy enough to think that her ass should NOT go to jail. One of those lawyers is a Chicago-based attorney named Stuart Goldberg. He's as big of a famewhore drama queen as Lindsay, and has already started making statements to the press about Lindsay (TMZ video here). However, Radar is claiming that Mr. Goldberg has not officially been hired (photo of Mr. Goldberg's beef jerky self is below):
Despite rumors to the contrary, Chicago lawyer Stuart V. Goldberg has not been hired to represent Lindsay Lohan, RadarOnline.com can exclusively report.

"Stuart Goldberg is not Lindsay's new attorney," Lohan's New York legal rep Stephanie Ovadia tells us.

Ovadia, a highly-regarded New York attorney who is representing Lindsay in her lawsuit against E*Trade, adds that "no attorney has been chosen as of now.

"The family is still in the process of interviewing."

The news may come as a surprise to Goldberg, whose rep sent RadarOnline.com a statement that Lindsay and her mother "hired Stuart V. Goldberg as her new attorney" after a meeting Friday night.

Goldberg, who is also a screenwriter and fiction-writer, is not a member of the California Bar Association, according to a search of the organization's website.

Lindsay has been sentenced in 90 days in jail followed by 90 days in rehab for violations to the conditions of her DUI probation. She's complained that her "human rights" have been violated and has vowed to appeal the sentence.

Her search for a new attorney follows the decision of Lohan's respected previous attorney Shawn Chapman Holley to quit representing the troubled starlet.
[From Radar]
And lastly, we have Lindsay's renewed friendship with Samantha Ronson. Sam came to visit Lindsay over the weekend. I'm sure that was a great time, for real. Do you think Sam is trying to just be kind? Trying to be nice to someone with a lot of problems? Or is there something else going on? In any case, Sam got her high horse and defended Lindsay against some rather dumb jokes made by Joan Rivers. Joan is on Twitter, and she was throwing out one-liners like "Lindsay Lohan is so dumb. Her idea of being sworn in is cursing at the judge." My favorite: "Lindsay Lohan had 'F-ck You' painted on her nails. What people don't know is that the judge had 'Eat me you party skank,' painted on hers." That one is actually half-decent, so props to Joan. So Sam tweeted to Joan: ""Hey Joan Rivers. You have collagen older than Lindsay, pick on someone your own age, oh wait I guess people that old can't hear". Wait, is Sam saying that Lindsay's collagen is newer than Joan's? Ha.
UPDATE: Oh, I missed this! Page Six is reporting that my girlfriend Judge Marsha Revel has ordered Shawn Chapman Holley (Lindsay's lawyer, who quit her ass this past week) to stay on as Lindsay's lawyer of record, at least until Lindsay finds a new one. Page Six's source says: "The judge told Holley she can't quit and leave Lindsay without representation. She has to stay on the case until Lindsay has a substitution of attorney filed with the court." Apparently, Shawn quit because Lindsay "won't take or follow advice. She is not returning calls, and so they haven't been able to set up meetings with her and a psychologist for her court-ordered psychiatric evaluation." Do you think Lindsay can get it together in time for an appeal? I have my doubts. So, Shawn Chapman = Still defending a crackhead.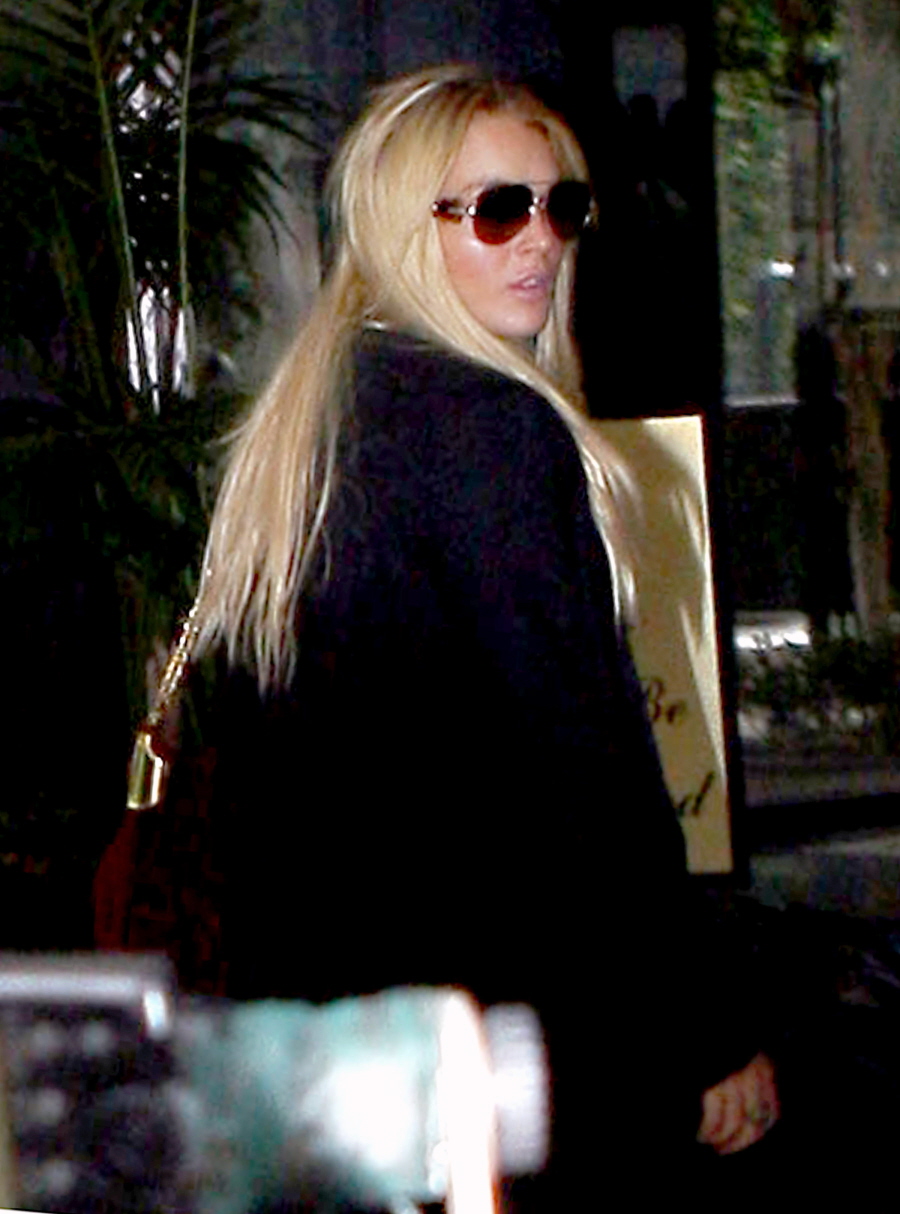 Lindsay Lohan on July 9 & 10, 2010. Credit: Fame.