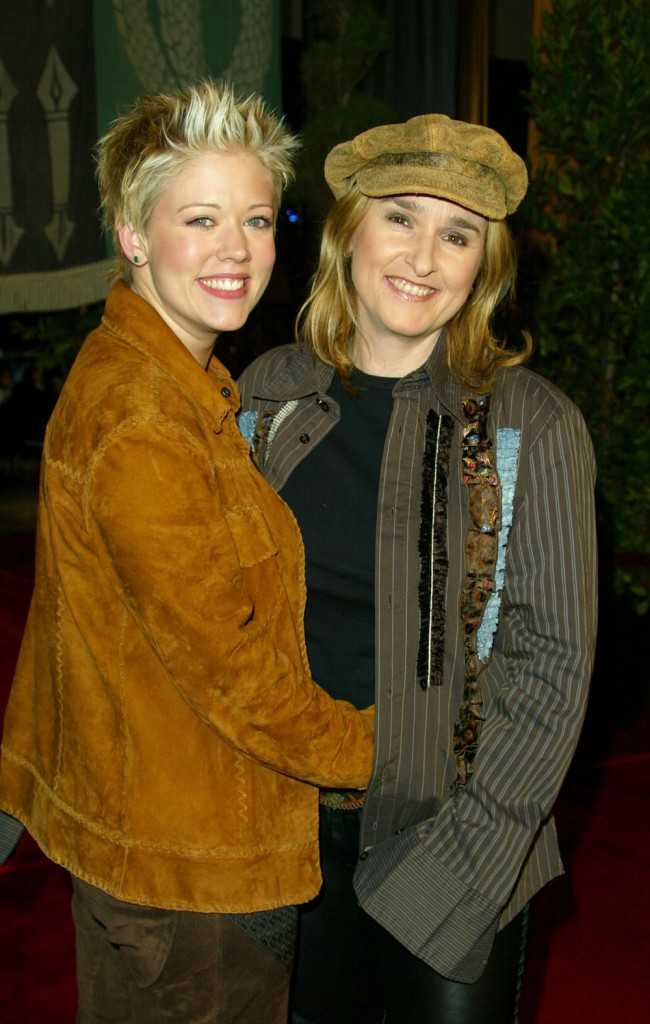 Just yesterday we heard from Melissa Etheridge's ex, Tammy Lynn Micheals, that she was sick and broke, having been left scrambling for money to buy food and gas and pay doctor's bills since her split with the rock star. Michaels cares for her three year old twins with Etheridge and claims that she gave up a lucrative acting career to be a stay-at-home mom while Etheridge focused on her work. Now Etheridge is claiming in new court papers that Michaels scammed her by asking her to come to a hotel to see the twins and serving her with divorce papers instead. That would have happened after Etheridge served Michaels with dissolution of partnership papers. It may have been vindictive to use the children as bait in order to serve divorce papers, but it's not like she did it out of the blue. The least she could have done is to let Melissa see the kids first and then get the process server in. Here's US Weekly's report on what happened.
Another bitter chapter in the Melissa Etheridge-Tammy Michaels split.

In a declaration released Thursday, Etheridge, 49, accuses Michaels, 35, of using their 3-year-old twins as "pawns."

She claims that on July 6 — during a break from her summer tour — Michaels told her their kids were going to meet her at her Boston hotel.

A short time later, she "received a text message … stating, 'My plans changed, sorry,'" the singer recounts in the court papers, obtained by E! News.

Etheridge says she was then served with court papers from her ex.

Etheridge says it was "a ploy to have me served, and mistakenly believing that by serving me, I would have to dismiss my Petition … [she] used our children as pawns."

Etheridge's claim is an attempt to fight back at Michaels, who is asking for in excess of $12,000 a month to take care of the kids and find work. See more volcanic relationships.

Michaels, a former actress who is now a full-time homemaker, claims she has no income.

Michaels says she doesn't see why Etheridge can't support her, considering that the rocker rakes in between $600,000 and $750,000 a month.

Etheridge's attorney says the singer currently gives Michaels $2,000 a month and pays all of her household bills. Etheridge announced she had split from Michaels earlier this year.
[From US Weekly]
This is a cheap move. According to Michaels, Etheridge promised her she wouldn't file for separation until the fall, only to be surprised when she was served papers. So I guess in retaliation she got a lawyer and served Etheridge papers, using the excuse of seeing their kids in order to make sure she would be there.
I used to be on Michaels' side because I believed her claims that Etheridge had left her broke and wasn't providing for her. The more she blogs the more she seems unstable and possibly embellishing to make herself out to be the wronged party, though. She's since deleted a couple of blog entires, so even if she didn't personally have the revelation that it was stupid to whine about her breakup online she wisely followed her lawyer's advice to stop doing it. Meanwhile their poor kids are stuck in the middle. I hope for their sake that Michaels and Etheridge are able to put aside their differences and successfully co-parent. Given everything we've heard so far, it doesn't seem likely.
Header photo is from 2002. Photo below is from 2001. Credit: Fame Pictures.