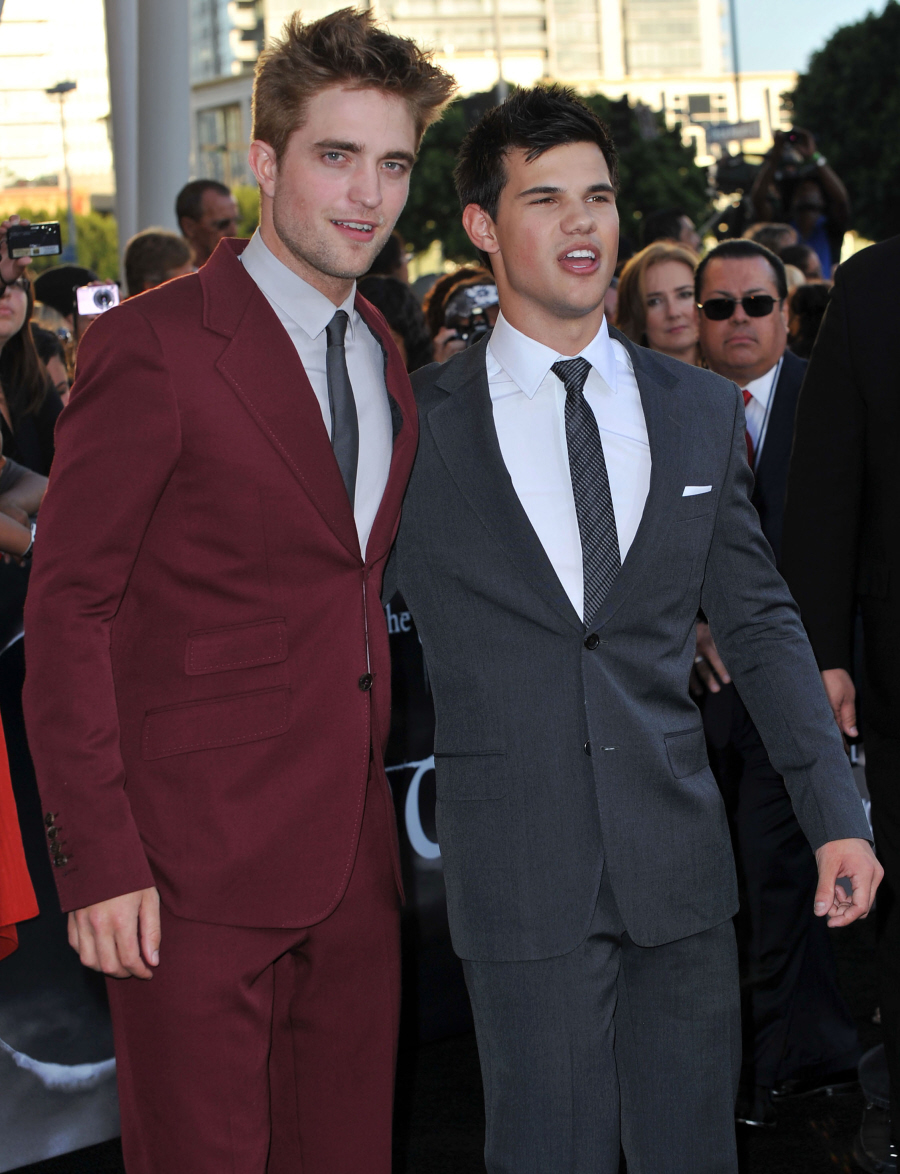 I have to thank Agent Bedhead for this story, because she used the quotes in a great piece called "Feel The Glittery Sexual Tension." Now, as you've read before (like with Daniel Craig and his imaginary male lover, Javi), I'm quite the fan of homoerotic fan fiction. It worked better with Daniel Craig and a dude who looked like Javier Bardem (in my head), but I'll take Taylor Lautner and Robert Pattinson. Sparkles still turns me on, and I think Taylor seems like a very sweet boy with a very lovely body. Although… I buy Sparkles as a heterosexual (barely). I think Taylor is maybe confused about his sexuality? He reads as a little gayling (baby gay) to me. So… here are the quotes that are making my day… Sparkles is talking about shooting a scene in which he has to roughly man-handle a half-naked Lautner:
'I liked the tent scene because I have to grab Taylor's chest and his nipples get hard really easily,' laughs Robert Pattinson, 24. 'We had to re-shoot the scene basically for that reason!'

Boys will be boys and R-Pattz and Taylor, 18, do like to tease each other.

'It seems like I'm always picking on Taylor, but the funniest moment was when he was in this little grey Spandex suit he sometimes had to wear for the CGI,' Rob reveals. 'Taylor quite frequently out-mans me, so seeing him in that little Spandex outfit made me feel much better about myself. He looked great in it, though. Very sexy!'
[From Now Magazine]
This is one of the most homoerotic interviews ever. My nipples are hard too, Sparkles! Here's how it should have gone down:
Sparkles is aware that there are others around, but he can't take his eyes off The Wolf. The Wolf glistens, moist, nearly naked except for a pair of damp jeans, riding low on The Wolf's slender, muscular hips. The Wolf meets his eyes, hesitant, pleading, needy.
"I need to speak to Taylor. Alone," Pattinson tells the crew. "Can everyone get out of here?"
They leave. Sparkles and The Wolf are alone. The air seems still, the distance between them epic. Sparkles knows he will have to make the first move. He walks slowly towards The Wolf, watching his breath catch. The distance between them is gone. The Wolf is nervous, but then flashes a quick smile. Sparkles knows what to do.
Sparkles grabs The Wolf. Rough. His hands find The Wolf's muscular arms, his chest, his stomach, his…
Header: Sparkles and The Wolf, June 26, 2010. Credit: WENN.