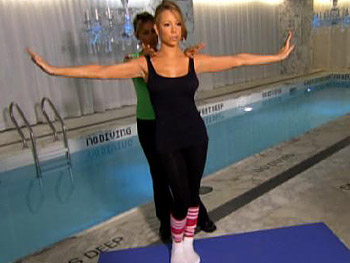 Mariah Carey was on Oprah yesterday and she talked about her diet and exercise plan and showed some of her moves with her trainer. She does isometric exercises and water aerobics and her workout looked surprisingly easy. Oprah clarified after the segment showing Mariah working out at an indoor pool that Mariah does do 60-90 minute workouts and that those were just additional moves. Mariah said that's true but that it's more about diet for her now. She has a cook prepare low-calorie meals planned by her trainer: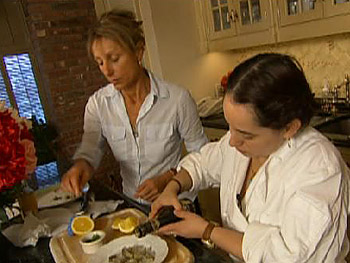 After a close friend made a comment about her weight, Mariah says she was inspired to make permanent life changes and get into shape once and for all. Mariah says she has a secret weight loss weapon—her nutrition and fitness coach, Patricia. "Finally I just said, 'It has to be a life decision if you're going to really lose the weight,'" she says. "So Patricia created a number of things for me…one is a workout regimen."

Mariah says her workouts typically last for 60 to 90 minutes and combine cardio with resistance training. To tone her arms, Mariah uses her own body weight and stretches to sculpt long, lean lines. She likes to hop into a pool for the cardio portion of her workout. "What's great about working out in the pool is the water acts as resistance," she says. "You're actually exercising twice as hard without feeling it."

Mariah says the most important part of her new, healthier lifestyle is her diet. Patricia tries to cook Mariah's food without using oil and butter. She's also helped her stop snacking.

When Patricia told Mariah to cut mac 'n' cheese out of her diet, Mariah says the news broke her heart. "That's the thing that I have difficulty letting go of because that's comfort food," she says.
[From Oprah.com]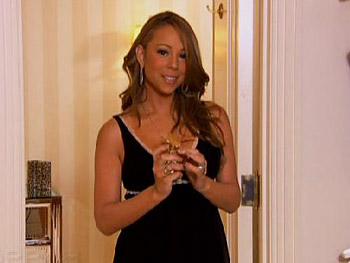 Oprah said that Mariah's main closet is an incredible 3,000 square feet, and that she has a secondary walk in closet just for her lingerie in her new apartment in NY. The sexy sleepwear is arranged by color and includes items from one of her favorite vacation spots, Capri, Italy. Mariah said she also collects perfume bottles. Here's the clip:
And here's Mariah's exercise routine. It's like Pilates but it does look rather dainty. Oprah said that this pool wasn't in Mariah's new NY apartment.

Mariah Carey is promoting her new album, E=MC2, which is out in the US today. She now has more number one hits than Elvis, and is second only to the Beatles.
Thanks to Oprah.com for the pictures.