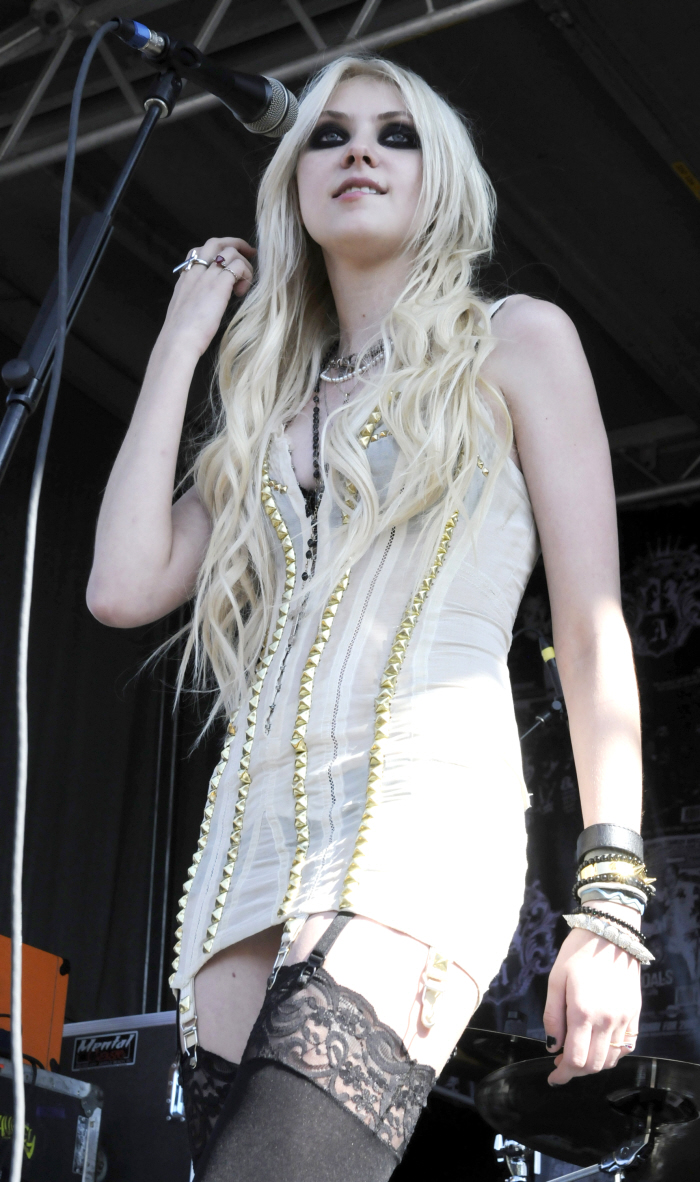 You know how much I love Taylor Momsen. Well, I love her in the way I love someone who is a total douchey poseur, like how I love to cover Megan Fox's interviews because she's so full of herself and so, so idiotic and desperate and insecure but trying to front like she's the hardest bitch out there. Well, Agent Bedhead noticed the Momsen-Fox comparison too – calling Taylor the "Jailbait Version of Megan Fox". Where Megan is trying to be Angelina, I think Taylor is trying to be Courtney Love. And Shirley Manson. And probably Kim Deal too, although I doubt Taylor knows who Kim Deal is. Anyway, Taylor gave yet another priceless interview, and this time she's trying to shock (!) us by talking about her jailbait vadge and how she loves her vibrator. Once again, this chick is 16 years old.
After three seasons of looking like a panda-faced whore, Taylor Momsen and her ratty-ass hair extensions slunk off to the sidelines of Gossip Girl this year. But, guys, guys, she's got, like, a record now, and you will just be shocked, shocked! by her sexy, scandalous non-thoughts.

Speaking to Disorder Magazine, hot mess Momsen declared her that her new album, "is a life record and it confronts issues and goes, here's what f*cking sucks about everything and I don't really know how to fix it but I'm f*cking dying and I'll sing about it."

Taylor! Two quarters to swear jar! But, sensing that perhaps talking about what "f*cking sucks about everything" wasn't escandoloso enough, Taylor saucily decided to talk about her vagina, with the magazine reporting "that she's not into guys, waits a beat, then adds she's not gay but just bored of men and her best friend is her vibrator."

Oh my word! Some one fetch me my smelling salts! A woman, talking about sex? And vibrators! Why, it's so shocking…provided this was 1971. Better luck next publicity stunt, Tay-Tay!
[From Movieline]
Now, THIS reminds me of my teenage years. Awkward, dumb jokes about sex (glad I outgrew that, right?), talking about "my vibrator" just to be SHOCKING. It's a rite of passage for girls with low self-esteem – get to the joke first, before someone else makes fun of you for it. And Taylor does have low self-esteem, much like Megan Fox. And like Fox, she's trying so, so desperately to come across like she's full of herself. Ah, teenagers and their vibrators. So f-cking dumb.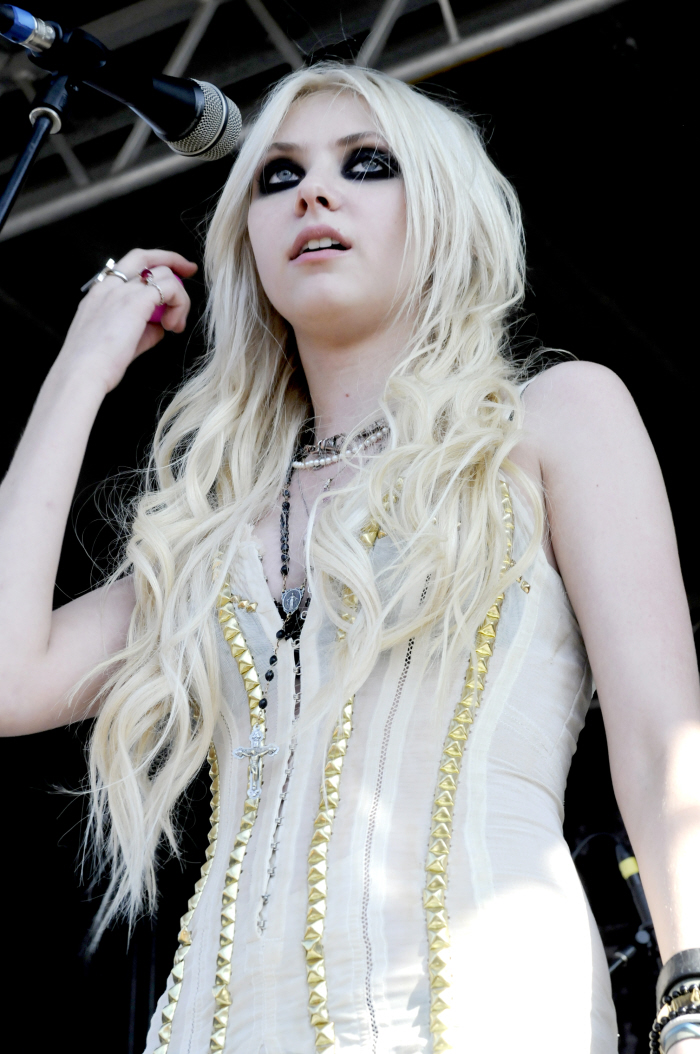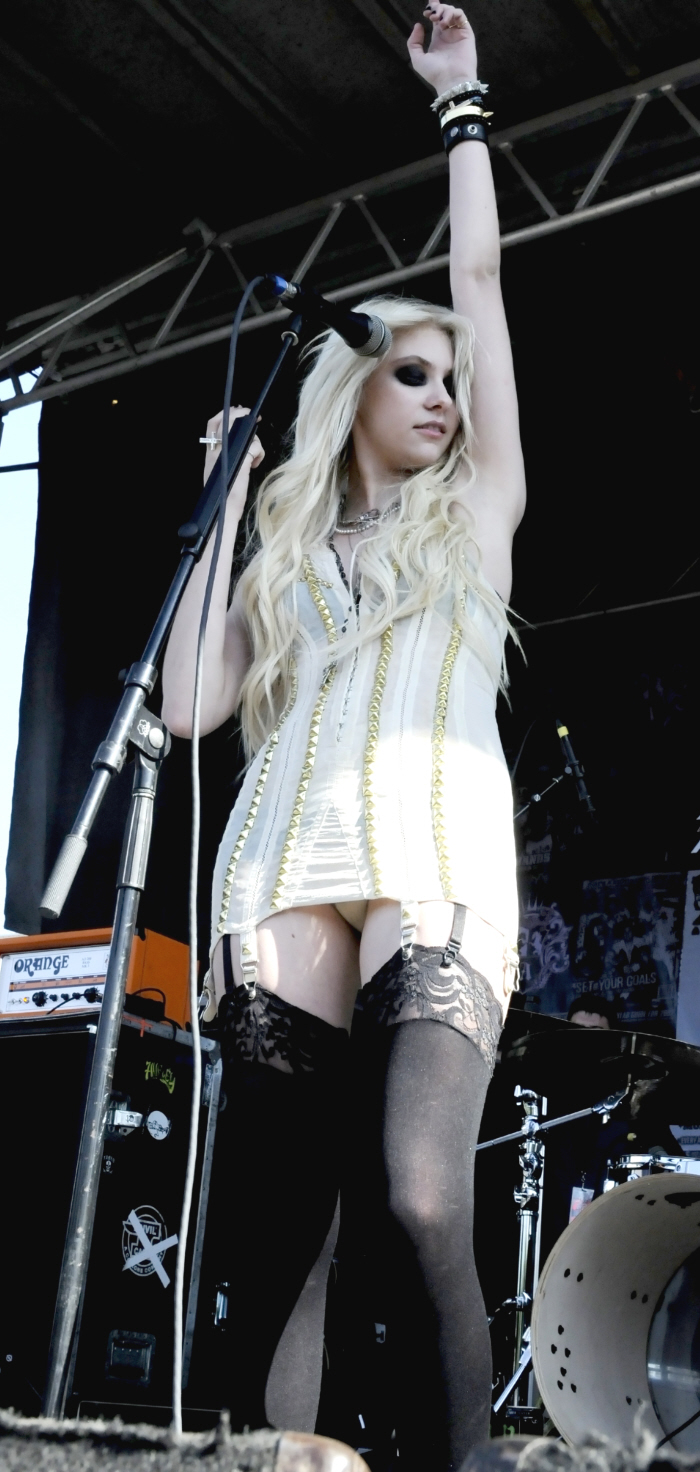 Taylor on June 25, 2010. Credit: WENN.