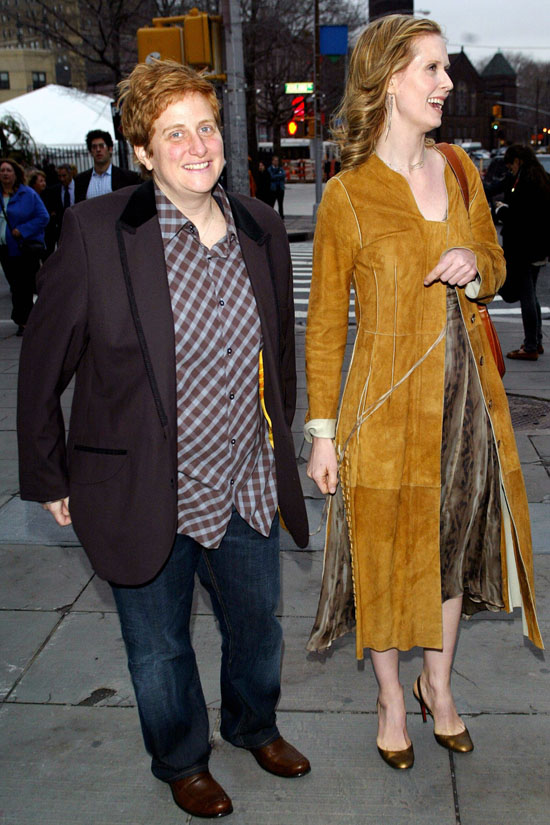 Cynthia Nixon and girlfriend Christine Marinoni on 4/9/08, thanks to WENN
Sex and The City actress Cynthia Nixon, 42, is the new ambassador for the Susan G Komen For The Cure organization. Nixon's mother is a two time breast cancer survivor, and Nixon herself was diagnosed with the disease in 2006. She said she's been getting regular mamograms since she was 35, and that a small cancerous lump was found on her mammogram when she was 40. She had a lumpectomy and 6 weeks of radiation, and it sounds like she is now cancer free.
In a series of videos on the Susan G Komen organization's website, Nixon talks about the importance of regular mammograms and early detection. She says that breast cancer is a disease that has touched so many lives and that she wants to help bring awareness to the cause. Nixon also talks about how gay women need to be aware of the importance of early breast cancer detection because they're not as focused on birth control and reproductive issues and are less likely to make frequent visits to the gynecologist.
Nixon has a new interview with Cynthia McFadden, a portion of which was broadcast on Good Morning America this morning. She talked about discovering breast cancer early and was very matter-of-fact about getting it found, treated and under control. Nixon said she didn't disclose her breast cancer when it was first diagnosed because she didn't want the paparazzi to be outside the hospital while she was undergoing treatment.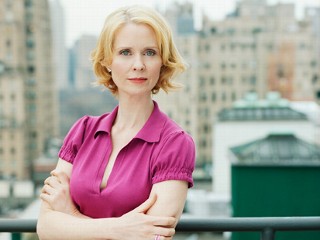 McFadden asked her if she really was that calm about having cancer, and she said she was and that's just the way she is, but that her girlfriend was very panicked about it and ate to cope. Nixon said that her two kids call her girlfriend of four years, education activist Christine Marinoni, "mom" but that they call her "mommy" too. Sometimes they just say "mom" to get both of them to pay attention.
As to how Nixon told her kids about her cancer diagnosis, she said she explained it to them clearly, calmly and simply.
Nixon also says that her show "Sex and The City" handled the character Samantha's breast cancer very well.
Here's the clip, thanks to monkeyboy on Redlasso.