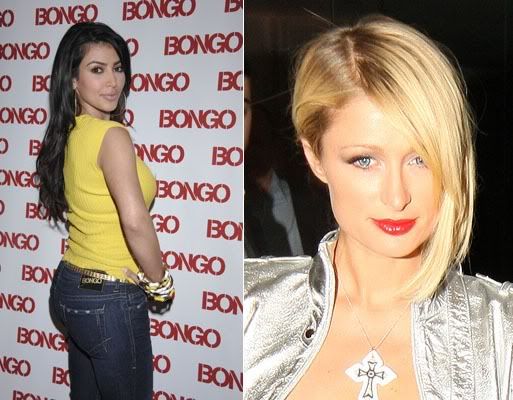 Paris Hilton was asked on a Las Vegas morning radio talk show "What would you rather have, Jessica Simpson's rack of Kim Kardashian's ass?" and she answered "I would not want that, that's gross… that's disgusting." She then said she liked her own boobs and that she thinks Jessica's are too big. One of the DJs tried to clarify "You just said Kim Kardashian's ass is gross," and Paris answered "Yeah, I did… it reminds me of cottage cheese inside of a big (or "dead," it's hard to hear) trash bag." [Transcribed from audio available on TMZ.com]
Paris and Kim used to hang out all the time, but the last time I can find that they made a public outing together was in December, 2006 when Paris brought Kim to Australia for a photo op. Kim's sex tape with Ray J came out in early 2007 and that is said to have put an end to her friendship with Paris, because Paris just can't understand anyone using a sex tape for publicity purposes.
Kim has gone out to a modicum of fame with her family reality show, while Paris continues showing up for stuff, slapping her name on shoddy merchandise, and endorsing wine in a can.
Are there any female friends that Paris has kept long term? She was seen hanging out with 24 star Elisha Cuthbert earlier this year, and rumor had it that they were lovers when they were seen making out in a club, but that was short-lived. Paris had that ongoing feud with Nicole Richie, and she was hanging around with Kim Kardashian in 2006 but now she's talking trash about her former friend's figure. Paris and Britney were BFF for about six weeks in late 2006, and Paris is said to have called Britney "the animal" after their falling out. Paris also had a public war of the words with Mischa Barton, who is said to be fighting with Paris again now that both of their new boyfriends are on tour with their bands together. No wonder she needs to go on a reality show to find a best friend – it takes a special kind of masochist to put up with Paris.
Update: Paris has apologized, saying she was just joking around. And Kim accepted:
"I was just joking around and I made a stupid joke," Paris tells In Touch exclusively. "I felt really bad afterward, so I contacted Kim and apologized. It was a silly thing to say. Kim's hot!" Kim accepts the apology, telling In Touch, "Paris and I have been friends since we were kids and I'm glad she made the effort to say she's sorry."
[From In Touch]
Paris Hilton is shown in London yesterday. Kim Kardashian is shown at the launch of the fall Bongo collection on 4/7/08. Thanks to WENN.