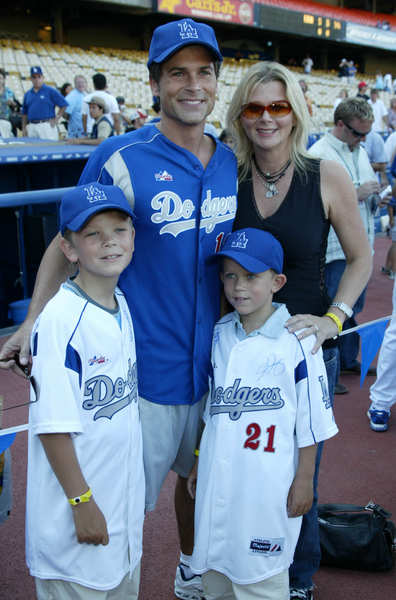 Rob Lowe, his wife Sheryl and their two boys in 2004
I keep visiting The Smoking Gun and hoping they'll post the countersuit against Rob Lowe by his nanny of seven years, Jessica Gibson. TMZ claims to have seen the lawsuit, and they say the details are juicy and that Gibson claims Lowe showed her his penis on many occasions, and masturbated in front of her.
In her suit, Gibson claims Lowe not only groped her, he repeatedly exposed his "flaccid penis" and his "erect penis" to her, repeatedly asked her "to touch his penis," repeatedly masturbated in front of her, showed her pornographic images on her computer, asked her to give him a massage and tell him dirty stories … and that's just Rob!

She then says Rob's wife Sheryl walked around naked –"completely exposing herself" — made "numerous sexually vulgar comments about male genitalia," "would talk about her sex life" with Rob and said that "she would never have a boyfriend because only a married man would want to f*** her."

Gibson says the Lowes paid her $18.00 an hour for her services. She's suing them for sexual assault and battery, sexual harassment, retaliation, unpaid off-the-clock work, overtime wages and unpaid meal periods. She's asking for damages in excess of $50,000. She also said on this morning's "Today" show that she never tried to extort money from the Lowes, as Rob has alleged.
[From TMZ]
Gibson was on The Today Show this morning with her aggressive celebrity lawyer, Gloria Allred, and she came off as less than believable to me. She looked like she was trying to keep herself from smiling like a chesire cat on several occasions, and she wasn't able to effectively explain why she stayed with the Lowes for seven years if all of this harassment was happening to her there. TMZ notes that she left her nanny job to work at a doctor's office for the same pay, only to ask to return. She returned to work for the Lowes twice, so unless she had nowhere else to go it doesn't seem likely that she would have asked to go back if the abuse was as she claims. Gibson's older sister also worked for the Lowes for seven years. It just doesn't add up to me.
If all of this happened as she states, of course she should be compensated, but then why didn't she go to the police and file a complaint? Instead she waited seven years, hired a celebrity lawyer and is going on television to talk about her civil suit seeking damages. We'll have to see if she does the whole talkshow circuit and if her story gets any better with time. She needs to hire someone to help her look scared and reticent, not smirking and defiant.