Lindsay Lohan wasn't the only one dealing with the po-po! TMZ reports that Ice-T was taken into custody yesterday, Monday, July 19. The reason? Being a hardass gangster? Nah, bitches. Ice-T was arrested for driving on a suspended sentence and not wearing a seatbelt. Ice will have to pay some FINES, BITCHES.
TMZ has learned Ice-T has been arrested in New York City.

Ice was allegedly driving on a suspended license, pulled over for driving without a seat belt and taken into custody.

Ice tweeted a while ago that he and Coco were taking their dog to the vet. Spartacus was having knee surgery.

We're told Ice was processed at the 10th Precinct in Chelsea and released.

UPDATE: Coco just posted the following message on her Twitter page:

"Yes,Ice was arrested this morning but we don't know what the hell for! He's been released..We got pulled over for not wearing seatbelts."
[From TMZ]
And Coco just updated the saga on her Twitter: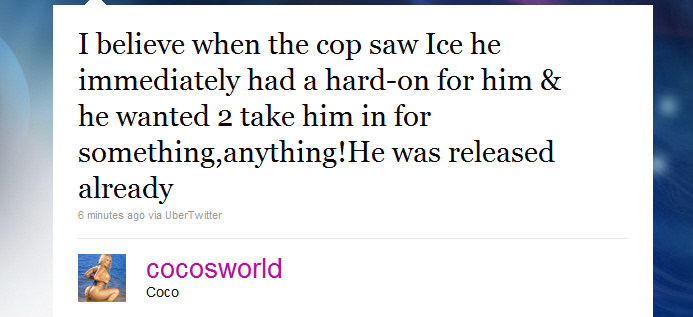 My dad drove on a suspended license too a few years ago, and the po-po just drove him home and he had to pay a fine. It really isn't that big of a deal. I'm awaiting the Twitter smack down on Ice's Twitter though. We know how he took care of Aimee Mann, this cop is going to be in trouble.