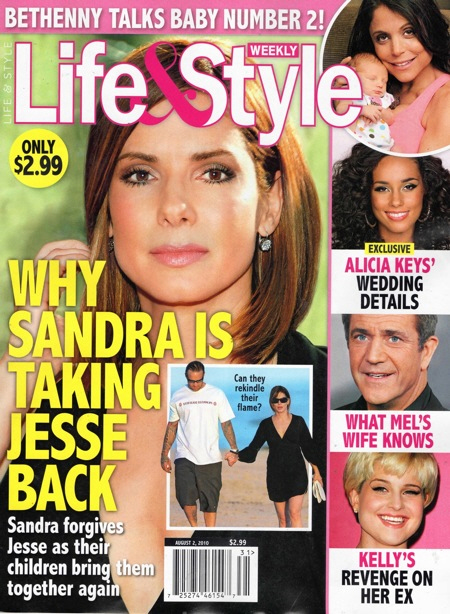 Life & Style's cover story this week is the pretty much the same damn thing that the tabloids have been saying for months – that Sandra Bullock is going to take Jesse James back, because of the children. Now that Jesse has won the right to take his daughter to Austin, Texas (where Sandra Bullock is staying now), everyone is all in a tizzy about Jesse and Sandra probably being back together:
Since the day Sandra Bullock left husband Jesse James, he has done everything he can to win her back. And now Life & Style can reveal that Jesse's closer than ever to getting a second chance with Sandra.

"Her heart is open to him again," an insider tells Life & Style. Sources confirm that Jesse and Sandra are talking — with the excuse that it's for the sake of the children only.

It's Sandra's love for his 6-year-old daughter Sunny who she has been raising as her own child for the past five years — as well as for Jesse's other children, Chandler and Jesse Jr. — that has finally allowed her to forgive their father.

"Sandra will never fully get over the way Jesse betrayed her," the insider explains. "But he did give her the family she's always wanted. And because of that, she's able to forgive him."

Jesse has gone as far as relocating his home and businesses to Austin, Texas, where Sandra spends much of her time living with adopted son Louis, 7 months. He recently splurged on a $2 million seven acre mansion that's just 16 miles away and relocated his business from California to Texas. Jesse's new workplace, the motorcycle store Austin Speed Shop, is just minutes away from Walton's Fancy & Staple, a local store Sandra owns.

Even Janine Lindemulder, Sunny's birth mother, admits that Jesse is desperate to win Sandra back. "He will do anything to get back in her good graces," Janine tells Life & Style.
[From Life & Style]
I know CB usually covers these stories from the ongoing Sandra Bullock-Jesse James saga, and there's a reason for that – she gives both Jesse and Sandra the benefit of the doubt, and she's a lot nicer about this situation than I am. Now, I'm not such a horrible child-hating bitch that I don't know that bringing children into a marriage changes the dynamics of the marriage, it changes the love you have for your partner, and it changes you as a person. I understand why Sandra is letting Jesse back into her life and into her heart – and I do think it's mainly about being a step-mom to Sunny and Sandra's dream of being a parent to baby Louis, with Jesse. All that being said – I'm just disappointed in Sandra. Does she think Jesse has changed? That know that there was a huge scandal, he just got it out of his system? Not so much – he's still the same whiny, douchey little bitch. I'm not mad at Sandra, I don't dislike her or anything, I'm just… sad and disappointed.
L&S cover courtesy of CoverAwards.