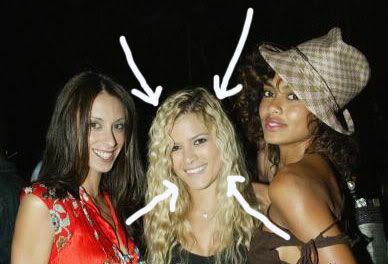 Justin Timberlake might be getting friendly with Lauren Popeil, the daughter of famous Ronco informercial king Ron Popeil. A source tells Perez Hilton that they're good "friends" and went out together to a club in Hollywood last week:
Just as it's become public that he and long-time girlfriend Cameron Diaz have called it quits, a source tells PerezHilton.com exclusively that Timberlake's already found a new lady friend, which may have contributed to his break-up.
The singer has been "spending time" lately with Lauren Popeil (above center), daughter of pasta maker and infomercial guy Ron Popeil.
The two have gotten quite chummy very quickly and have even been taken their close "friendship" public, hitting hotspot Hyde in West Hollywood last Friday night.
The only information I could find on Lauren was on the website for the household goods business she helps run with her mother, popeilfamilystore.com. She is 23, as a 1997 article about Ron lists her age at the time as 14. She was friends with Paris Hilton at some point, because her name was listed on Paris' phone when it was hacked. She doesn't get around – or get photographed – too much, though. The latest pictures of Lauren on Wireimage are from a SuperBowl after party in 2003.
While there is no official response from either Justin or Cameron's camp to the breakup rumors, People cites a source that states that they're still going strong:
"The couple are in fact very much together, as he prepares for the release of his album," says the source, who is close to Timberlake. "Of course, made-up sources have had them breaking up, getting married and having a baby ever since they began dating over three years ago."
Earlier this week, a report claimed that Timberlake – who is slated to release his new album, FutureSex/LoveSounds, on Sept. 12 – had broken up with Diaz. The story cited their age difference – he's 25, she's 33 – one of the reasons why.
Maybe the source is one of Cameron's friends and she's in denial or doesn't know yet. We don't think everything's fine between them, especially in light of this video of Justin on TMZ. A blonde is seen getting into his car, and it's not Cameron.