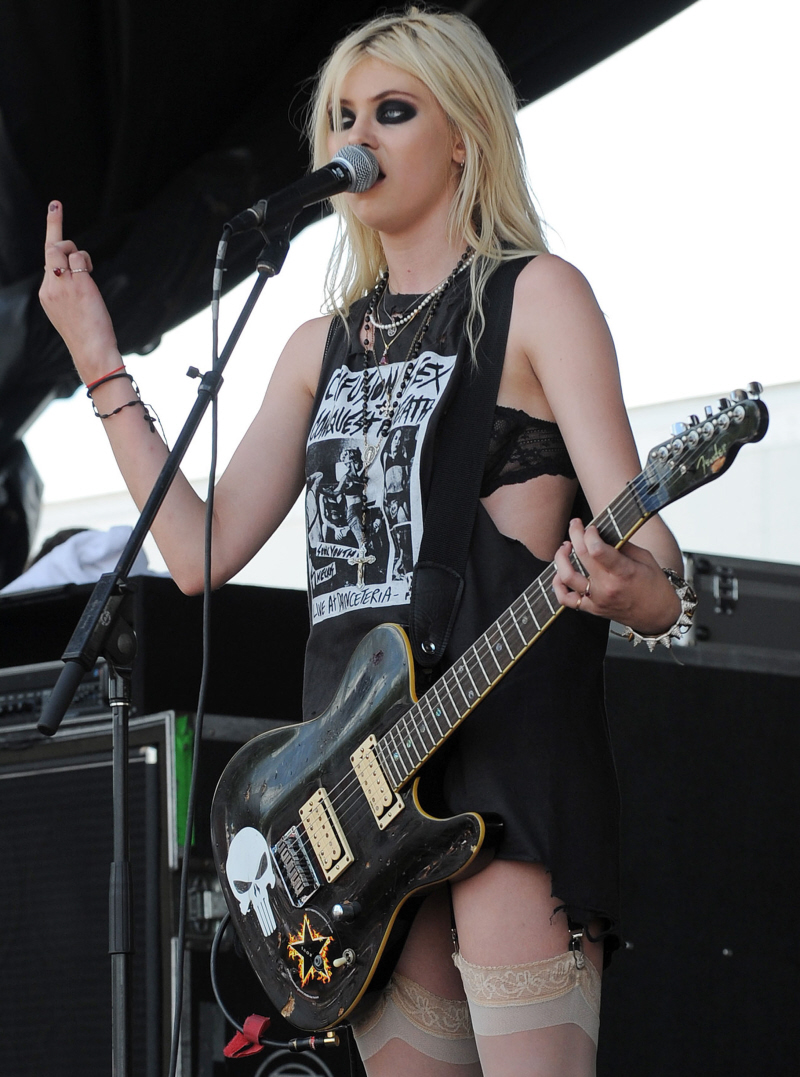 Here are some new photos of Taylor Momsen acting like an age-appropriate lady on the Warped Tour this weekend. She's so… delicate! Taylor is still doing press for the tour, and for her band's just-released album. The Pretty Reckless's new music video, "Miss Nothing" came out last week, and people are still talking about it (video below). Mostly they're talking about how dumb it is. But that didn't stop Taylor from pontificating about what the video is really about, and how she's "trying to reinvent and bring back rock 'n' roll." YIKES.
Taylor Momsen, eyes coated in thick rings of her trademark black eyeshadow, writhes and contorts on a table in a scene reminiscent of the Last Supper. She throws food, smashes glasses, and crawls off the table wearing little more than a leotard and a pair of clear heels.

The scene is from the just-released music video for a song called "Miss Nothing," but it has people saying a lot about the 16-year-old singer.

Momsen (most well known for playing Jenny Humphrey on TV's "Gossip Girl") takes obvious pleasure in shocking people with an aggressively sexual persona. But as the frontwoman for the Pretty Reckless, playing today at the West Palm Beach stop of the Vans Warped Tour punk rock festival, she insists she's just telling stories.

"It's the way I live, I grew up looking at rock stars. It's in my blood," Momsen says. "I think aggression scares people. But if you're scared, you're feeling something. Yeah, there's loud guitars and drums. The reaction, it's really kind of sad."

To Momsen (who will turn 17 on Monday), rock 'n' roll is rock 'n' roll, no matter how old she is.

"It's like we're living in the '60s again. Haven't we already all seen this? This has already happened." She sounds exasperated. "Scantily clad clothing? It's amazing that it's shocking again, scaring people now, again."

As for her public Twitter fight with celebrity gossip Perez Hilton, "That's just tabloids … People ask me about my life and try and create controversy and I'll say what I say."

If she's itching to get rid of a previous era's idea of 16-year-old girl behavior, she has a fonder feeling for that era's music. Momsen described the Pretty Reckless as "the only real rock band on this tour" and says they shun modern sounds almost completely, listening to Led Zeppelin and the Beatles on the bus.

"I'm trying to reinvent and bring back rock 'n' roll," she says. "I listen to the greats. I try to better myself."

The band's first full-length album, "Light Me Up," is set for release Aug. 31. She credits the chaos of Warped Tour – playing six days a week, at different times and stages every day – with allowing the band to find its musical zone.

"You sound different every day, and there's so much trying to adapt. It's a very punk, get-up-there-and-hope-you-can-hear-yourself kind of tour. If you think playing every day is hard, I don't know why you're in a band," she says. "I'm not a diva or a prima donna, I'm the opposite."

She doesn't mind all eyes on her in the "Miss Nothing" video, though.

"The song is telling an ambiguous story about a lover dying, and I'm depicting Mary Magdalene, and Jesus just died. It's about not being able to live without a lover. It's Mary Magdalene's last supper, it's my last supper, because I can't live," Momsen explains.

"But it's just a video," she says, and starts to laugh.
[From The Sun-Sentinel]
OH GOD. Taylor really is the Mary Magdalene of our world, for reals. Here's what I wish Taylor would explain: if we're not supposed to find all of this oh-so-casual jailbait blasphemy offensive or "shocking" then what's the point? Are we supposed to shrug and roll our eyes when a 16-year-old, dressed in garters and little else, writhes around on the floor because her lover, Jesus, died? Sure, I shrugged and rolled my eyes, but Taylor's intention was to actually be "shocking" and by playing this little "oh, everyone is judging me" game is so tired and stupid. What really scares me is that the act is working to some extent – Taylor grows more famous and more "legit" by the minute. UGH.
Taylor's fan base is over it too:
Oh, and Taylor was wearing her tip-jar stripper shoes again too: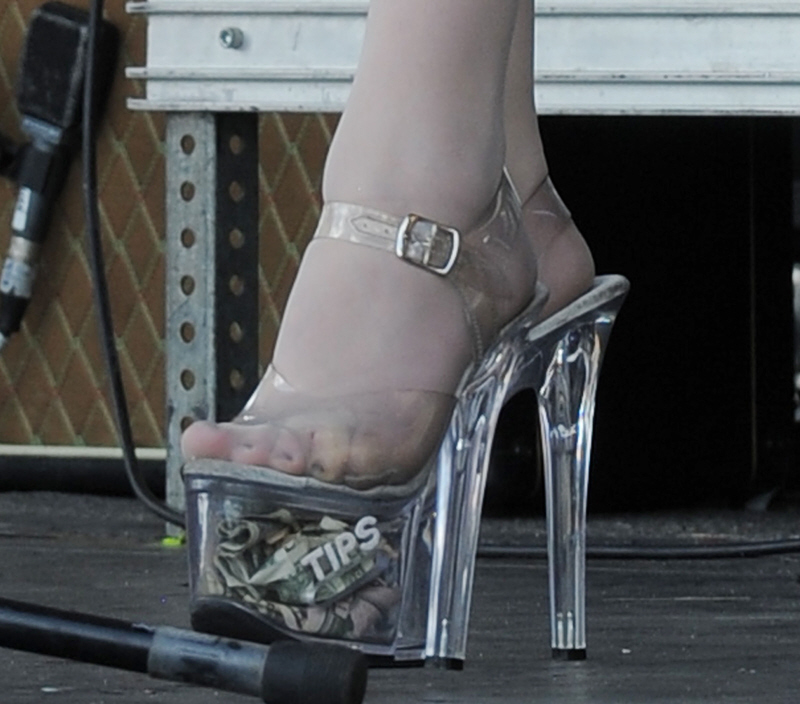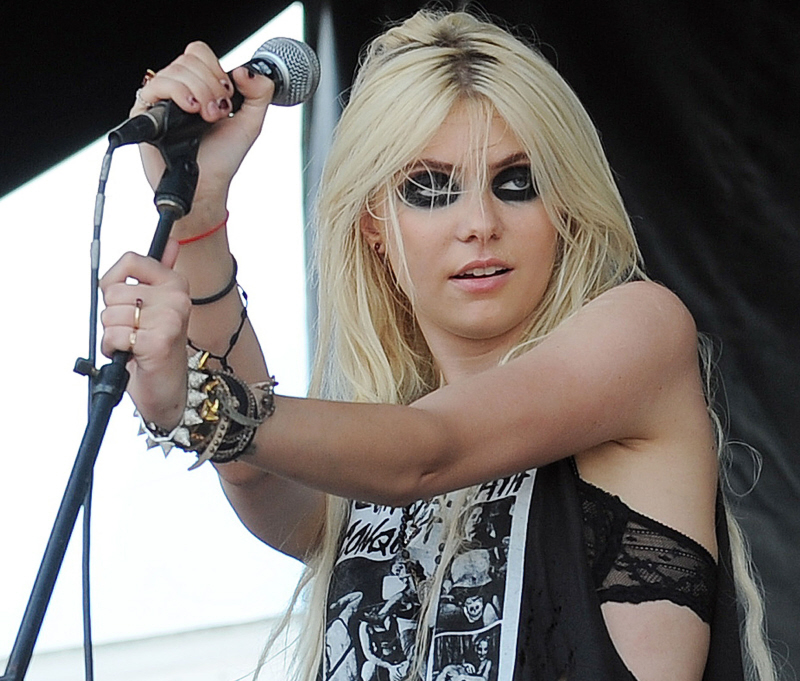 Taylor and The Pretty Reckless performing in Florida on July 24, 2010. Credit: WENN.