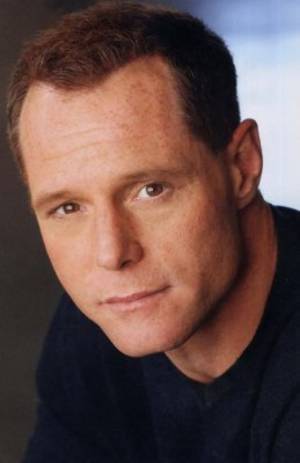 Jason Beghe is a former Scientologist and successful actor who is putting his reputation and most likely his life at risk by speaking out about his negative experiences with the cult. Earlier this week he had a segment of an interview on Scientology up on YouTube. He is very upset about the way his money and free will were stripped for over 12 years as he worked his way up the organization, calling it a destructive rip off and saying that Scientology's methods are not effective at all. He says he's speaking out for all the people who are still stuck in Scientology.
Beghe has an in depth interview with The Village Voice in which he reveals secrets of the cult and explained the way he was hoodwinked by Scientology. He was encouraged to criticize the cult publicly after getting in touch with the operator of the amazing Operation Clambake site, who met with him along with a guy known as "wise beard man," a well known Scientology critic who regularly posts videos on YouTube. (Wise Beard Man's account has been suspended by YouTube, most likely due to cease and desists by the Scientology.)
I've read a lot on Scientology and many of their induction methods that Beghe mentions are covered on Scientology and cult awareness websites like Operation Clambake, WhyAreTheyDead.net, and RickRoss.com. Here's an overview of Beghe's story in The Village Voice, and I recommend you read the entire article if you have time.
Beghe spent a million dollars on Scientology, got farther than Travolta
Beghe says he threw himself into the levels of Scientology trying to work his way up the organization and gain more access to the self awareness and command of the physical world that Scientology promises faithful devotees. He says it was addictive at first and that the way he was brainwashed and led to feel in control of his life made him strive harder to progress, with little payoff and at an extreme cost:
His move to clear was so rapid, Beghe was told that diminutive Scientology leader David Miscavige considered him a "poster boy" for the religion.

"I was Miscavige's favorite boy, so they were doing all kinds of things to keep me happy," he says. "I moved up the Bridge faster than anyone in history. I went at it 24/7 for about a year. I went clear. Got to OT V. I was a trained auditor." (OT stands for "operating thetan," and the highest level in the church is said to be OT VIII.)

"I'm farther up the Bridge than Travolta, and he's been in there a thousand years. He's not a trained auditor." To Beghe, some of the celebrities "seemed like dilettantes," enjoying the perks but not really working hard at being Scientologists.

"I was on a spiritual journey. I wasn't trying to make money, or influence people. I just wanted to try it."

His wife also trained as a Scientologist and, like Beghe, reached OT V. Over his twelve years in the church, Beghe estimates that he gave Scientology about a million dollars.
[From The Village Voice]
Tom Cruise was not involved with Scientology for 10 years, but head Miscaviage brought him back
Beghe was in the upper levels of Scientology at a time when Tom Cruise was not involved. He said that Cruise was "out" for ten years, which was just about the length of his marriage to Nicole Kidman. To me this sounds like Cruise curtailed his involvement in Scientology during the time he was married to Kidman from 1990 to 2001. Scientology was generally rumored to have led to the demise of their marriage, and maybe when he was getting brainwashed again he was convinced that she was a negative influence.
Beghe claims that the religion's top star, Tom Cruise, was actually mostly separated from the church for several years. Other celebrities, he points out, go through similar periods of no longer auditing or moving up the Bridge, but are still considered members. Bringing Cruise back into a more active role, Beghe says, was a major Miscavige project.

"He was out for like ten years. There are people who just aren't doing anything Some are out but don't talk about it. Why? The church is scary. These are bad motherf'ers."
[From Village Voice]
All auditing sessions are videotaped and cult members regularly gossip about celebrity members' personal business
Beghe says that all "auditing" sessions, which are like crude psychotherapy sessions in which people are encouraged to reveal their deepest secrets and problems, are videotaped. He also said that cult members routinely gossip about the private details learned about celebrities in these sessions:
"Not one auditing session—which are supposed to be private—is not recorded on film," he says, and claims that secret cameras are used at every session at the Celebrity Centre in Los Angeles, recording sessions that for Scientologists are supposed to be something like confessionals in the Catholic church.

"Will Smith is supposedly dabbling in Scientology. Let Will Smith know that his shit was f*#$ing recorded. And tell him to look them in the eye and see if he believes it when they deny it."

Even worse, he says, is that behind the backs of celebrities, Scientology officials gossip about what transpires in those supposedly private sessions. "Everything's supposed to be confidential. But all they do is chat about it," he says.

At a church center in Hemet, California where the church has movie studios, Beghe helped make videos. "I did movies for them. I remember asking, who do we cast in this thing? How about this dude?" referring to another scientologist actor. "No, he's been cheating on his wife," Beghe says he was told.
[From The Village Voice]
Where I now live in Germany, the government does not consider Scientology a religion and has had them under surveillance for over 10 years. Maybe the group Anonymous and brave souls like Beghe will help convince that US government that Scientology is a money making scam of massive proportions and does not deserve tax exempt status.
Any celebrity that gets involved with the cult at this point does so at his or her own risk. They do those auditing sessions just to get dirt on people in case they want to leave. It's even more telling that everything is videotaped and that they talk about the celebrity members' personal business. I hope that Beghe is in an undisclosed location and I would not be surprised if there are all sorts of defamatory stories spread about him now that he's dared to expose Scientology for what it is.