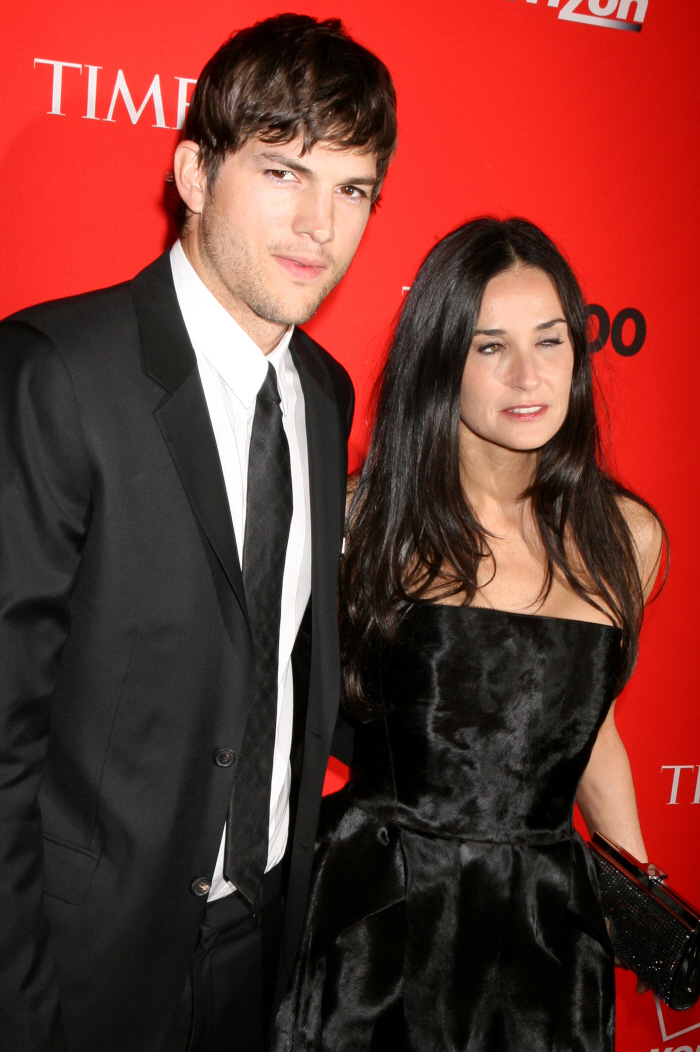 Demi Moore is Tweeting about some new 21 day diet program that she's defensively calling "healthy" called The Clean Program. Moore's tweets just happen to coincide with a big ad campaign for the diet, and I've seen the ads for it on our site and on Radar Online. Demi and Ashton previously tweeted that they were on the "Master Cleanse," a liquid laxative-type diet consisting solely of a nasty cayenne pepper and lemonade drink.
I'm not going to get too much into how unhealthy and how much of a ripoff it is to take drinks, pills and powders instead of eating. (I've expressed how ridiculous, counter-productive and useless these types of diets are, although several of you made very good points in a recent story on Salma Hayek's juice diet that juice fasting is healthier than The Master Cleanse and other starvation-type diets.)
Instead let's focus on Moore turning her Twitter account into paid marketing. Plenty of celebrities are peppering their tweets with ads that they're well compensated for, and it occurs with no disclosure that it's a sponsored message. Kim Kardashian is reportedly paid $10,000 and up to post ads on her Twitter account disguised as enthusiastic recommendations for products and services.
Now we can add Demi Moore to the list of celebrities selling out their public text messages. She's probably done this before, but it's the first time it's come to my attention. Lately she's endorsed two crash diets and a new television show starring Tony Roberts. (I like Roberts and have listened to some of his tapes, but some find him to be a phony self help guru that buys his own hype. It's possible that Moore has worked with him and is just helping him out by promoting his show, but I doubt it.)
Here's a report on The Huffington Post on Demi's pill, powder and one salad a day cleanse. That sounds so healthy, right? It also costs $350 for a 21 day supply.
After doing the Master Cleanse with her husband earlier this month, Demi Moore moved immediately into another "healthier" diet.

On Monday a fan asked Demi how many days she had stuck to the Master Cleanse, which involves consuming nothing but lemon juice, cayenne pepper and maple syrup.

"Only 4 but 2day's day 13 4me on The Clean Program! http://j.mp/a6N7qm RT @MirandaMartinez day 30 of Master Cleanse! How many days did u do?" she tweeted.

The Clean Program is the creation of Dr. Alejandro Junger, who helped Giuliana Rancic and Gwyneth Paltrow lose weight. It is a 21-day regimen of smoothies, and salads for dinner are allowed.

When one of Demi's followers politely said she was not interested in the Clean Program because "healthy diet & exercise are all that's required," Demi got defensive.

"@chazzyb31 I think you need to research what it is I am doing there is no starving involved! It is all about nourishing the body!" she tweeted. And: "@ElenorRigby yeah I think she doesn't know what she is talking about!"

Later a fan asked Demi for tips on getting through the Master Cleanse, and Demi admitted there are healthier things than the severe diet she just two weeks ago declared was "all about health!!!"
[From Huffington Post]
Moore also tweeted that we should watch Tony Robbin's new show. "Tonight on NBC checkout the premiere of Breakthrough with @tonyrobbins http://j.mp/cVfnse." She added later "Hope everyone tuned in to the new Tony Robbins show on NBC-it's amazing!"
So back to the question – how much is she getting paid? She has 2.8 million followers vs. Kim Kardashian's 4.2 million. (Kim had about 2 million followers late last year when the news broke that her tweets were worth $10k and up.) Media outlets are more likely to pick up Moore's tweets, though, so she's likely to get tens of thousands for her tweets. Her career isn't much to speak of lately, so she may as well make some money where she can. I'm sure she'll deny it, just like she denies the photoshop her image so heavily relies on. At least she admits she starves, only it's healthy and not starving when Demi does it. A little nip and tuck isn't plastic surgery either.
Header: Demi on May 4, 2010. Credit: WENN.