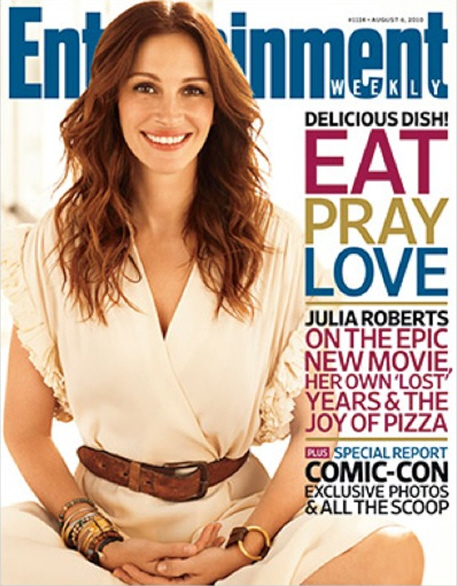 Even though I'm not going to see Eat, Pray, Love unless there's some kind of armed hostage negotiation situation happening, I am really, really looking forward to the promotional tour. Julia is going to do a bunch of magazine cover interviews, she's going to do a bunch of television interviews, and there will probably be a million red carpets and photo calls. It's going to be exciting! Julia hasn't done the starring-role press junket in a while, and I'm excited to see what she wears and to read her interviews. It's a mixed bag for me – Julia annoys me to no end, but she's also a huge, interesting movie star with sh-t to say. Yes, she's incredibly self-absorbed, but she's always fascinating to watch and read about.
Anyway, the promotional tour is gearing up. Julia made this week's cover of Entertainment Weekly, the studio released a new clip from the film (at the end of the post), and I'm now shaking with JULIA!! anticipation. Unfortunately, EW only released these "meh" quotes from the interview:
Think noshing on delectable Neapolitan pizza sounds like the perfect day's work? According to Julia Roberts, it gets old after a while. In this week's cover story, the star of Eat Pray Love talks about carrying a film for the first time in a decade, her own personal "lost years," and — in this excerpt from the interview — why she never used a spit bucket during the EPL shoot.

EW: Did you have a spit bucket by your side for all of the food scenes?
Roberts: Well, first of all, that grosses me out. But the truth of the matter is, there probably would have come a point when I would have used it. If you look at any of the scenes of eating, by the end of the scene, I'm done eating. Like in the scene with the pizza, by the time the scene is over, I've eaten the entire piece. When we were in Naples, we started shooting at 8 in the morning, and I think by 8:45 I'd eaten 8 or 10 pieces of pizza. Pizza was what I ate all day that day.

EW: Did you want it to look like you had gained weight after the Italy portion of the film?
Roberts: You know, we talked about that. Because I didn't want people to say, "Well, she's supposed to go to Italy and eat all this food, but she looks the same in the whole thing." So I talked to [director] Ryan [Murphy] about it. And one of the things I love the most about Ryan is that he has a real legitimate answer for everything. There's nothing that he hasn't considered weeks before I've thought of the question. When it came to that, I said, "What do we do?" And he said, "By the time Liz got to Italy, she was so underweight that the weight she put on really got her back to normal and then a little bit more." It wasn't like she [became] a tub. So because I started at normal weight for me, by the time we left Rome and I was 7 to 10 pounds heavier, that was probably the truth of what she was dealing with. I could've used a bigger pair of jeans when I went off to India!
[From Entertainment Weekly]
She only gained seven pounds? I would call that a win, for real. I could gain seven pounds just by eating at the Chinese buffet for a few days. Also, in another interview, Julia talks about her three kids, saying that: "They love books. I don't act for them per se, but we certainly play a lot. I'm very impressed with my kids. I think they're really interesting human beings. I have a good time with them." Maybe it's a weird translation (I found these quotes on a German site), but doesn't Julia sound rather clinical? Weird.
And here's the clip from the film, courtesy of Inside Movies:
EW cover courtesy of CoverAwards.