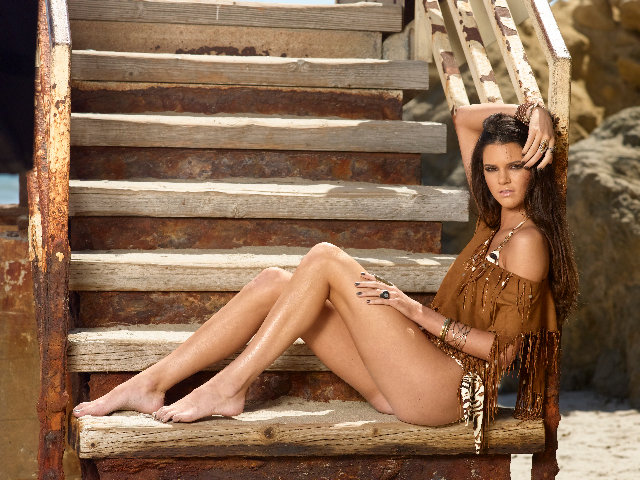 Last week, Kim Kardashian bragged on her blog about a new photo shoot her 14 year-old sister, Kendall Jenner, did on the beach. Kendall is an aspiring model and was wearing a small bikini and posing provocatively. I thought the shots were too suggestive for a young teen, but many of you pointed out that they weren't out of the ordinary for a young model's photo shoot. It took a whole nine days for Kendall to respond to the minor controversy, and I can't help but think she delayed her response to squeeze as much publicity out of this as possible. Leave it to a Kardashian to know how to make multiple headlines for nothing.
Kendall Jenner was the cause of several raised eyebrows when she released sensual photos from a recent bikini photo shoot, but the Kardashians' 14-year-old sis says she wasn't intentionally trying to be a bad girl!

"Going into this shoot, it was never my intention to be provocative or too racy. It was a beach shoot, and I was wearing beachwear," Kendall told People July 28. "I am happy with my age, and am not trying to rush into anything too soon. I look forward to all the milestones my teens have to offer–Sweet 16, turning 18, and so on."

Kendall, who's just beginning her modeling career, also said her parents, Kris and Bruce Jenner, were completely on-board with the shoot and approved everything she did.

"My entire family was very supportive, though my dad [Bruce Jenner] was a bit concerned at first, he knows that I am responsible enough that I wouldn't do anything I wasn't ready to do, or didn't want to do," the well-mannered teen said.
[From Hollywood Life]
I don't really watch this show, but from what many of you have said Bruce sometimes raises meek objections to whatever his wife and hoard of daughters want to do and is usually shot down. Kendall is being encouraged to be sexy and to model at a young age and in a year or two, if this family is still around (fingers crossed that won't happen) we'll be hearing gossip about her, too. Mom Kris needs new blood to feed the public's meager interest in her family.
I'll say something nice. Kendall is really pretty and could easily be a professional model. I don't think anyone "pushed" her into posing for these shots or pursuing this career. Given the family she's in it's not like she's going to be encouraged to get an education instead of throwing herself into show business though.