Below is Entertainment Tonight's exclusive interview with Julia Robert for the beginning of her Eat, Pray, Love promotional tour. That comes out two weeks from now, which is interesting – August is looking like it's going to be girl-movie central up in this joint, what with both Julia and Jennifer Aniston promoting their romantic-journey films (one has a journey around the world, the other has a journey to the baster). In the interview, Julia talks about eating (of course) and her babies ("very present creatures") and Eat, Pray, Love's executive producer, Brad Pitt, about whom she says, "I was really beholden to him…" Interesting.
ET's own Mark Steines enjoys the beautiful Napa Valley scenery with 'Eat Pray Love' star Julia Roberts, who talks travel with her kids and the feeling of carrying a movie for the first time in a decade!

"I never really hitched my wagon to something of this magnitude — it's either gonna sing or we're all gonna die in a fiery burst of flames," jokes Julia.

In theaters August 13, 'Eat Pray Love' finds Julia as Liz Gilbert, a modern woman who, despite having a dream husband, home and career, finds herself lost in life. Determined to wipe the slate clean and get a fresh start, she embarks on a journey of self-discovery that takes her around the globe to exotic locales ranging from Italy and India to Bali. The film is based upon the bestselling memoir by Elizabeth Gilbert. Directed by Ryan Murphy, the co-creator of "Glee," the film also stars Javier Bardem, Billy Crudup, Richard Jenkins and James Franco.

"I think time will tell what the children think about it," says Julia of taking twins Hazel and Finn and younger sibling Henry around the world. "[Children] are very present creatures, I think, so they are just where you put them, and so they never asked to go home. They were just having the experience that was presented to them at every turn. They never got sick, thankfully, and it was fundamental for me to be able to maintain the integrity of my life and work at the same time."

'Eat Pray Love' is produced by Brad Pitt, and Julia says, "I was really beholden to him that he would think of me and come to me with this, because it is really a great, defining moment for me as an actor. I don't usually work this hard anymore. This was a huge workload and really made me very clear about the joy that I possess for doing it."
[From Entertainment Tonight]
Are you a little surprised at how Julia comes across in this interview? Yes, she sounds full of it as usual, but she also seems rather grounded and smart and interesting. Was she always like this and I had just forgotten because she's spent the last few years coming across like a major a–hole? Or is this the new and improved Julia Roberts? Hm…maybe she just really wants Eat, Pray, Love to do well, and so she's just playing nice.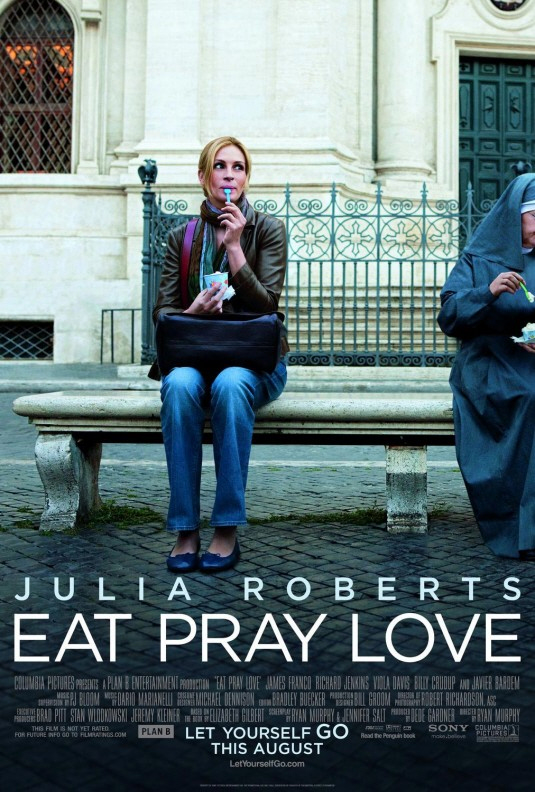 Eat, Pray, Love poster courtesy of Filmofilia.