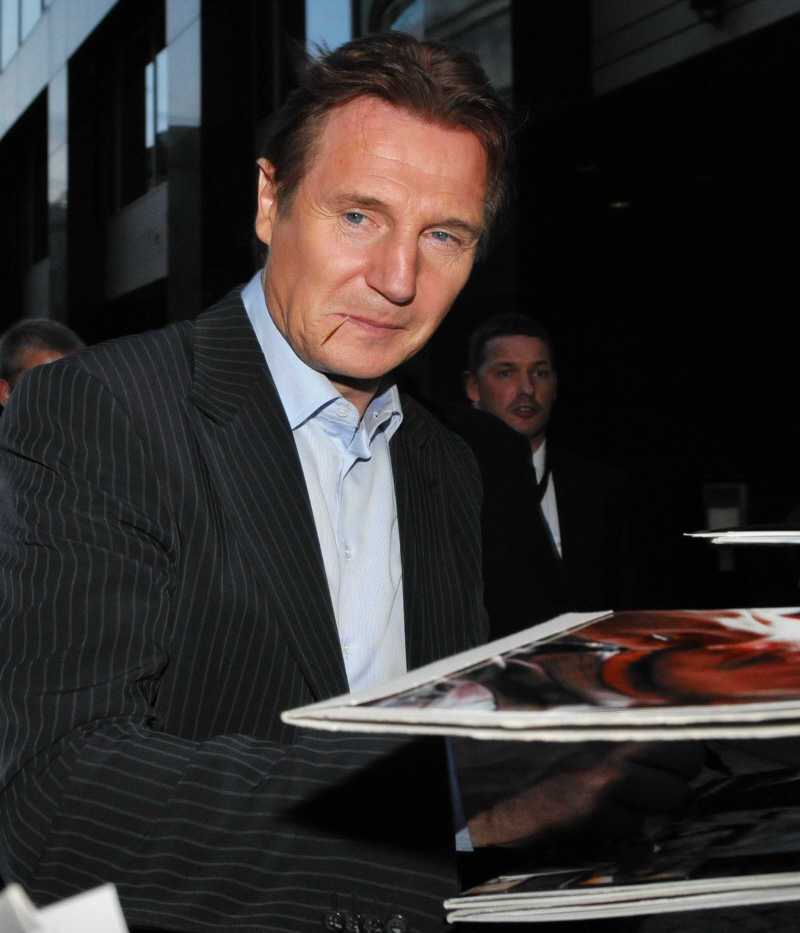 By popular demand, I present to you this week's Hot Guy Friday! Actually, I think it was just two commenters who were begging for this, but you girls (and a few dudes?) seem to enjoy it, so let's get started, shall we? Unfortunately, this week wasn't amazing for random hot men being spotted by photographers, so I'm probably going to add some vintage glimpses at some of our favorite dudes. Above is my lover Liam Neeson. He and the A-Team crew have been working their asses off this week promoting the film in Europe. I've been so focused on Jessica Biel's horrendous fashion statements that I kind of missed all of the lovely Liam photos. I love Liam and his jaunty little toothpick. God, I just adore this man!
Speaking of The A-Team, have we ever talked about Sharlto Copley and what a cutie he is? He really is rather gorgeous and rugged. Rampage Jackson is here too – if you like your man really big:
Mark Wahlberg got his star on the Hollywood Walk of Fame this week, and he looked really fine. Does Mark do it for you? He does it for me, big time. But only in dramatic roles.
Here's Jeremy Renner being a cutie at Comic-Con last week:
Ralph Fiennes looks like a serial killer with his head shaved (at an A-Team premiere this week), but I would still do nasty things to him. "I love hedgehogs."
I know, I know. I have an Ed Westwick problem. Especially when he's wearing a ladies' low-cut blouse. But damn, I would love to lick that chest fur.
And it was like Penn Badgley got Westwick's Fur Memo and decided he was going to go low-cut too! I'll admit, this is the most attractive I've ever found Penn. I have really problems with smarmy men.
A little Joseph Gordon Levitt, by request!
I think Ryan Phillippe has a douche face, but I know some ladies think he's a cutie. He doesn't look too smarmy here:
Was Tom Selleck's mustache always this thick? Or is it just getting hot in here?
LL Cool J has one of the nicest smiles in Hollywood, I swear. He smiles and it's like he's hugging you. He and Chris O'Donnell were doing some promotional stuff for NCIS: LA. Chris is looking adorable too:
Oliver Hudson (Kate's brother, son of Goldie Hawn) is giving me a little Joseph Fiennes vibe here. And I like it.
Russell Brand and the turquoise panties, because I can't get enough.
Jonny Lee Miller at some event in England this week. I still get hot for him too. I love him!
Ewan McGregor was in NYC this week, looking… GAH. He's so PRETTY!!!!
I would go to bed with Tracy Morgan, just because I know he would make me laugh my ass off. Look at him!
Vintage Eric Bana, just because there are never new photos of him and I can't wait:
Vintage Jon Hamm, because I'm still thinking about that hooker slapping him…
And I totally agree that we should end every Hot Guy Friday on Clive Owen. Just because… RAWR. It should be against the law, you know?
Header: Liam Neeson in Germany on July 27, 2010. Credit: WENN.